Gallery Girls, the new docu-series premiering on Monday, August 13 (Bravo, 10:00pm ET/PT), is a fascinating portrait of seven dynamic, self-assured and attractive young women who are determined to find a way, by hook or by crook, to land safely, but perhaps not entirely smoothly, and somehow survive and prosper on the mean streets of Manhattan, America's most exciting metropolis, especially for the professionally ambitious, under thirty crowd.
It's also a behind the scenes sneak peek at the determined young people who add a huge vitality to the city that doesn't sleep. From intimate portraits of each "contender" to an overview of the exciting lifestyles available for the taking -- as well as their individual passion for art -- these lucky, smart ladies tackle with style and panache financial struggles, family issues and the daily challenges of life in the Big Apple. This small sorority of girls -- Liz, Amy, Angela, Chantal, Kerri, Claudia and Maggie -- who fall under the gallerina label prepare fearlessly for the battle to break into the cutthroat and white-walled environment considered the epicenter center of contemporary art.
The idea is if you can somehow make it here, to quote Frank Sinatra, you can make it anywhere, which essentially has remained true, especially for the "dog eat dog" art world. I suppose it would be possible to develop a similar script on breaking into the stock market as an intern or apprentice on the same premise, but the personalities here are far more interesting, the characters naturally more eye-catching, and the physical locations certainly visually superior to any Wall Street environment, which boils down to computer screens with graphs and numbers and its own true-to-life cinematic villains like Michael Douglas' "Gordon Gekko." The plot thickens with emotional intern interviews, first days on the job and over-the shoulder one upsmanship innuendo, as well as a bit of jealousy, as unofficial contestants compete in human patience and endurance tests on an unforgiving urban concrete jungle island.
Although obviously not scripted to be as funny as Gilligan's Island, as convoluted as Lost, or as physically challenging as Survivor -- no one has been abandoned on some remote atoll full of dangerous creatures -- and surely with more meaning and substance than following the Kardashian clan's forays to nowhere, Gallery Girls has its genuine emotional moments. Often your heartstrings and sympathy get a nudge, as with Claudia, the new gallerist who is tearfully and quickly running out of her parents' money as the grand opening of the End of Century approaches. In a basically male-dominated "sport," from individual art dealers to the masculine stables of artists that they manage, the optimistic Gallery Girls have their employment and their own scheme to dream cut out for them. During individual interviews with many of the show's principal players, I discovered a genuine optimism that these experiences would somehow offer the perspective and connections to place them comfortably into a future competitive position and landing the ultimate fantasy job.
A hundred years ago, Paris was the undisputed center of the art world, having attracted youthfully determined and egotistical artists like Picasso to its cobblestone streets along the Seine. Legend has it that the young Pablo would regularly encourage his friends to drop into galleries, asking if they carried any work by Picasso. By the time the artist finally had appeared on the gallery doorstep, the unsuspecting dealer was ready to offer an exhibition. The slogan "you gotta have a gimmick" often still holds true in today's art world, particularly for many of those trying to somehow get a petite toe inside the front door. As the balance of power shifted from Europe to New York, not surprisingly, the work shown was created primarily by men. Ironically, one of the very first uptown galleries devoted to modern art was opened by a woman named Betty Parsons, whose vision and innovative style and superb judgment in picking winning artists is still legendary. Many of the courageous women who dug into the art scene at the time moved to practical studio spaces in the Cast Iron district of lower Manhattan (where many episodes of Gallery Girls were filmed), and given the chance, proved they were as good (or better) than their male counterparts. Louise Nevelson was the first to arrive in SoHo, followed by other female artists like Lee Krasner, Louise Bourgeois and Helen Frankenthaler.
Gallery Girls offers evidence that the gender challenge is still there today, but the fight to the top is far more fair and balanced than it was even thirty years ago. In the late 1970s, a band of persuasive and understandably angry women joined together to found an underground movement to fight the flagrant injustices of the American art world by creating the Gorilla Girls, who were militant with their convincing banner of appalling discriminatory statistics and demands for more equality that to this day has keep museum curators and gallery directors in check.
Total equality or not, the truth is that gaining meaningful access to the art world is a tough challenge for anyone, as this docu-series demonstrates, especially for the gallery staff, including the poor lowly intern or emerging artist who wants to be successful. The rules of the game are even more demanding, competitive, risky and unpredictable in a city of over eight million residents. Genuine innovative talent is what gets a dealer's attention initially for a new artist, but a similar set of skills coupled with concentration and determination and a sense of individual style are inevitably the tools that the Gallery Girls must sharpen, as they balance a demanding schedule of work and play to somehow hang on and eventually prosper in order to turn their hopes into actuality. In the meantime, this new TV series illustrates the inside story on what it's like to deal with the stark, unregulated and curious business reality of the art world, along with its arrogance and nasty edges, including working for a gallery director who is the male equivalent of The Devil Wears Prada, and the experience-filled learning curve that formulates individual opinions towards fashion, contemporary art and cosmopolitan men. Although each woman faces different professional and personal challenges, the resolve and willingness of each to succeed celebrates the determined American spirit built on creative entrepreneurship from the bottom up. Bravo for that!
See a slideshow of the women below: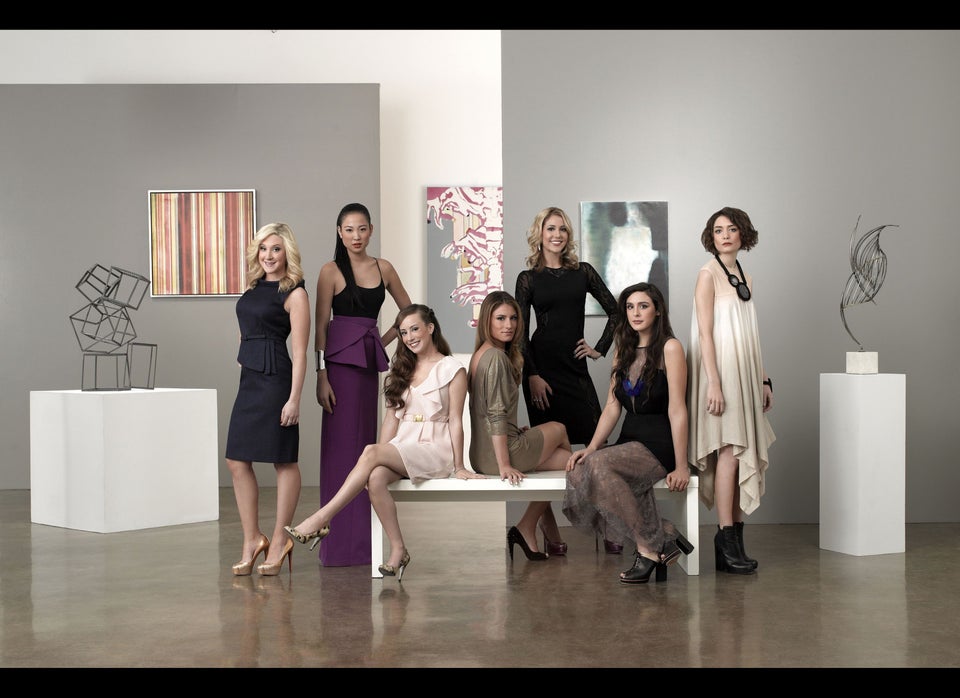 Gallery Girls Gone Wild
Popular in the Community