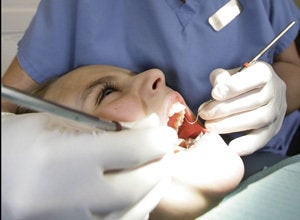 Residents of Southern states are less likely to visit the dentist, indicating that their household income may be lower, according to a Gallup poll released Thursday.
Slightly more than 50 percent of people living in Louisiana and Mississippi got their teeth cleaned in the last 12 months, according to the Gallup study. Massachusetts and Connecticut led the states in dental visits with about 75 percent of residents in both states reporting that they visited the dentist in the last 12 months.
The ranks of the American uninsured swelled to nearly 50 million in 2010, according to Census data released earlier this week, which could mean continued bad news for Americans' dental hygiene, the Gallup poll found.
More than 70 percent of residents of the top 10 states for dental visits have health insurance compared to an average insurance rate of 56 percent for the bottom 10 states. Lacking health insurance can often be an indicator of poverty, the Gallup report said.
And many Americans aren't willing to shell out for dental insurance even in good economic times. At least 100 million Americans lacked dental insurance before the recession, according to The Washington Post.
Some dentists are finding creative ways to make sure the poor and uninsured have clean teeth. The Georgia Dental Association hosted a free clinic at a church in Woodstock, Georgia last month, according to The Atlanta Journal-Constitution.
Four thousand people showed up and many slept outside to get free dental care, the paper reported. Nearly 60 percent of Georgia residents saw a dentist in the last year, putting the state in the "lower range" of the country for dental visits, according to Gallup.
Free dental care also drew thousands to an outdoor health clinic in an Appalachian region of Virginia last summer, according to The Washington Post.
Even with the country marred in an unemployment crisis, many are flocking back to the dentist, not because they're in any better position to afford it, but because their teeth hurt too much, according The St. Petersburg Times. The result: Patients paying more for dental care because dentists have to perform more complex procedures after years of neglect.
Here's a list of the bottom 10 states for dental visits in the last year, according to Gallup:
Mississippi: 51.9 percent of residents
Louisiana: 54.8 percent of residents
West Virginia: 55.4 percent of residents
Texas: 56.1 percent of residents
Alabama: 56.3 percent of residents
Kentucky: 56.3 percent of residents
Arkansas: 56.6 percent of residents
Oklahoma: 56.8 percent of residents
Tennessee: 57.9 percent of residents
Missouri: 56.8 percent of residents
Popular in the Community