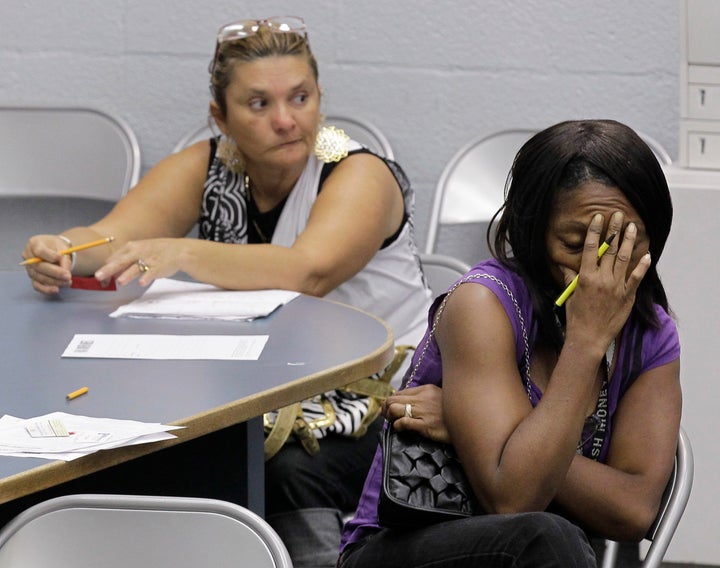 Beset by rising gas prices and a stubbornly-high unemployment rate, American economic confidence has suddenly plummeted, according to a new poll.
In a Gallup index measuring the economic confidence of Americans, ending on Sunday, American economic confidence averaged at -35, down 9 percentage points from just 2 weeks ago. Gallup used a series of polls measuring a respondent's economic expectations and perception of the economy to acquire the final number.
What they found was pessimism. Some 70 percent of respondents said that the economy was "getting worse" and 47 percent of respondents said that the economy was "poor."
Economic confidence had briefly spiked last month, edging up to -25 from its 2011 low of -39. But, as the survey's authors point out, non-economic factors like the killing of Osama bin Laden are likely responsible for that temporary boost in confidence.
Since then, more immediate economic concerns have come back to the fore.
Most prominently, the country was taken by surprised when the Bureau of Labor Statistics said the private sector added only 54,000 jobs in May. The subsequent increase in unemployment to 9.1 percent in May from 8.8 percent percent in March and 9 percent in April has unsettled economic forecasters. In a recent Wall Street Journal poll of economists, a plurality of 43 percent found that the most threatening factor facing the economic recovery is slow job growth.
Though gas prices are now falling -- they are now approximately $3.70 a gallon -- the spike in energy prices has caused businesses and individuals to cut back on spending. "Any move to rebuild saving in the wake of easing gas prices could soften the lift to what otherwise should be a very stimulative development," JPMorgan Economist Michael Feroli told Reuters in late May.
The uncertainty emanating from the European debt crisis appears to have spooked the business community, too. "We think it would be disastrous for us to see an uncontrolled spiral and default in Europe, because that could trigger a whole range of other events," President Obama said last week at a joint press conference with Germany's Chancellor Angela Merkel.
Stocks have mimicked the growing pessimism of Americans, as six straight weeks of losses was topped off by the Dow falling below 12,000 points last Friday for the first time since March.
Related
Popular in the Community