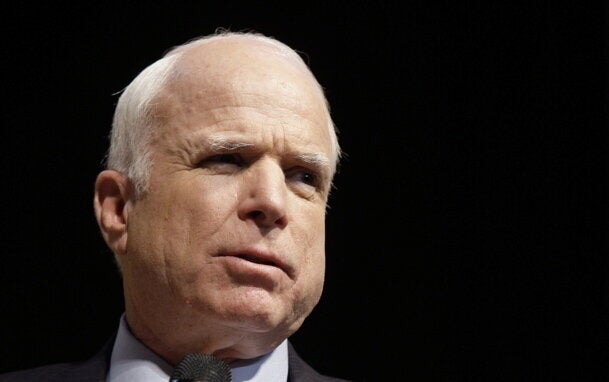 What a twist! Last week Obama dominated the news and jumped to his biggest lead ever in Gallup's tracking poll over the weekend. He also leads in a number of national polls released Monday. So who would expect that yesterday McCain would break a long losing streak and grab his first lead in a national poll since early May? (How long a losing streak McCain just ended is evident with a quick look at RCP's list of all national polls.) Although yesterday's poll means relatively little, the Republican's campaign will no doubt seize upon it as an island of hope in a sea of troubles. It helps that the poll was conducted by Gallup, as reputable a name among American pollsters as any. (Note: The poll was conducted for USA Today and is not today's edition of Gallup's tracking poll.) Of course, we're talking about a 1% lead -- and that lead tallied only among likely voters:
From a 6% deficit last month, McCain is now leading 49% to 45% among likely voters. Among registered voters, Obama leads 47% to 44% -- down from a 6% lead last month.
The poll was taken over the week-end.
That was the only good polling news for McCain. Other national polls released this week find Obama clearly ahead, suggesting that the USA Today poll is the exception to the consistent but narrow Obama lead we have been seeing for weeks:
First, Gallup's tracking poll finds Obama leading 48% to 40%, a one point decline since yesterday but the biggest lead Obama has had in the tracking poll since March except for yesterday.
Rasmussen's tracking poll, on the other hand, finds Obama leading only 48% to 45%, down from 6% two days ago and 5% sunday.
The fourth poll taken over the week-end is Research 2000's first national poll: It finds Obama leading 51% to 39% with 3% to Bob Barr and 2% to Ralph Nader. The poll tested likely voters. An interesting finding is that the biggest regional swing in the past 4 years is the Midwest, where Obama now leads 53% to 37%, a 17% swing. Given the high concentration of battlegrounds in this region, Obama would surely win the election if he were to gain more in the Midwest than in the rest of the country.
Two other national polls were released Monday but were taken early last week, making them a bit less valuable as the timeliness of surveys seems more important than usual. First, a Democracy Corps poll taken from the 21st to the 24th finds Obama leading 50% to 45%, 48% to 42% if Barr and Nader are included, a significant factor.
A YouGov poll for The Economist finds Obama leading 41% to 38%. This one was taken from the 22nd to the 24th.
So what should we make of the USA Today/Gallup poll if five other polls today found Obama with a lead ranging from 3% to 12%? Gallup's USA Today results are not what is interesting here: McCain's lead is within the margin of error, and the lead it tracks is limited to the likely voter model. (Gallup's editor says "registered voters are much more important at the moment," though the poll does go against the conventional wisdom that Democrats are much more enthusiastic this year).
It is the psychological effect of a poll like this that matters: for McCain to come out with however slim a lead in a major national poll at the height of Obama's media coverage must be a huge relief for Republicans, and it blunts the building narrative of Obama wildly successful international trip -- whatever other polls find in the coming days. The GOP desperately needs more energy if it is going to win the White House and the first step is for voters and strategists to begin believing the party can win.
Furthermore, that McCain is performing much stronger than he seems to have earned the right to be performing and that he is holding on in battleground states such as Ohio and Michigan despite slipping among base states such as Arizona has long been documented, including on this blog. This USA Today/Gallup's poll feeds the storyline that Obama can not break through, despite incredibly strong campaigning weeks, like the one that just ended. That the numbers appear to be tightening once more in the tracking polls strengthen that narrative further.
Calling all HuffPost superfans!
Sign up for membership to become a founding member and help shape HuffPost's next chapter