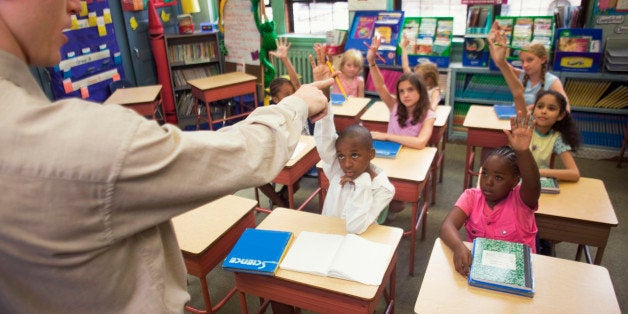 U.S. teachers who are unhappy with their jobs miss significantly more days of work than their happier peers, a new survey finds.
A recent brief from Gallup looks at how teachers' level of engagement impacts their attendance. Last year, Gallup asked a group of over 6,500 full-time K-12 schoolteachers questions about their happiness at work to determine how engaged they felt with their jobs. The answers were used to classify teachers as engaged, not engaged or actively disengaged. Engaged teachers were committed to their work, while not engaged teachers felt emotionally disconnected from their jobs and actively disengaged teachers felt completely unhappy on a day-to-day basis.
Gallup determined that teachers who reported feeling less engaged with their work were more likely to report that poor health kept them from their usual teaching routine. Based on data about the number of full-time teachers in the country, the study estimated that "not engaged" teachers missed over 780,000 more days of school a year in total than engaged teachers. Actively disengaged teachers missed over 1,500,000 more days of school than their happier counterparts.
In total, these groups of teachers are estimated to have missed 2.3 million more days of school than teachers who were engaged.
"Absenteeism associated with a lack of teacher engagement creates a drain on school productivity," the Gallup report says. "Schools districts must foot the bill for classroom replacements. And when substitute teachers are relied on to execute a regular teacher's lesson plans, often with limited advance notice, it can easily create a suboptimal learning environment for students."
According to Gallup, about 30 percent of teachers report feeling engaged with their work, which is about the same as the overall number of American workers who say they feel engaged with their jobs.
Gallup arrived at its conclusions by asking teachers how many days in the past month poor health kept them from participating in their usual activities. Using a conversion method established in previous research, the polling organization estimated how many workdays teachers missed per year, based on the number of days they reported feeling unhealthy.
"The problem is that when teachers are not fully engaged in their work, their students pay the price every day," Gallup said in a report based on that survey, published in April 2014. "Disengaged teachers are less likely to bring the energy, insights, and resilience that effective teaching requires to the classroom. They are less likely to build the kind of positive, caring relationships with their students that form the emotional core of the learning process."
Calling all HuffPost superfans!
Sign up for membership to become a founding member and help shape HuffPost's next chapter
BEFORE YOU GO
PHOTO GALLERY
School Lunches From Around The World