WASHINGTON -- Early Monday morning, Gallup released the latest results of its national daily tracking poll, showing President Barack Obama and Republican nominee Mitt Romney in a tie, with both men supported by 47 percent of registered voters. Just three days before, Gallup also noted, Obama had led Romney by five percentage points (50 percent to 45 percent).
Then at 1 p.m. Eastern time on Monday, Gallup updated its daily tracking results again, this time showing Obama once more leading Romney by 5 points (50 percent to 45 percent).
Huh? Did Obama somehow regain 5 points on Monday morning?
Not exactly, but Gallup's Monday afternoon update suggests the initial bounce that Romney received from last week's presidential debate may already be starting to fade.
In showing Obama and Romney tied in its initial Monday morning release, Gallup broke from its typical practice of reporting presidential vote preference on a seven-day rolling average and instead compared vote preference on two sets of three-day averages. Looking at the results from interviews conducted Oct. 1 to 3 (just before the debate) and the results from interviews conducted Oct. 4 to 6 (just after), Gallup found the race had narrowed from a five-point Obama lead to dead even.
Nevertheless, as of Sunday night, Gallup's seven-day rolling average continued to show Obama leading by three points. "Even on this basis," wrote Gallup's Jeffrey Jones, "the race has become somewhat more competitive compared with before the first debate." In the eight days prior to the debate, the polling firm's seven-day averages had shown Obama leading by 4 to 6 points.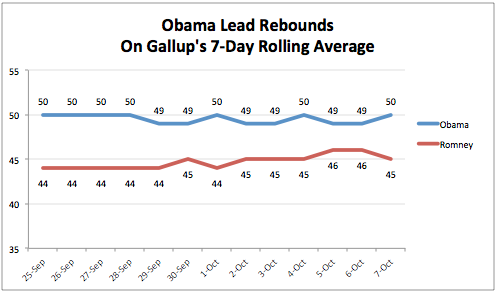 But on Gallup's latest seven-day results, the numbers reported on Monday afternoon, Obama's lead again expanded to 5 points. Given the consistency prior to the debates, the latest result at least suggests a slight rebound for Obama on Saturday and Sunday.
Gallup's daily tracking of the president's job approval rating is also reported on a three-day, not seven-day, rolling average. It suggests a similar pattern: Obama's numbers bottomed out in the interviews conducted Thursday to Saturday, Oct. 4 to 6, and were better on Sunday, Oct. 7.
Note that Gallup reports the job approval results among all adults, not just registered voters -- so it is unlikely, but possible, that nonregistered adults are responding differently than registered voters.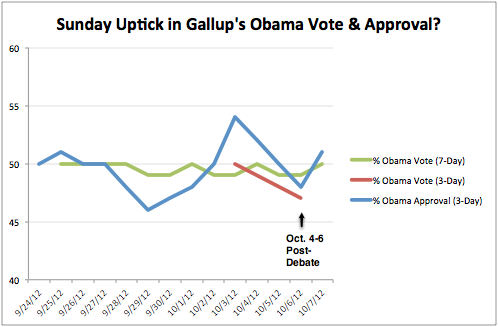 Those apparent Sunday upticks may be random noise, but the results gave Democrats something to smile about on Monday afternoon. At very least, on just one day, Gallup produced numbers to please partisans on all sides.
The HuffPost Pollster tracking model, based on all available public polls, continues to show a narrowing in Obama's margin over the past week, but as of this writing, the morning's updates had widened his margin to just over 2 points.
*************************
What's happening in your district? The Huffington Post wants to know about all the campaign ads, mailers, robocalls, candidate appearances and other interesting campaign news happening by you. Email any tips, videos, audio files or photos to openreporting@huffingtonpost.com.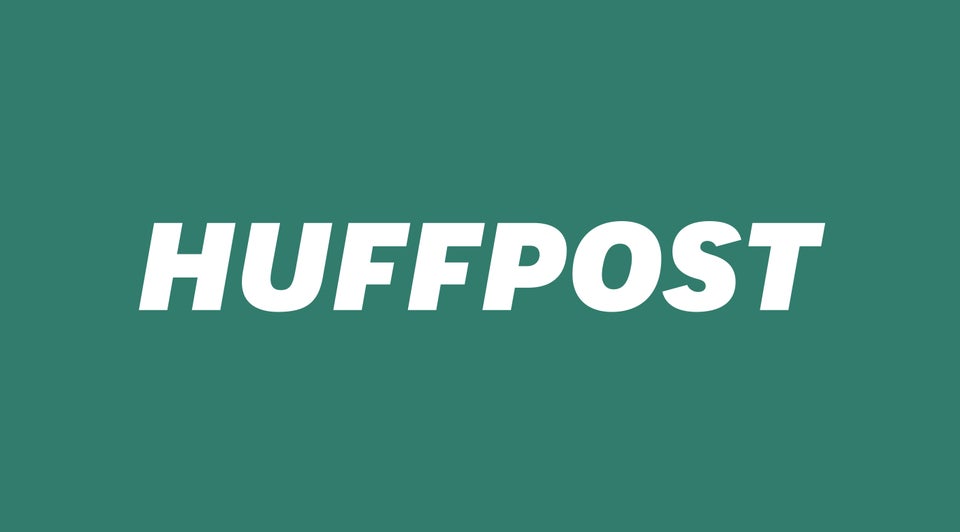 Polls: Obama vs. Romney
Popular in the Community