 Although 83 percent of parents with children in grades K-12 indicated their oldest child attends public school, only 37 percent of respondents said public schools provided an "excellent" or "good" education. Among parents, 47 percent expressed this level of confidence in public schools, behind private, parochial and charter schools, but ahead of home schooling.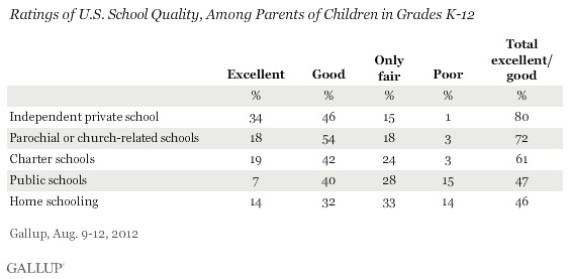 When taking party identification into account, Republicans responded much more positively to home schooling, and, to a lesser degree, parochial schools when compared to Democrats. Democrats, on the other hand, were 13 percentage points more favorable toward public schools compared to their Republican counterparts. That said, Democrats still rated private, parochial and charter schools as providing better education than public schools.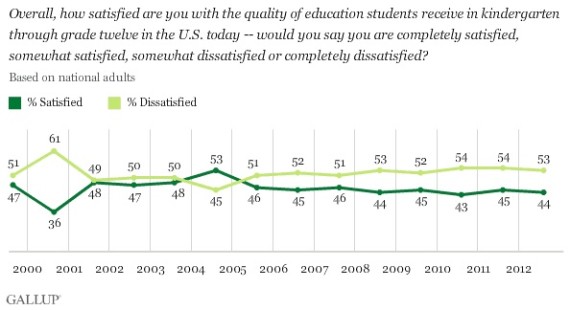 When asked to rate their own child's school, however, 75 percent of parents indicated they were positive about their children's quality of education -- a statistic that also held true for public school parents. According to Gallup, the percentage satisfied with their own children's education has never dipped lower than 68 percent since 1999.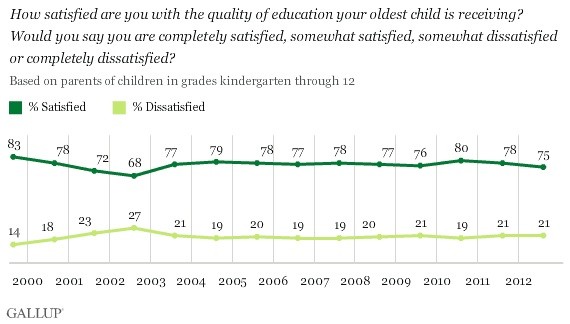 In comparing the two graphs above, Gallup researchers say the low public school satisfaction among Americans is likely not a commentary on their own child's school -- as they tend to rate those highly. "Rather, Americans may just have a general sense that U.S. public education is not where it needs to be, perhaps due to news media reports that American students lag behind students in other countries in basic academic skills," according to the report.
Popular in the Community