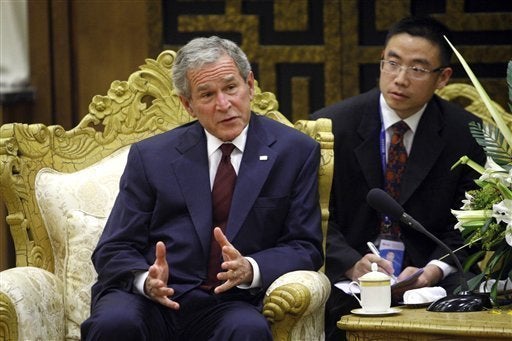 The political establishment will soon have a better sense of where the public stands on investigating the Bush administration for the possible torture of detainees.
An official at Gallup confirms that the polling firm will be conducting a survey this weekend on criminal investigations into the Bush years. The survey, likely to be released on Monday afternoon, will provide one the first measures of public sentiment on this topic since Barack Obama suggested he would be open to an independent commission investigating the use of now-outlawed interrogation techniques.
Elizabeth Mendes, an associate editor at Gallup, says the survey will ask "how closely people have been following the news about this issue, if they think the techniques were justified, and if they think there should be an investigation." There could be another question relating to the makeup of such an investigation, though that has not been finalized.
The results of the Gallup survey have the potential to add either fire or cold water to the debate over whether or not the Bush administration should be investigated for authorizing harsh -- possibly illegal -- interrogation techniques. Republicans, in general, have argued that the country is uninterested in a partisan witch-hunt and would prefer to move on from the entire episode. Democrats, by and large, have insisted there is a moral and political appetite among the public to figure out what went wrong and whether laws were broken. The White House has somewhat straddled the middle, though with stated preference toward looking forward.
The last time Gallup polled this issue was on February 12, when the firm found that 62 percent of the public supported some sort of investigation into the "possible use of torture in terror interrogation." Thirty-eight percent favored a criminal investigation, 24 percent favored an investigation by an independent panel, and 34 percent said they favored neither.
Calling all HuffPost superfans!
Sign up for membership to become a founding member and help shape HuffPost's next chapter