The following is Part Two of Galunker, a children's book about a misunderstood but lovable pit bull. Part One (the beginning) can be read here.
This book has been illustrated by DULA YAVNE and written by DOUGLAS ANTHONY COOPER. Both have had their work published and shown worldwide, but there was no possibility that any conventional publishing house would touch a children's book about a pit bull. Hence it is being launched as a Kickstarter project, with the passionate support of pit bull advocates across American and Canada. (Galunker is in fact now the #1 project on Kickstarter - worldwide! - in the Publishing category.)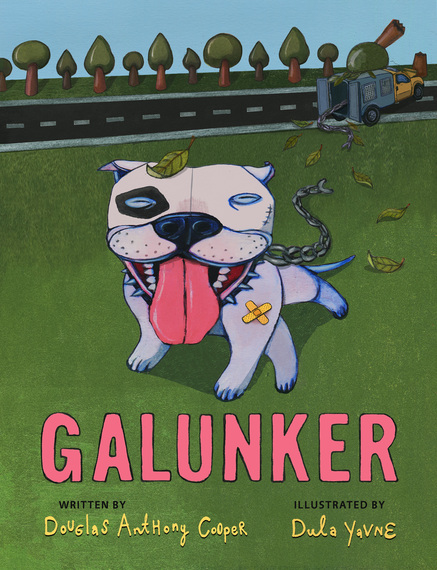 Philty was nervous and Philty was guilty
His nerves and his guilt served to addle poor Philty:
His hands on the wheel were all sweaty and damp,
And his lips were a-purse and his jaw was a-clamp,
And his eye was awry and his leg was a-cramp,
And in general he was in no shape to drive.
He was lucky to leave that collision alive.
(The tree that he plowed into didn't survive.)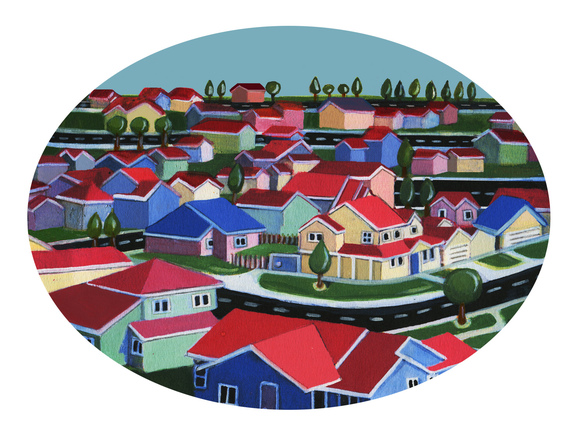 And what of that dog he had locked in the rear? --
For Philty had sympathy mixed with his fear --
Had this pit bull departed alas with the tree?
And Philty crept round to the rear so to see.
No Galunker the pit bull was fit as a fiddle
Whatever that means. He was banged up a little
And sorely confused and unsure of his fate:
Galunker and Philty were in the same state.
The door in the rear had flown fully ajar
And then fully away. It had flown quite far
And had crumpled the rump of a rusty parked car.
And Galunker stood now in the hole that was left
When that truck of its door had been sorely bereft.
Philty froze when his eye met the eye of the beast
Who was free now and possibly ready to feast
On the man who had locked him in back of a truck.
Oh the horror of horrible hideous luck.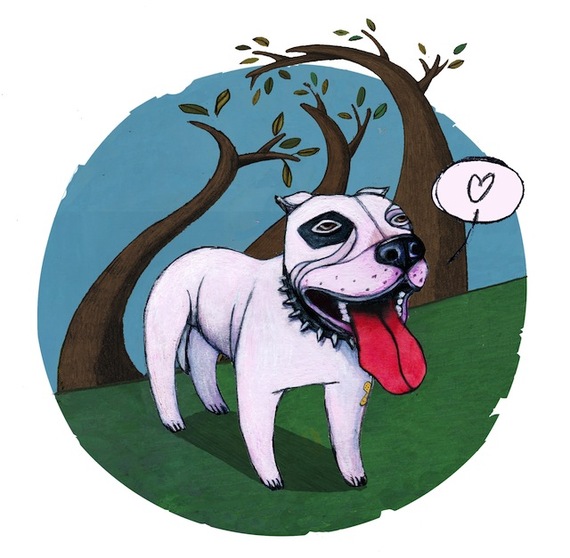 Galunker's lip curled and that curl announced
That Galunker the pit bull, who hadn't yet pounced
Was about to. And Philty? He passed fully out.
And Galunker he pounced and his terrible snout
Was pressed fully on Philty's insensible nose.
And Philty awoke, and poor Philty froze,
Despite being warmed by the breath of the beast,
For Follicle Philty felt fully pre-feast.
And the pit bull unfurled his terrible tongue
("The better to taste me" mad Philty's nerves sung)
And Galunker proceeded to lick Philty's eye.
Why are you doing that? Why, pit bull, why?
The tongue licked his eyebrow and lapped at his nostril
And flapped at his ear and was mostly impossible.
"Please stop that!" screamed Philty, now frantically wiggling
Then Follicle Philty found out he was giggling.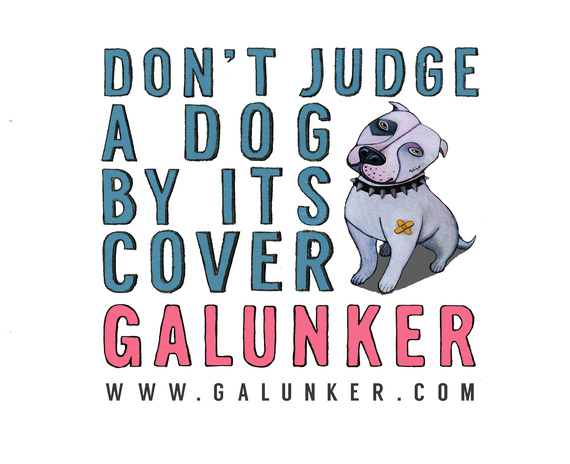 Galunker is being funded with the aid of Kickstarter. Because, as we say, no conventional publishing house will go near it. We were told: "You might as well write a children's book about meth."
Part Three will appear soon in the Huffington Post.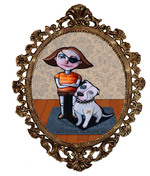 Popular in the Community