The small West African nation of Gambia is rapidly approaching a crucial deadline. On Thursday, authoritarian President Yahya Jammeh's 23-year-long rule is set to end after his unexpected election defeat last month.
But there is little indication that Jammeh intends to give up power. Instead, he declared a state of emergency on Tuesday after weeks of attempting to contest the result of the vote.
Jammeh's refusal to step down in the wake of his country's Dec. 1 election now threatens to plunge Gambia into turmoil and create an international crisis. Regional powers have been making preparations in recent weeks for a possible military intervention to force him from office.
The Economic Community of West African States bloc has put troops on standby ahead of Jan. 19, the day Jammeh's mandate expires, and Nigeria has reportedly deployed a warship to Gambia's coast to put pressure on Jammeh. With a population of just under two million people, Gambia has only a tiny fraction of other West African countries' military capacity.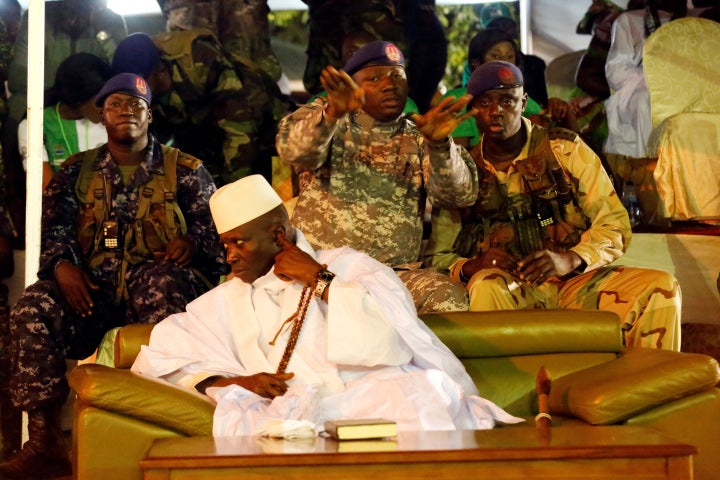 The current situation represents a stark change from last month, when Gambians celebrated in the streets after electing businessman Adama Barrow to the presidency. 
After the election, Jammeh stated he would respect the result, but he changed his mind less than two weeks later. He has since moved to seize election offices, arrested protesters and launched a failed bid to challenge the election in Gambia's Supreme Court. The president of the election commission fled the country out of concern for his safety earlier this month, as have hundreds of Gambian citizens worried about possible violence.
President-elect Barrow also left the country for security reasons, and is now in neighboring Senegal. On Sunday, a dog mauled Barrow's young son to death in Gambia, but he was unable to return to the country for the funeral.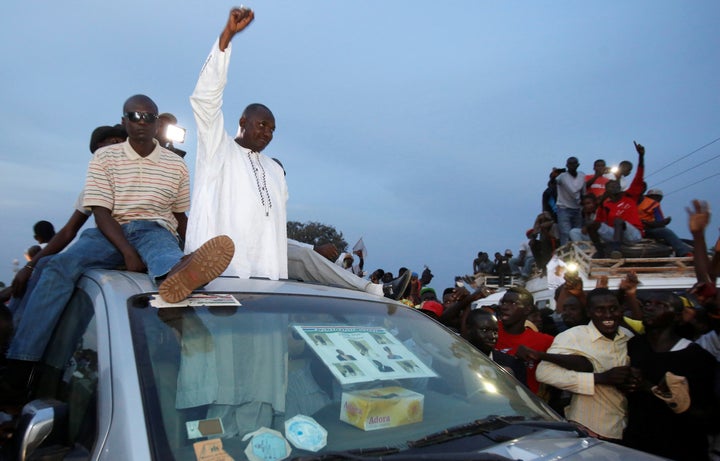 Human rights groups fear that the humanitarian situation in Gambia could further decline if the crisis isn't resolved soon. Last spring, protests against Jammeh's rule led his government to imprison and kill members of the political opposition. Another crackdown could lead to violence and force more Gambians to flee as refugees.
"There is a history in Gambia of protests being brutally repressed," Stephen Cockburn, Amnesty International's deputy regional director for West and Central Africa, told The WorldPost. "Protests being faced down by an army who are using live ammunition is one of the biggest risks over the coming weeks."
Jammeh's state of emergency bans "acts intended to disturb public order" and "acts of disobedience." 
"The declared State of Emergency must not be used to crackdown on peaceful dissent, and the security forces must not take this as a green light to repress those who may wish to speak out," Cockburn wrote in an email.
There is a history in Gambia of protests being brutally repressed.

Stephen Cockburn, Amnesty International
Jammeh's refusal to step down has left him facing greater political isolation both internationally and at home. A number of Gambian officials resigned this week, including top ministers and the mayor of the capital city of Banjul. The African Union stated that it will not recognize Jammeh's legitimacy after his term runs out.
"Regional leaders have long been fed up with Yahya Jammeh" said Jeffrey Smith, founder of nonprofit advocacy group Vanguard Africa, which supported Barrow's campaign. 
"The Gambia really has become an outlier in the region and a pariah state," he added.
REAL LIFE. REAL NEWS. REAL VOICES.
Help us tell more of the stories that matter from voices that too often remain unheard.