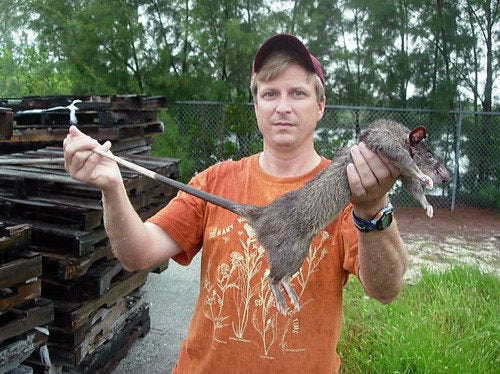 Florida Fish and Wildlife Conservation Commission and U.S. Department of Agriculture officials are battling an invasive species in the Keys they thought they got rid of years ago: Gambian rats -- giant rodents the size of cats.
Hardin says they've caught 20 since then through peanut butter and cantaloupe-laced traps in Grassy Key residents' backyards, reports KeyNet.
When officials began a targeted campaign to kill rampant Gambian rats in the Keys in 2007, their bodies and fecal matter were tested for any trace of Monkey Pox.
Although this particularly dense population of Gambian rats is regulated to Grassy Key, about 60 miles north of Key West, the rodents have made plenty of headlines around the world.
Also last year, a public works employee speared a giant Gambian rat with his pitchfork in public housing in the Bronx. The gruesome picture quickly went viral on the web.
Learn more about the Gambian rats in the below video:

Related
Popular in the Community