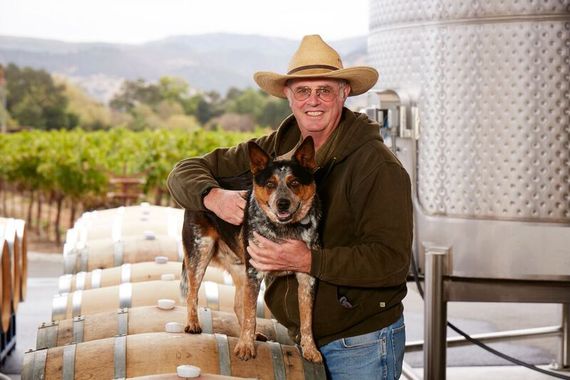 If you believed all the lyrical lingo on wine labels, you'd think that owning vineyards and making wine is some kind of idyllic life of dreamers and the gods who love them. In fact, winemaking is a business, one guided as much by the vagaries of the market as by weather, and all the winsome blathering, best satirized in Evelyn Waugh's Brideshead Revisited--"It is a little, shy wine like a gazelle ... dappled, in a tapestry meadow ... a necklace of pearls on a white neck"--cannot change the fact that wine begins down in the dirt and ends up being boxed and shipped out in a truck.
One of the least prepossessing and therefore honest winery owners I've met is Tom Gamble (above) of the Gamble Family Vineyards, whose name suggests just how much risk there is in being a small winery in California's Napa Valley, whose huge, well-invested wineries like Robert Mondavi and Berenger have tremendous clout in buying land, grapes and supermarket space.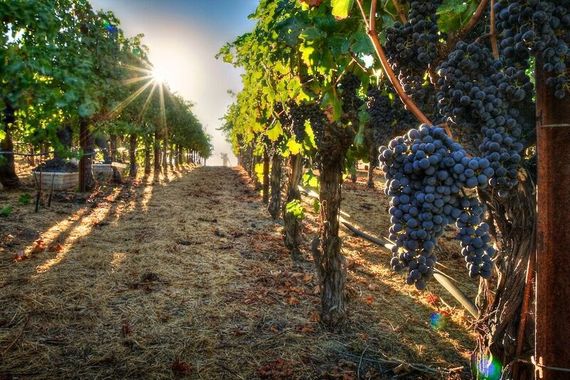 "It's difficult to get distribution," Gamble, who has the easy, laid-back California swagger down pat, said over dinner in New York. "Thank God we have one thousand subscribers who buy 40 percent of our wines, and our biggest dollar gross is in selling our grapes to other wineries." (In fact, Beringer leases a large chunk of Gamble's properties.)
Gamble is a third-generation farmer. Vineyard owners don't often refer to themselves as farmers, though Tom has some cattle ranchers in his bloodline and, with 100 years of agriculture in Napa behind him, now owns 175 acres of prime estate vineyards from the most respected AVAs--Oakville, Mt. Veeder, Rutherford and Yountville, where grape-growing plots can sell for hundreds of thousands of dollars per acre, with few left to buy.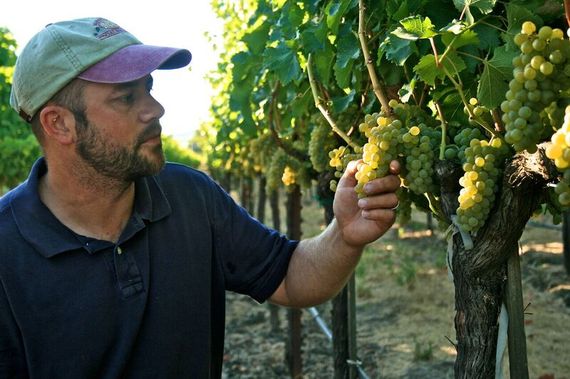 "That's one of the great things about being in this valley for a century," he says. "You get to know the microclimates and the growers who always know of a little section of prime terroir no one else ever knew about.
"Given this legacy, one does not continue farming for dispassionate reasons alone," he says. "There are easier ways to make a living. So, taking the next step and putting my name on a bottle of wine does not come lightly. I didn't know much about winemaking or wine sales, but I knew I had good land to work with."
Gamble Family Vineyards was flunded in 2005 and the winery built in in 2012 on land that holds the ancestral farmhouse, water tower, and barns, which Gamble and his wife, Colette, whose family and farmland have been in the valley since 1873, are committed to maintaining. Her brother, Morgan Conolly, did the design of the property's new structures, which includes a tasting room (by invitation only). Tom and Brit-born winemaker Jim Close (above) are, as you'd expect, also insistent that they follow sustainable agriculture; his winery and vineyards are certified Napa Green and Fish Friendly. That's in his blood, too. Tom's mother, Mary Ann McGuire, was active in establishing1968's Napa Valley Agricultural Preserve, an ordinance that protects vineyards and wineries from commercial development and ensures that the land is used strictly for agricultural purposes.
Rather than follow the blockbuster style of many Napa Valley colleagues, Gamble and Close hue more closely to the traditions of Bordeaux winemaking, whereby blending varietals and heeding the nuances of terroir produce distinctive wines without high alcohol levels. In addition, they use both French and California grape clones they believe thrive best in one plot or another. They also want their wines to age gracefully and take their time to mature.

"We aim for vivacity, richness and lift," said Gamble. "If there's too much alcohol, or imbalance of tannin and acid, the wine won't marry with food." When it came to marrying Gamble's Sauvignon Blanc with peppery focaccia made at Lincoln Ristorante that evening, the flavors were indeed highly complementary. The pepper perked up the taste of the wine and the wine imparted a tangy sweetness to the warm, olive oil-brushed bread. Gamble also makes a beautiful series of well-structured Cabernet Sauvignons that echo some very fine Bordeaux while still showing the effects of California sun and soil.
The naming of estates on Napa Valley wine labels is often a mixture of mysterious numbers and letters, but Gamble prefers them to have personal meaning tied to his family, so it's no surprise to find names like "Homestead" and "Water Tower" referring to blocks. Two wines are named after his parents, G. Thomas and MaryAnn. It is, then, a little odd to find a vineyard named "Cairo," which has no seeming relevance to Napa Valley.
"Oh," said Gamble, "That's named for our beloved rescue dog. He's gone but he lives on on the label."
I should have guessed. Spoken more like a farmer than a vintner.