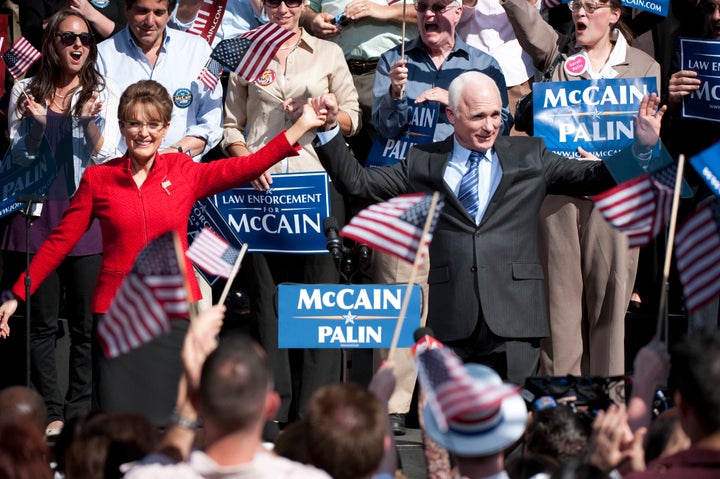 NEW YORK -- After concluding her debate with now-Vice President Joe Biden in the upcoming HBO movie "Game Change," Sarah Palin tells John McCain's campaign manager Steve Schmidt why McCain needs to definitely win the 2008 presidential election. "I so don't want to go back to Alaska," Palin says.
The line, uttered by actress Julianne Moore, who portrays Palin in the film, echoes a similar one from a book about Palin -- but it isn't "Game Change," the bestseller by Time's Mark Halperin and New York magazine's John Heilemann. Instead, a slight variation of the quote can be found in "Sarah From Alaska," a book written by political reporters Scott Conroy and Shushannah Walshe, both of whom were embedded with Palin during her two months on the Republican ticket. "I just don't want to go back to Alaska," Palin says in "Sarah From Alaska" after the debate.
Conroy and Walshe, in separate interviews with The Huffington Post, say that's just one of at least a half dozen scenes or specific moments in the "Game Change" movie that appeared in their book but not in Halperin and Heilemann's. Given that screenwriter Danny Strong read their book -- which they learned during a conversation last year with "Game Change" director Jay Roach and an HBO executive -- both authors say they would have expected to be asked for their input.
"We were surprised they didn't want to reach out to us," said Conroy, now a national political reporter for RealClearPolitics and CBS News. "We were there on the ground covering this firsthand, and our book was well-received by pro-Palin and anti-Palin constituencies."
Conroy has seen the finished film, while Walshe has only been briefed on its contents. "It's curious they didn't decide to call us," said Walshe, a Fox News embed in 2008 who's now reporting on the 2012 race for ABC News. Conroy said he thought HBO would have wanted his and Walshe's "perspective on scenes they used that came to light from our book."
"The climactic scene in the movie, where the campaign does not allow Sarah Palin to give a concession speech that was written for her, was the major news out of our book," Conroy said. "When we did publicity after our book came out, it was the thing everyone wanted to talk to us about most. Before 'Sarah From Alaska' was published, it had not been made public that a concession and victory speech had actually been written for Palin and that there had been a major dispute between the pro-Palin and anti-Palin sides about whether she would be allowed to deliver a concession speech on Election Night."
The "Game Change" book doesn't cover the election night fracas over whether or not Palin would give a speech, a scene occupying the first chapter of "Sarah From Alaska." And there are a few other scenes that can be found in "Sarah From Alaska" and the movie, but not in the "Game Change" book, such as Palin's demand that traveling press secretary Maria Comella be taken off her plane and her refusal to take the stage with New Hampshire state Sen. Jeb Bradley because of his pro-choice views.
But screenwriter Danny Strong, who previously worked with Roach on HBO's Emmy award-winning film "Recount," said in an interview with The Huffington Post that he independently reported several scenes and moments that weren't in the book, including Palin's comment about not wishing to return to Alaska. "None of these scenes originated from the book 'Sarah From Alaska,'" Strong said.
"Game Change" was the talk of Washington when it dropped in early 2010, with scoops and insider dish from the 2008 campaign that eluded reporters covering the epic race in real time. The HBO treatment is generating similar buzz -- with Politico's Patrick Gavin writing, "it's hard to remember a movie more eagerly anticipated by politicos" -- and controversy, as Palin loyalists question its accuracy. MSNBC's "Morning Joe," on which network analysts Halperin and Heilemann are regulars, has hyped the movie throughout the week leading up to Saturday's HBO premiere.
But while "Game Change" exhaustively covered the 2008 election, only about 45 of its pages -- or roughly one-tenth of the book -- focus primarily on Palin. Originally, HBO ordered a script focused on the Obama-Clinton chapters, but it was rejected; Roach then recruited Strong in summer 2010 to write a screenplay concentrating on Palin's story. In working on the script, Strong said he interviewed 25 people from the McCain and Palin teams and did his own research, the bulk of which he conducted from July to Dec. 2010.
Still, Strong contends that "85 percent" of film is based on the "Game Change" book, as was the decision to frame the movie from the perspective of Schmidt, played by Woody Harrelson. Another 10 percent, he said, came from interviews. Strong also relied on Halperin and Heilemann, who served as consultants (and make cameos as "St. Paul reporters" during the Republican convention).
"We couldn't be happier with the work Danny did as a screenwriter," Heilemann said by phone. "We couldn't be happier with the film. We couldn't be more impressed with Danny and Jay's relentless and diligent commitment to be true to both our book and, most importantly, to history."
Strong said that the remaining five percent of the script came from reading 100 newspaper and magazine articles, along with Palin's "Going Rogue," John McCain's "Faith of My Fathers," his daughter Meghan McCain's "Dirty Sexy Politics," Newsweek's "A Long Time Coming," and "Sarah From Alaska." Strong said he read "Sarah From Alaska" late in the process of writing the script. The book, he said, validated much of what he'd already heard from McCain-Palin campaign alumni.
But that doesn't satisfy Conroy and Walsh, both of whom have been concerned for over a year that scenes from their book could be similar to some in the HBO movie.
In March 2011, Walshe heard secondhand from a friend on Facebook that Roach had recommended "Sarah From Alaska" to a relative working on the movie. There was a back-and-forth between Walshe and the friend over whether the director wanted to speak with her. Although no meeting ever materialized, the Facebook exchange sparked the authors' interest in whether the book was being looked to as a source.
On June 7, their agent, Alice Martell, told Roach in a letter that "based on information my clients have received, we believe the HBO adaptation borrows heavily from portions of 'Sarah From Alaska,' which focuses exclusively on Sarah Palin." A couple weeks later, Roach acknowledged in a letter that Strong had read "Sarah From Alaska," but said it "was not a primary source." The script, Roach said, was primarily based on "Game Change."
Several weeks later, Martell responded that she and her clients had lingering concerns and asked to see the "Game Change" script on a confidential basis. Patricia Duncan, HBO's vice president and senior counsel for West Coast programming, responded this time, telling Martell that "Sarah From Alaska," was not a primary source of material for the screenplay." Duncan added that having carefully reviewed the screenplay myself, I am quite confident that it does not contain any legally protectible (sic) material from 'Sarah From Alaska.'"
In researching the film, Strong interviewed Schmidt and McCain-Palin senior adviser Nicole Wallace, both of whom have been critical of Palin since the campaign ended and come across sympathetically in the film, which portrays them as trying to handle a vice presidential candidate who is increasingly unmanageable and woefully unprepared for interviews dealing with both domestic and foreign policy.
Palin loyalists have questioned that depiction of Palin, given how much of the film is seen through Schmidt's perspective. Jason Recher, a Sarah PAC consultant who served as campaign trip director and was therefore by Palin's side for those two months on the trail, told The Huffington Post that he recently saw "Game Change" and contends that it got just two facts right. "There was an election in 2008," Recher said, "and Sarah Palin was on the ticket."
Recher, who considers "Sarah From Alaska" to be more accurate, noted that Palin held 96 rallies in 19 states, travelling over 200 legs by bus and plane. Recher contends that according to the bus and plane manifests, Schmidt was only aboard for five the 200 legs, while Halperin and Heilemann weren't on any.
"We each covered, in person, many of Governor Palin's campaign events after she joined the Republican ticket in 2008," Heilemann and Halperin responded in a joint statement.
Strong pointed out that former Palin deputy chief of staff Chris Edwards served as technical adviser on the film, and was able to consult from the perspective of someone who was close the drama on election night. Strong also spoke to Recher -- although Politico reports that the two men dispute aspects of their conversations -- and another half dozen people he'd put in the pro-Palin category. Six of those seven, he said, described "Game Change" as accurate.
While Strong stands by the film's accuracy and the process by which he incorporated his own interviews as supplemental material in the script, the authors of "Sarah From Alaska" still argue that such key moments may never have seen the light of day if they hadn't first reported them in Nov. 2009.
"Had our book never been published," Conroy said, "it's very unlikely these scenes would have been uncovered by HBO and put in the movie."
Calling all HuffPost superfans!
Sign up for membership to become a founding member and help shape HuffPost's next chapter
BEFORE YOU GO