Last week, my column about a new way to measure the penetration and indeed popularity of new songs, BigChampagne's Ultimate Chart, created quite a stir. I don't know why anyone should be surprised that a service that can truly reflect all the activity of an artist's impact has disrupted an industry (already in profound upheaval) by challenging how we measure success and hits. Like I said last week, a song becomes a hit when it sells a ton of CD's, downloads, concert tickets, merchandise and is streamed millions of times, not whether it has achieved high numbers on the conventional charts.
Jay Frank, a friend and colleague, and SVP Music Strategy for CMT, who has extensive experience in measuring hit songs and has even written a book about it, Futurehit.DNA, has commented in this way: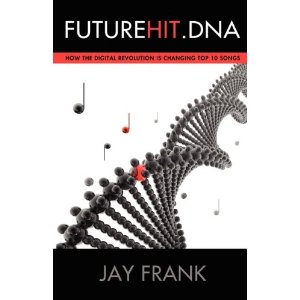 Futurehit.DNA by Jay Frank
The debut of the Ultimate Chart, succinctly explained last week, is just the beginning of the true "new normal" for the music business. A chart that accurately accounts for online activity around music is one I've been advocating for many years. Traditional charts have been misleading on many titles that exploded on the internet. Years from now, more kids will likely remember Tay Zonday's "Chocolate Rain" (a non-charting early YouTube sensation at 55 million views and counting) than Kelly Clarkson's "Never Again" (a top 10 hit at the same time that still has not cracked 20 million views).
Time was lost in the last decade arguing over how much to get paid for music in the new model. While some issues still linger, this next decade should be all about expanding the music business with multiple new outlets and technologies in which music can be enjoyed and properly accounted for financially. It's a drastically different business, but here are three things that all labels and artists must pay heed to:
TRACK HITS PROPERLY - The Ultimate Chart is the first step in this direction, and continual improvements will show that it won't be the last. Statistics are now showing that rather than the presumed "long tail" accounting for the new business, the hits are more important than ever. Nearly one in three downloads of new songs in the first half of this year came from the Top 50 selling songs. Better measurement of hits means better surfacing of the hits people actually like, as opposed to the ones made by the industry. Better surfacing of actual hits means more purchasing and royalty-generating activity around those hits. Naturally, this means more money flowing through the music business.
TRACK NUMEROUS OUTLETS - Labels (or more accurately, distributors) used to track essentially three types of retailers: big box, chains, and independent stores. Eventually, digital sales got added in without much difficulty. Now, you need to add in downloads in subscriptions, streaming subscription, free streaming, video streaming, mobile streaming, user-generated background music, and even more new ideas that have yet to surface. Each release now requires over a hundred configurations and this is only going to multiply. It's no longer collecting millions from a few retail streams. The millions will now come from a ton of places.
MAKE HITS DIGITAL-READY - For years, record companies made songs that played solely into the strengths of radio. Now that digital has taken over as another primary discovery source, artists need to do the same. But old habits are hard to change. While most songs released still play by old rules, the majority of the Top 50 selling songs are playing by the new rules. These rules are outlined in my book Futurehit.DNA, and I've found that financial success in music has always been achieved when artists make music that plays into the technology that delivers it. The more that artist crafts music this way, the sooner the music business will rebound to a thriving one yet again. ~Jay Frank
Jay's observations underscore the idea that to truly embrace the change that is occurring across the entire music-sphere, we have to also change how we measure success.

Popular in the Community