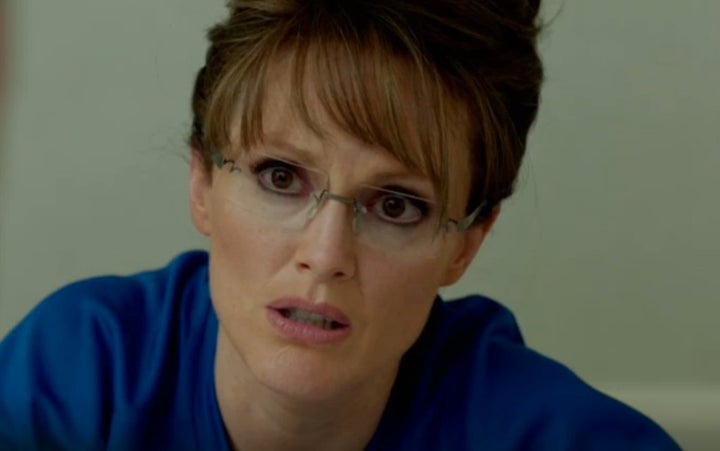 The full first look at Julianne Moore playing Sarah Palin has been revealed, and it's not all that pretty.
Moore plays the former governor of Alaska in the upcoming HBO film "Game Change," which chronicles the ups and downs of then-GOP presidential nominee John McCain's 2008 campaign for president. Based on the book by journalists Mark Halperin and John Heilemann, the film is less than flattering to Palin, who is seen flailing and rebelling against those running the campaign.
"We have her displaying moments of sheer brilliance –- I mean, she was unbelievably charismatic," Moore said earlier in January about the film's portrayal of Palin. "Suddenly here was this working class mother who popped out and seemed to be able to command the world, but of course upon further inspection, she was clearly not prepared. She didn't necessarily have the experience necessary to lead our country, and that's what we were attempting to characterize."
Ed Harris, who plays McCain, is portrayed as an exhausted, exasperated candidate. Woody Harrelson plays adviser Steve Schmidt, who scrambles to cover Palin's flaws with her natural charisma.
The film premieres on March 10th and 9pm on HBO.
WATCH
:
REAL LIFE. REAL NEWS. REAL VOICES.
Help us tell more of the stories that matter from voices that too often remain unheard.