Last night was a game changer. Economic policies that advance women and families broke out of their traditional silo in a big way in President Obama's State of the Union speech.
"Today, women make up about half our workforce. But they still make 77 cents for every dollar a man earns. That is wrong, and in 2014, it's an embarrassment. A woman deserves equal pay for equal work. She deserves to have a baby without sacrificing her job. A mother deserves a day off to care for a sick child or sick parent without running into hardship - and you know what, a father does, too. It's time to do away with workplace policies that belong in a Mad Men episode". -- President Barack Obama, State of the Union Speech, January 28, 2014
This is a breakthrough moment.

Not only is our labor force about 50 percent women for the first time in history, but three-quarters of moms are now in the labor force and half are primary breadwinners for their families. Yet for too long our public policies have been stuck behind what modern women, and our modern economy, need.
Last night, during the State of the Union speech, momentum shifted: We are finally seeing signs of our nation's leaders beginning to recognize that it's time for our public policies catch up with modern realities. There is now a greater understanding of the implications from the fact that the vast majority (81 percent) of women in America have children by the time they're 44 years old, and for too long the adverse economic impacts of motherhood have been hidden and ignored.
The president made it clear that he is cognizant of this sad reality when he announced that he will raise the minimum wage for federal workers to $10.10, noting that, "This will help families. It will give businesses customers with more money to spend."
Last night, President Obama also pointed out that "women hold a majority of lower-wage jobs," an important public acknowledgement of the fact that despite how women and moms are often portrayed on television, only 9 percent of all women in the labor force earn $75,000 or more annually -- and it is mainly in those relatively rare highly paid jobs that people are likely to have access to workplace policies like sick days and family leave. On the other hand 37 percent of women earn between $30,000 and $74,999 annually, and 54 percent earn less than $30,000 annually. In other words, there are vastly more women in low wage positions than in high.
Adding to the challenge, the cost of raising children is higher than most people imagine. It now costs $200,000 to raise a child from birth to age 18, not including college. Childcare now costs more than college in most states in our nation.
So to have the president, the person with the most powerful bully pulpit in the nation, acknowledge this in his State of the Union speech and declare that, "When women succeed, America succeeds," was a breath of fresh air.

Why is this important? A little known fact is that women make three-quarters of purchasing decisions in our consumer-fueled economy--and there are significant, often overlooked economic repercussions associated from wage discrimination and family economic insecurity. To be blunt, when women don't have money to spend on household goods and other necessities in an economy based on consumer spending, as ours is, the domino effect hurts our national economy.

Solutions are possible. Having the president on board changes everything. Studies show that when economic security policies like increased access to earned sick days, affordable childcare, paid family leave (maternity/paternity leave), and health care are put in place, they decrease the wage gaps between women and men -- and help raise all boats in our nation.

Investments in policies and programs that allow women, families, and mothers to thrive have been shown to have high returns as children grow, to save taxpayers money in the long run, to boost businesses and our economy, and to help lower the wage gaps between women and men. For instance, a recent study found that in states with paid family leave, women who take paid leave are 40 percent less likely to need or receive food stamps in the year following a child's birth when compared to those who do not take any leave. The president himself noted that, "Research shows that one of the best investments we can make in a child's life is high-quality early education." And further noted that access to affordable healthcare has already made broad improvements to the economic security of families.
But for too long the link between economic security policies and our national economic success has been ignored.

Until last night.

The president not only noted that we need to take action on these critical policies in order to help both our families and our economy thrive. He also led a call to action, stating: "This year, let's all come together -- Congress, the White House, and businesses from Wall Street to Main Street -- to give every woman the opportunity she deserves."
To be sure, last night's State of the Union address was an historic one. For the first time ever, a president of the United States squarely put center stage the issues that most affect the economic security of America's families and of our nation: fair pay, early learning and childcare, the minimum wage, sick days, family leave, health care, childhood obesity, gun safety, climate change, immigration policy reform, and more.
MomsRising has worked hard to rise to the top and to put women and families at the center of our policy-making. We have delivered hundreds of thousands of signatures on letters and petitions, thousands of personal stories, and our members have made phone calls, made personal visits, attended meetings, and sent emails to policy makers urging them to take action. From pushing for an increase in the minimum wage to pressing for passage of the Paycheck Fairness Act to calling for paid leave policies, from fighting for health care to working toward sick days, we have been out there every day pushing for policies that will help our national economy and our families thrive. And last night we proved that the voices of moms are a mighty force, indeed. Mom Power is real and moms are powerful. The president and our national leaders are hearing us!
Let's not let this be a moment that's only caught in history. Let's use this moment to build a stronger future for our nation.

Now that the spotlight is on women's economic security policies, policies that also do much to boost our national economy, it's time to step up and push Congress to take action.
We've broken through, and now it's time to take policies that improve women's economic security and our national economic security, to the finish line.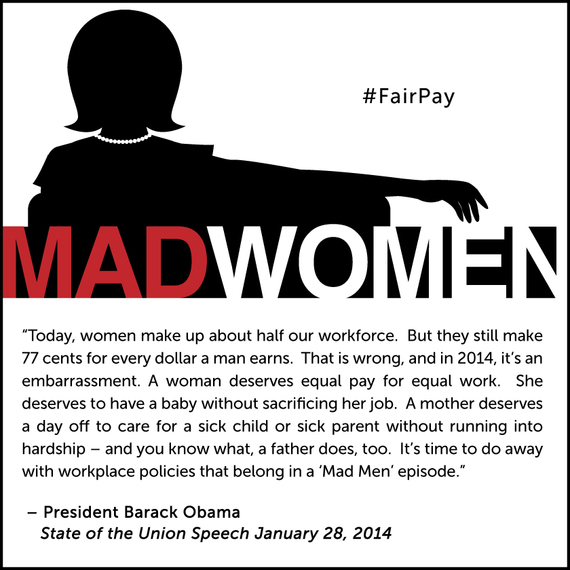 Calling all HuffPost superfans!
Sign up for membership to become a founding member and help shape HuffPost's next chapter