The good ol' days of the manageable LA art scene, when one could see all gallery and museum exhibitions in one weekend... these days are gone. Now, if one wants to keep abreast of what's happening in the hundreds of galleries and dozens of museums around this town, it would constitute a full-time job.
In the last few days, huge art crowds gathered across the city, one in downtown's exploding art district, and another atop the beautiful hills in Brentwood. A major international art player, Hauser & Wirth, with their five locations in Europe and the U.S., added one more, this time in the heart of LA. And this latest one is mind-bogglingly ambitious, huge, and game changing. It occupies a former flourmill complex and stretches out over 116,000 square feet. Besides the 23,000 square feet devoted to gallery spaces, there is a gigantic courtyard and garden, a restaurant and bookstore, plus a dozen private offices along with a number of unique spaces for public events and activities.
The extensive media coverage devoted to the opening of Hauser Wirth & Schimmel is comparable in scope and intensity to media coverage of high-profile museum openings. And indeed, no other major city around the world but Los Angeles can provide a space so large in the very heart of its commercial center. But at the end, it's the artistic vision of Paul Schimmel, former Chief Curator of MOCA LA, and now a partner of Hauser Wirth & Schimmel, that turned this artistic endeavor into a game changing mixture of commercial gallery and center for museum level activity and education.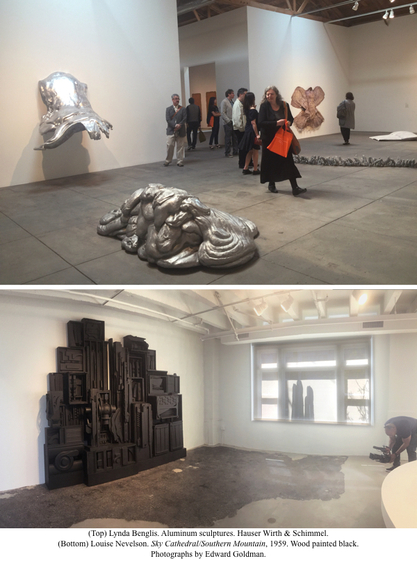 The inaugural exhibition, Revolution in the Making: Abstract Sculpture by Women, 1947 - 2016, represents nearly 100 works by 34 female artists "who have transformed the language of abstract sculpture." None of them are interested in producing "sweet," "ladylike" art. Instead, they pack a real punch in their work --the weight of which viscerally affects the viewer.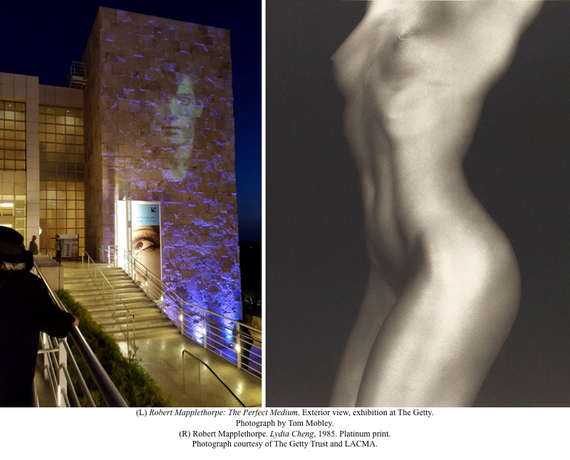 25 years ago, the Director of Cincinnati Contemporary Arts Center was arrested and put on trial for pandering obscenity. What was his offense? Exhibiting photographs by Robert Mapplethorpe (1946 - 1989). Nothing of the kind is expected to happen now following the opening of the Mapplethorpe double-exhibition at The Getty and LACMA. I've been at many openings at The Getty, but the crowd last night was the biggest, the noisiest, and definitely the most colorful that I had ever encountered there.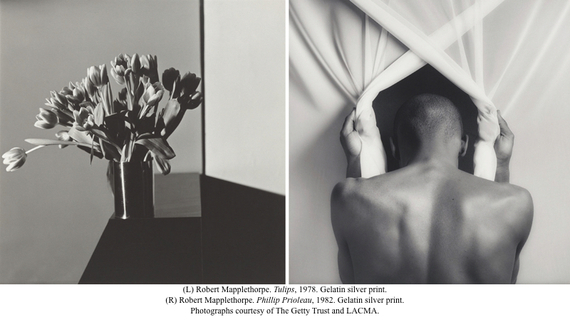 The self-portrait of a young Mapplethorpe was projected onto the stone façade of The Getty's West Pavilion. Inside, among the numerous images capturing the eternal beauty of male and female bodies, were portraits of his friends and muses. Among them is Sam Wagstaff, Robert's lover and art curator extraordinaire. There are also numerous images of Lisa Lyon, his favorite model, whose naked body evokes images of Greek Gods of love and war.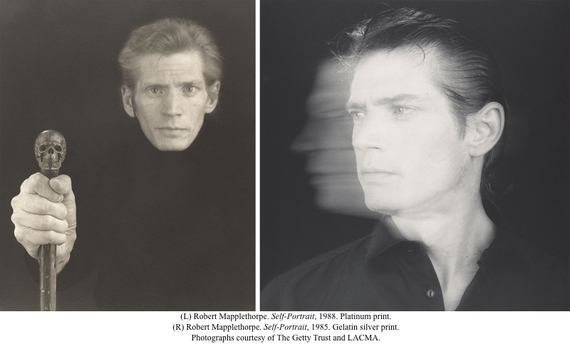 It's simply heartbreaking to see the dramatic change in Robert's own appearance: from his gorgeous, beautiful youth, to gaunt and AIDS-ravaged in a self-portrait taken in the last months of his life. His was a short life. But his artistic achievement will be with us for a long, long time.
To learn about Edward's Fine Art of Art Collecting Classes, please visit his website. You can also read The New York Times article about his classes here, or an Artillery Magazine article about Edward and his classes here.
Edward Goldman is an art critic and the host of Art Talk, a program on art and culture for NPR affiliate KCRW 89.9 FM. To listen to the complete show and hear Edward's charming Russian accent, click here.
Calling all HuffPost superfans!
Sign up for membership to become a founding member and help shape HuffPost's next chapter