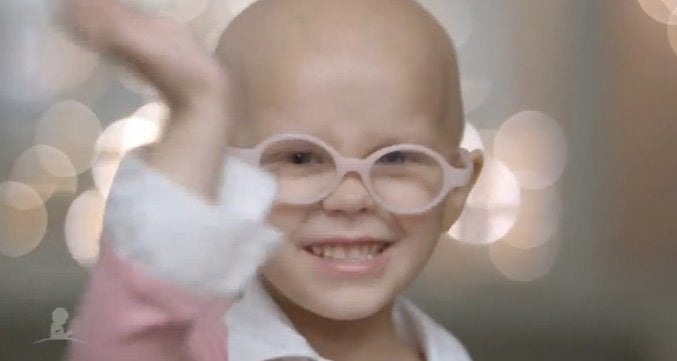 Emma Grace of Memphis is a typical talkative, outgoing, giggly 5-year old. She loves Barbie dolls, sparkly princess dresses, ballet, music, gymnastics -- AND football (thanks to her big brother, Jacob, and his college team that she has cheered for most of her young life).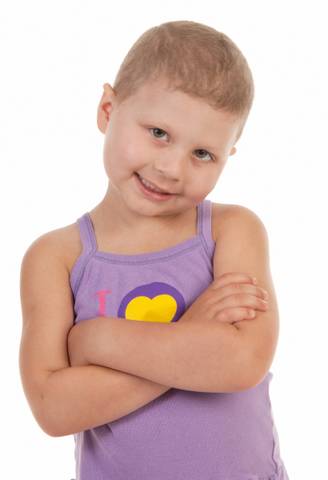 Emma Grace (Photo courtesy of St. Jude Children's Research Hospital)
But despite her happy demeanor, Emma Grace is far from typical. She's been battling acute lymphoblastic leukemia, the most common childhood cancer, at St. Jude Children's Research Hospital since December 2009. Thankfully she's winning the war. "She's in remission now and scheduled to finish treatment in July," says her relieved mom, Marcy Heppner.
"To help give back to St. Jude, we'd like to host a real Game Day. Give Back. party on Super Sunday to watch the New York Giants take on the New England Patriots," she says. But because Emma Grace's immune system is compromised and she can't be in crowds, they've settled on a virtual party for the annual event to raise money for the hospital that has literally given Emma Grace back her life. "We've set our goal at $1,000," Marcy says.
This party is far from exclusive. Anyone can join the fun by going to Emma Grace's website and making a donation. It's not even necessary to align yourself with Emma Grace's team. "She'll likely pick her favorite that day based on the coolest helmets and the uniforms with the prettiest colors," says her mom.
Game Day. Give Back. began last year when Fox Sports teamed up with St. Jude for a year-long effort to raise money for the hospital that has pioneered ground-breaking research and innovative treatments.
"Proceeds totaled $1.4 million," says Steele Ford, senior director of sports marketing at St. Jude. Former NFL star Michael Strahan, a defensive end for the New York Giants and current NFL Fox Sports analyst, and Food Network's, Lisa Lillien (aka http://hungry-girl.com ) have stayed involved.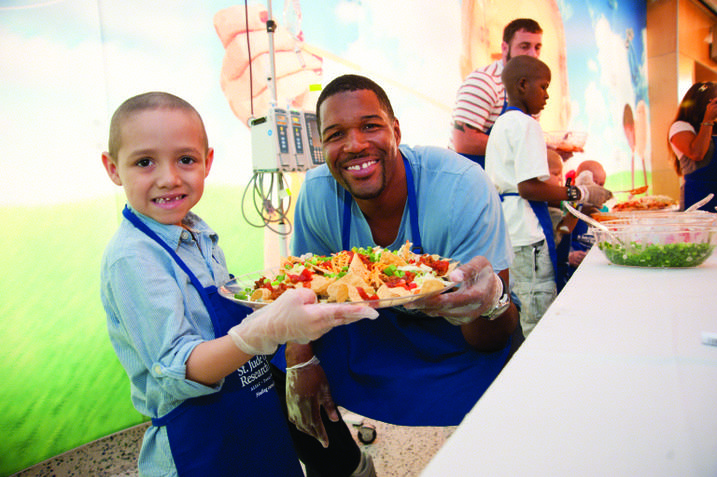 NFL star/Fox Sports analyst Michael Strahan and friends at St. Jude. (Photo courtesy of St. Jude Children's Research Hospital.)
Though $1.4 million sounds like a tremendous amount, consider that it takes $1.7 million per day to treat critically ill children from all 50 states and around the world. The annual budget is a whopping $700 million because St. Jude covers not only the child's treatment, but food, travel and lodging for each patient and a family member. "Families are never required to pay for anything," says Ford.
"Large donors are greatly appreciated, but 75 percent of our funds come from small donors. The average is $30," says Ford. Short television spots featuring Hollywood's A-list stars like Jennifer Aniston and Robin Williams working alongside patients have made an impact. Emma Grace was thrilled to appear as Morgan Freeman's co-star.

Still Time to Support St. Jude
It's not too late to turn your own Super Sunday celebration into a party with a purpose. Simply sign up for Game Day. Give Back. here. The website does all the work like tracking guest RSVPs and tallying donations. All you need to do is host the party, set a dollar goal, ask guests to contribute to St. Jude and cheer for your favorite team.
For months last year prior to the Super Bowl, Brad Bosi had been urging his friends, Nikki and Heath Cummings of Memphis, to tour St. Jude where he works. "We immediately fell in love," says Nikki. "We know people in our community and church whose children are ill and have been treated at St. Jude. Over lunch, Brad asked us if we'd be interested in hosting a Game Day. Give Back. party during the Super Bowl. How could we refuse?"
The couple set a modest goal at $500, invited a slew of guests, and prepared all the food. To their surprise, more than 80 people filled their house, garage and yard -- some bearing gifts of food. Heath built a football game for guests to play in the backyard during halftime. All contributed to St. Jude.
Television sets were placed in the garage, family room and even outside, but at one point, it seemed everyone crowded into the family room to watch together. "We didn't think the house would hold that many or that we'd raise $3,500," says Heath. "When we were cleaning up, friends told us it was the best game day party ever. They wanted to know if we would do it again next year."
Despite their success, they had to think twice this year. In the interim, now 9-month old, Lily, was born and Nikki wondered how she would manage taking care of an infant and preparing all the food for such a large crowd. They needn't have worried. Wild Wings and the German Town Commissary came to the rescue, donating their respectively famous wings and barbecue for the crowd who will gather at the Heppners. Numerous guests also volunteered to bring a dish. They also set a goal: $25 for adults and $10 for children -- all tax deductible contributions.
Because she's such a huge football fan, Emma Grace was adopted by her brother's college team at Central Methodist University. They showered her with princess gifts for her birthday, and many of the players wear pink "Praying for Emma" wristbands. The coach presented her with an official #200 dog tag so she would feel part of the team. Despite the family's turmoil, Jacob graduates in May with a 4.0 average in mathematics, and Emma Grace's sister, Sarah, a college junior in Virginia, also has a 4.0 average.
To get your own Game Day. Give Back. party (virtual or real) off the ground, head to the website, Tweet, Facebook and reach out to friends and neighbors. The lives of kids like Emma Grace depend on your generosity.

Related
Popular in the Community