On a sunny spring day last month, 30 of the nation's brightest and most promising young minds gathered in Washington, D.C., for the sixth annual White House Science Fair. These future scientists, engineers, designers, mathematicians, and innovators brought with them robots, rockets, solar-powered cars, and other discoveries to showcase and celebrate their ingenuity and entrepreneurship.
Among those gathered, Olivia Thomas, a high school senior from Boise, Idaho, stood out. One of the few video game designers to ever attend the annual fair, Olivia presented Colorless, a puzzle and platform game inspired by her love of literature. Players guide an avatar across an expansive world, thinking critically, keeping careful observation of their surroundings, and reacting quickly to new challenges.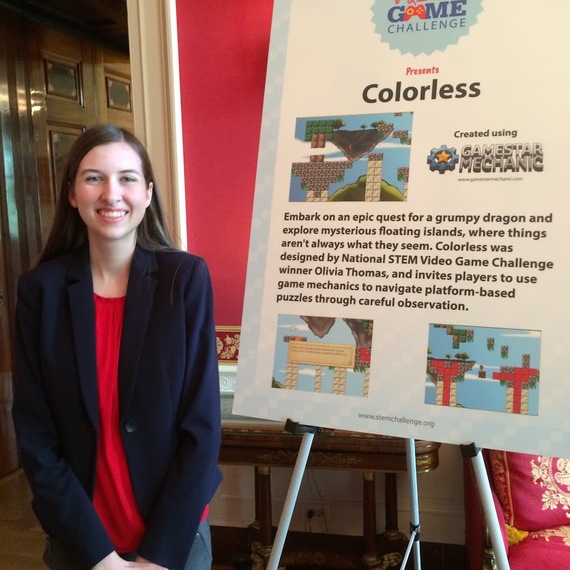 Journalists, policymakers, and representatives from some of the country's top game developers, including Disney Interactive, lined up to play Colorless. Among the most captivated players were the "Supergirls," a group of Girls Scouts dressed up as superheroes and alumnae of the 2015 science fair.
Following the presentations, President Obama spoke about the importance of science, technology, engineering, and math (STEM) education, remarking that "some of the best moments that I've had as president have involved science and our annual science fair."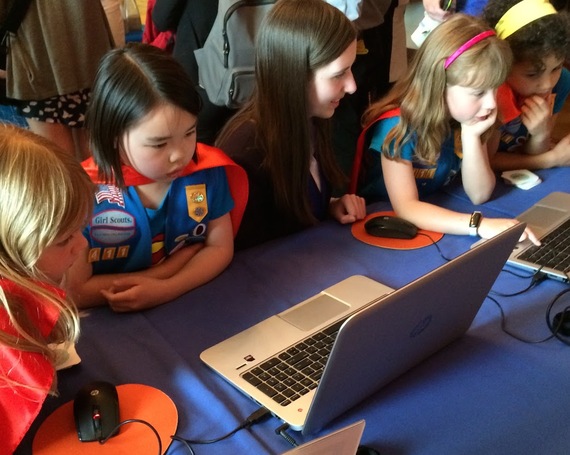 From Boise to the Washington, D.C.
Olivia began designing games as a creative outlet when she was nine. "I've found that video games are a great way to express myself and tell stories, and the coolest part is that they allow me to do so through a medium that people can actually interact with."
Those stories first took her to last year's National STEM Video Game Challenge, an annual competition to promote interest in STEM education by tapping into students' natural passions for playing and making video games, where she won first place with Colorless.
Olivia's boundless enthusiasm for storytelling has led her to create more than 60 games, mainly Nancy Drew-style mysteries. Although she was initially unsure how people would receive Colorless, she is happy she stuck with it. "The main thing that I learned from creating Colorless was that it's worth it to throw ideas out there even if you are not sure if they will work."
"It was definitely worth it to try out an idea that I was unsure about!"
Fresh off her STEM Video Game Challenge victory, Olivia received an invitation to present Colorless to President Obama at the science fair, and represent the intersection of art and the STEM fields.
Next year, she will take her stories and design skills to Boise State University, where she plans to double major in computer science and gaming, interactive media, and mobile technology. She hopes to develop instructional games.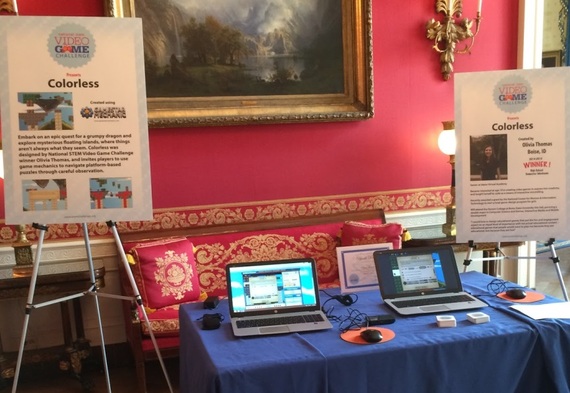 "It has long been a dream of mine to design educational games. I've made a few already, and I would really like to pursue this more in the future. In a world where education can sometimes seem like a chore, I think educational games have the ability to recapture everything about learning that is so much fun."
"An Experience that I Will Never Forget"
While her brief stint at the White House was just the latest accomplishment in her promising video game career, Olivia's experience underscores how video games can help today's students foster an interest in design, programming, critical thinking, communication, and other in-demand skills. Game design has been proven to impart computational thinking and computer programming, promote learner independence, and teach scientific concepts and scientific thinking.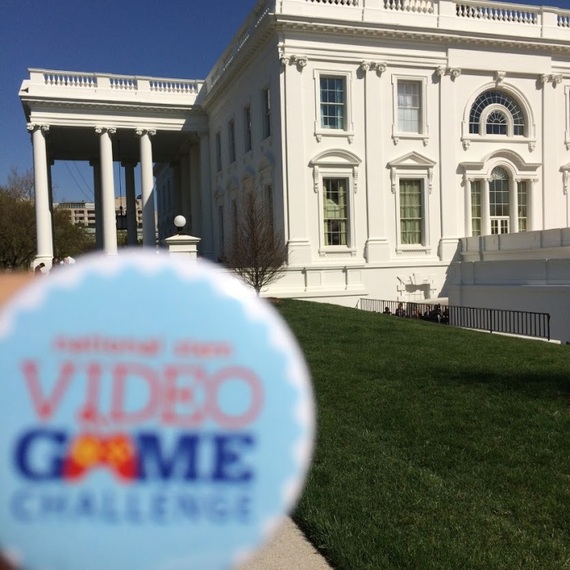 For Olivia, however, standing under pictures of the Founding Fathers and learning how many of them were scientists and innovators was prize enough.
"That brave and curious spirit that was with us at the birth of our country was alive and well at the White House that day, and to be a part of it is an experience that I will never forget."
Popular in the Community