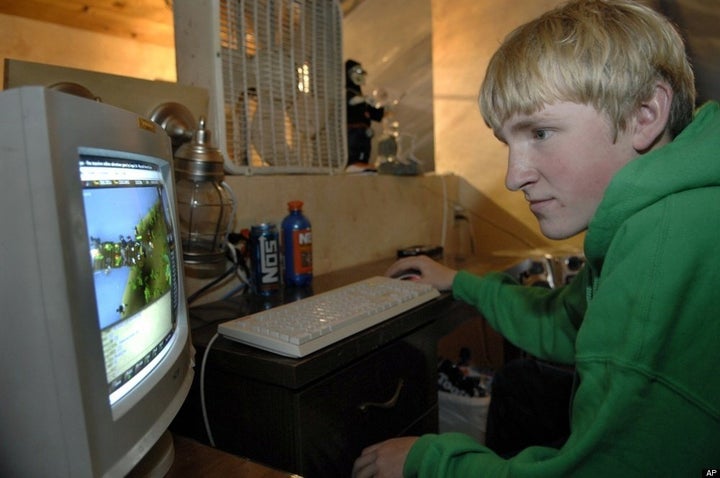 Getting kids hooked on online games, a rapidly growing diversion for children and teens, is the avowed intention and strategy of those who design and produce them. Continued, repeat, compulsive, and immersive play by large numbers of players is how sites make money, whether they sell subscriptions, virtual goods, or advertising space. There is, after all, nothing "stickier" than addiction. "Gaming addiction is a sign of total design success," according to one game designer. "The perfect game is one that sucks you in and never lets go."

To elicit addictive play, game designers strategically craft two components into their creations: content that taps kids' intense, developing, and tumultuous emotions and curiosities, such as violence, horror, sex and peer relations, and structure that allocates rewards and punishments (points, access to new levels, virtual goods and cash, wins and losses) so as to "make players play forever," as game design guru John Hopson describes it in his Behavioral Game Design.
Today, casual games, virtual pet sites, and social games are among the most popular and addicting online games played by kids.
Casual games are simple animated games offered for free at youth-oriented websites. Nickelodeon's advertising-driven Addictinggames.com is a leading site, with 20 million monthly users most of whom are children and teens. The site allows "junkies [to] gorge themselves" on "addictive...impulsive" games that "fuel their addiction," according to its (and Nickelodeon's) corporate owner, Viacom. Many of the site's most popular games are violent, often disturbingly so, as I elaborated in a recent New York Times piece. "Poke and pull this scantily clad babe all over bubble-land," exclaims the teaser for one such game, Boneless Girl. "You'll be amazed by the small spaces she can fit through, and throwing her across the screen never gets old."
But violence is not the only lure at Addictingames.com -- sex is there, too. If a player achieves a particular point spread in Beach Tennis, for example, "then the girls go topless!"; in Remote Control a parade of bikini-clad "lovely ladies," as the teaser describes them, march across a television set - "Can you sneak a peek without getting caught?" Girls' obsession with physical appearance is also targeted by games at the site (Stylish Girl, Addicting Dress Up, Make Me Over are a few examples), as is kids' enthrallment with celebrity (Bieber Kisser and Kiss-Mat, for example). In all cases, the games tap kids' particular fascinations, and are structured in ways that elicit repeat and continued play. Kids flock to the site as a result, and advertisers are not far behind them.
Virtual pet sites, which play upon kids' natural love of pets, are another popular and lucrative form of online gaming. These sites operate by forging emotional bonds between children and virtual pets - "We thought virtual pets was a good idea because people would get attached [to their pets] and keep coming back," according to Adam Powell, creator of NeoPets, the first such site - and then leveraging the resulting "stickiness."
Popular pet sites often use casino-style tactics to generate repeat and continued play, and hence revenue. Club Penguin (Disney), for example, initially allows kids to play for free in "basic mode," giving them time to bond with their pet avatars, and then aggressively pitches more fun and excitement if they buy costly subscriptions. NeoPets (Nickelodeon) provides free virtual cash upon registration (like the rolls of quarters handed out on casino buses), and then pitches costly virtual goods to goad players into buying more virtual cash. Webkinz (Nickelodeon) threatens to take away kids' pets if subscriptions lapse, and also to inflict illness and unhappiness on pets if their owners do not visit the site regularly to feed and play with them. "I am 6 1/2 years old and I am afraid that my webkinz will die," complains one child at an online forum, "I feel like crying cuz I can't go on webkinz."

The newest and most quickly expanding genre of online gaming is social gaming. In social games, players play with online friends at sites such as Facebook. "You can get people to come back to that kind of game play at a completely different level" than in non-social games, according to social games creator Kristian Segerstrale. "Things like love, friendship, competition and envy among friends are far more powerful than the emotions between you and just a game."
Popular social games exploit the peer-obsession and romantic yearnings of tweens and teens. Honesty Box, for example, allows users to send, receive, and reply to anonymous messages, whether flirtatious, silly or abusive, from Facebook friends. They can try to discover who has been talking to and about them, but they must pay. "Use [HB] points to bribe your friends" to disclose who they are, the site declares. "More points mean that you can have more negotiation power." HB points are bought online, or earned by clicking on advertisers' sites. In Pet Society "all your real-world friends live in the same village as your pets, so the pet sort of becomes a virtual representation of you," according to Segerstrale, the game's creator. "The game becomes what's happening between you and your real-world friends." Friends for Sale has players bid against each other using virtual cash, which they purchase from the site, to buy and own mutual Facebook friends ("Buy people and make them your pets!" the site proclaims. "You can make your pets poke, send gifts, or just show off for you"). The mutual friends have no idea they are being bought and sold, unless so informed by one of the players.
In the end, what unites all online games, whether casual, virtual pet-based, or social, is their deliberate aim and design to make money by tapping kids' developing and vulnerable psyches and eliciting addictive play. Thus understood, it is hard to imagine a more cynical art than online game design, especially when one considers that children and teens are the main targets of its carefully crafted manipulations.

Support HuffPost
A No-B.S. Guide To Life
Related
Popular in the Community