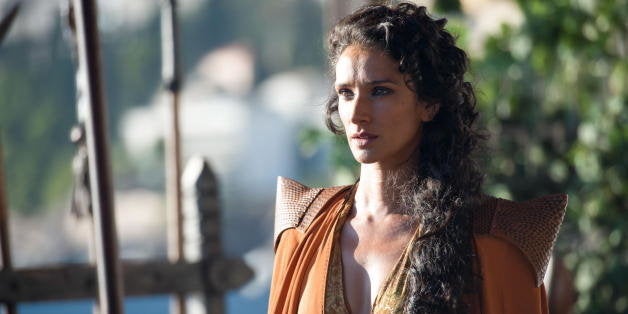 The majority of the newest cast members will play characters from Dorne, one of the regions of the Seven Kingdom's where Season 5 is expected to spend a decent amount of time. Last season we met the beloved fallen hero Oberyn Martell, Prince of Dorne, who gushed about his home country's forward-thinking. Its laws of equal inheritance among men and women and its lack of a stigma toward illegitimate children are two things highly uncommon in the rest of the male-dominated Seven Kingdoms.
One storyline of note in George R.R. Martin's book series (semi-spoiler alert for non-book readers) is the Dornish character Arianne Martell, who is Oberyn's niece, the daughter of Doran Martell and, most important, the heiress of Dorne. The fact of a woman ruling a region in the Seven Kingdoms is nearly unheard of and quite a progressive notion in the misogynist world of "Thrones." However, book fans were caught by surprise last week when Arianne's name was not included in the list of new characters for Season 5. Even more surprising was the reveal that Trystane Martell, Arianne's younger brother, was described in the HBO press release as the heir to Dorne, thus completely cutting out Arianne.
Kotaku first pointed out Arianne's absence from the new season explaining that Arianne wasn't merely a side character in the books, but "the main character of the whole Dorne plot." Vanity Fair also worries that her omission may add to the series' already-existing problems of misogyny, which were fueled by Season 4's debated rape scene, and that leaving out Arianne is a major missed opportunity for a much-needed boost of female empowerment. The fifth season, however, will sport a handful of new and fearless female characters with the casting of the Sand Snakes, Oberyn's bastard daughters.
Erik Kane at Forbes argues though that the show cutting Arianne from the series is a "good omen." Kane is a proponent of the show cutting back on more minor characters and side storylines that aren't a part of the central plot. After all, Dan Weiss and David Benioff have to cut back somewhere.
However, we all may be jumping the gun, as James Poniewozik at Time notes that last week's press release was only a partial casting announcement. Arianne may show up later in Season 5 or possibly further in the series' future, although it's unlikely she'll play the same significant role since her brother is now the supposed heir. All we can do is wait and see what Weiss and Benioff decide to do with Martin's books in the coming season.
Calling all HuffPost superfans!
Sign up for membership to become a founding member and help shape HuffPost's next chapter
BEFORE YOU GO
PHOTO GALLERY
"Game Of Thrones"