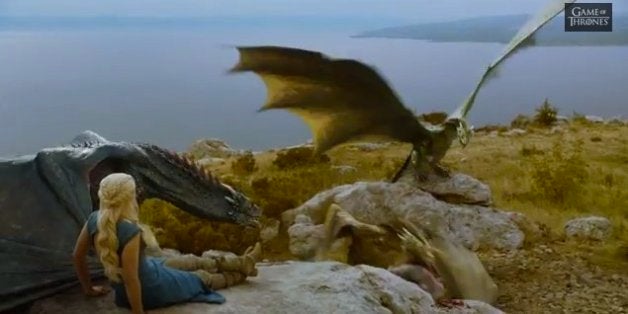 As if the anticipation for the fourth season of "Game of Thrones" wasn't high enough, HBO and Ommegang Brewery have announced the next installment in its popular line-up of beers based on the hit show.
"Fire and Blood Red Ale" is set to release for $8.50 per-bottle on March 31, giving fans just one week to get their hands on a bottle to drink while watching the season four premier on April 6.
"The new beer, inspired by House Targaryen, features a collectible series of labels, one for each of the three dragons on the show: Drogon, Rhaegal and Viserion," reads an announcement statement from Ommegang and HBO.
According to the Cooperstown, NY, brewery, "Fire and Blood is a 6.8 percent ABV Red Ale, brewed with pilsner, Cara-60, Midnight Wheat, flaked rye and spelt." While that's all well and good, one simply can't have a dragon-inspired beer without a little kick of fire. To achieve this, the makers have spiced the beer with de-seeded Ancho chilies.
"The use of ancho chilies pays homage to the dragons, but the use of rye and spelt wheat links back to the Dothraki people that Daenerys is leading," Phil Leinhart, brewmaster at Brewery Ommegang told Mashable. "They are nomads of the plains and these are the grains that would be well at home there."
"Fire and Blood" joins "Iron Throne Blonde Ale," which went on sale in the spring of 2013, and "Take the Black Stout" which came out in the fall of that year.
Related