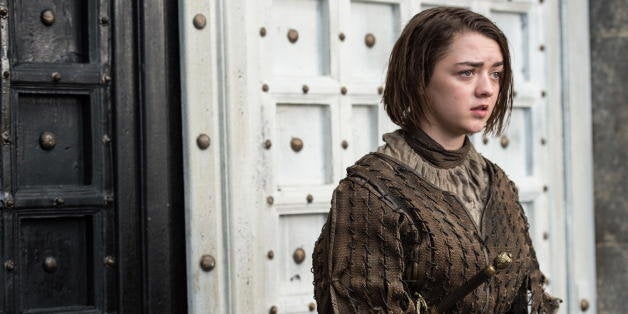 The letter was apparently displayed in Harper Collins' new London Bridge office, which has a George R.R. Martin room. Waterstone attributed the letter to HarperCollins UK who, according to Vanity Fair, corroborated the tweet before it was deleted. Besides the fact that the book series was first envisioned as a mere trilogy (Martin only planned to write A Game of Thrones, A Dance With Dragons and The Winds of Winter) the letter reveals some pretty major plot and character variations, including a shocking love triangle. Here's what Martin apparently originally planned for:
Some book and show spoilers follow.
There was love trial between Arya, Tyrion and Jon Snow
Image via Wikia
We know, weird. Apparently Tyrion would fall for Arya after getting exiled by Jaime (more on that below). It wouldn't be a mutual romance though. Then Arya and Jon Snow (her half-brother) would fall in love, sparking a rivalry between Jon and Tyrion. The romance would "torture" the half siblings, until ...
Sansa would have Joffrey's baby
Rob would die in battle Martin planned for Rob and Joffrey to fight on the battlefield (almost nothing sounds more hilarious than imagining Joffrey in battle). Rob would "maim" Joffrey, but eventually Rob would be defeated by Jaime and Tyrion.
Jaime was originally a super bad guy Martin wrote that Tyrion would "remove" Joffrey, thus making way for Jaime to take over the throne. Then Jaime would turn against Tryion, kill a bunch of people, blame his brother, and then get Tyrion exiled. (This is why Tyrion apparently grows fond of Arya.)
Daenerys would kill Khal Drogo
Image via Tumblr
Even more shocking is that she'd do it to avenge him killing her brother, Viserys (LOL).
Only five characters would survive the series Martin's original five were Daenerys, Arya, Jon, Bran and Tyrion. Will he stay true to it?
Daenerys would invade the Seven Kingdoms a lot sooner While of course we don't know where the books are headed with Dany's storyline, there's lots of foreshadowing that she'll use her dragons to take over Westeros. Martin originally planned for this to happen in the second book of his trilogy.
Catelyn didn't die in the Red Wedding The infamous slaughter scene isn't even mentioned in Martin's letter and the author instead planned for Catelyn to travel North of the Wall, with Arya and Bran, only to be killed by Mance Rayder's Free Folk (in the letter just described as "the others").
The last paragraph of the letter is sadly blacked out, so we'll still have to keep reading and watching to find out how Martin plans to end his series. HuffPost Entertainment reached out to HarperCollins UK, Waterstone, and Martin's rep for comment, and will update this post if any new information is received.
Calling all HuffPost superfans!
Sign up for membership to become a founding member and help shape HuffPost's next chapter
BEFORE YOU GO
PHOTO GALLERY
"Game Of Thrones"