Sound the air horns ― it might really be happening.
The anticipated grudge match between brothers Sandor "the Hound" Clegane and Gregor "the Mountain" Clegane, known affectionately as "Cleganebowl," just found a little more support in a snippet of dialogue from the Season 7 premiere. 
Midway through the episode, the Hound (Rory McCann) looks into the flames of a fire at the behest of Thoros of Myr (Paul Kaye), a follower of the Lord of Light.
Asked what he sees ― besides "logs burning" ― the Hound describes his chilling vision: "Ice. A wall of ice. The Wall. It's where the wall meets the sea. There's a castle there. There's a mountain, looks like an arrowhead. The dead are marching past. Thousands of them."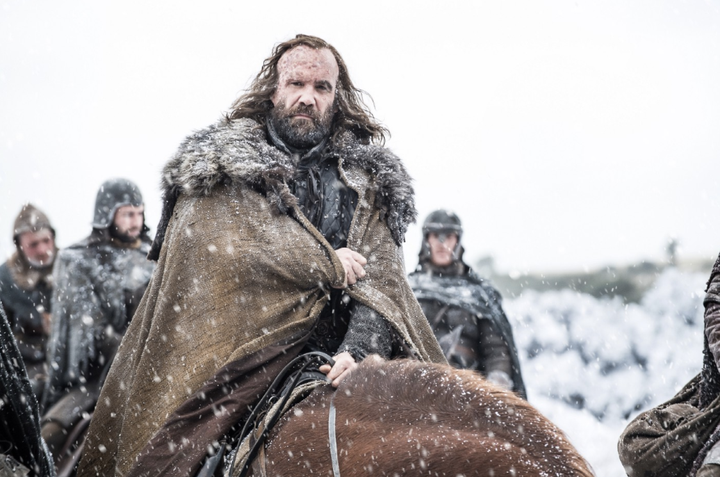 Much of the Hound's vision is self-explanatory. All the North knows that an army of the dead is marching on the Wall, led by White Walkers seemingly intent on murdering every living person in their path. 
But if we assume, as Jon Snow (Kit Harington) does in the episode, that the dead will try to breach the Wall around Eastwatch-by-the-Sea, the nearest point to Hardhome ― where Jon saw them last ― that makes the Hound's note about a "mountain" puzzling.
There is no geographical mountain around Eastwatch-by-the-Sea. The fan-created map Quartermaester.info reveals flat terrain for quite a distance: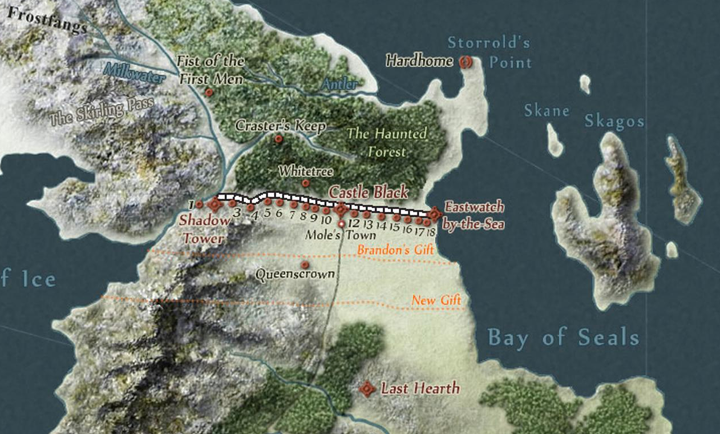 Could the "mountain" actually refer to the Mountain (Hafþór Júlíus Björnsson)?
Could the "arrowhead" refer to the long-anticipated battle between the brothers, who've been at odds with each other since childhood? (The Mountain is the one who caused the Hound's disfigurement, after shoving his face in a fire as retaliation for borrowing a toy. Read more about it at i09.)
Maybe. We know "Game of Thrones" wastes no line of dialogue. The island across from the castle, Skagos, is mountainous, but it's a bit far away from the Wall. On the other hand, George R.R. Martin's The World of Ice & Fire mentions arrowheads on Skagos ― dragonglass arrowheads, perfect for fighting White Walkers. 
So it's possible he's just talking about an island off the coast. It's possible Jon Snow was wrong, and the White Walkers are actually coming through at the western-most point on the wall, Westwatch-by-the-Bridge, which also meets the sea and is surrounded by mountains.
Or it's possible we're getting a Cleganebowl.
The Mountain's appearance in the North would be somewhat odd, since he's all the way down in King's Landing at the moment. However, as Sansa (Sophie Turner) pointed out, Cersei (Lena Headey) will always find a way to murder her enemies. With Jon Snow going around introducing himself as King in the North, Cersei sees him as a big enemy ― possibly one she'd send the Mountain after. 
Calling all HuffPost superfans!
Sign up for membership to become a founding member and help shape HuffPost's next chapter
BEFORE YOU GO
PHOTO GALLERY
'Game of Thrones' Season 7 Images