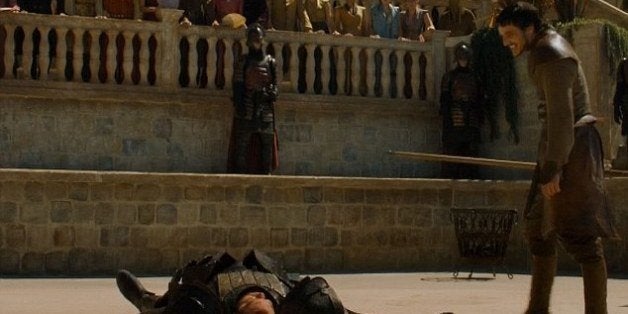 Warning: Spoilers Ahead. Don't read if you haven't seen Season 4, Episode 8 "The Mountain and The Viper."
In the "Game of Thrones," you either win or you die. But sometimes, you win and you die.
Last night's episode of the HBO show saw one of the most gruesome fights in the history of the Seven Kingdoms (and TV in general). Oberyn Martell, the smooth-talking Dornish Prince -- whose appetite in the bedroom was only matched by his thirst for revenge -- finally got his wish when the much-hyped trial by combat ended with Gregor "The Mountain" Clegane's murderous confession. Unfortunately, the duel also ended with Oberyn meeting his own grisly end.
The history of Westeros has proven that revenge-seeking good guys rarely have a happy ending, and while Oberyn's fate was shocking (for anyone who hasn't read the books) it's fitting of George R. R. Martin's main plot device -- to kill off beloved characters. In honor of Dorne's snarkiest -- and sexiest -- export, we've created a supercut of some of Pedro Pascal's best scenes, including that now-infamous bloody battle.
BEFORE YOU GO
PHOTO GALLERY
'Game Of Thrones' Season 4