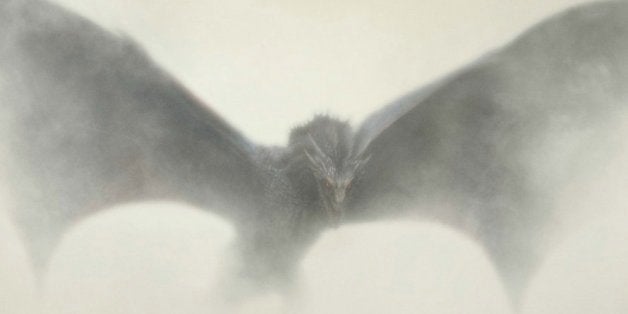 "Game of Thrones" is amazing for a variety of reasons, but at the end of the day, it's all about the dragons.
Daenerys' trio of children (aka dragons) have grown up considerably fast over the past four seasons. Last year, we got to see Drogon in full flying force as he scorched a countryside and Rhaegal and Viserion got locked up in a cave. But how exactly are the mystical creatures made on the show?
The Washington Post spoke with visual effects company Pixomondo about creating the animated 3D creatures for the series. Apparently their initial reference point for designing the dragons, besides a "Jurassic Park" dinosaur, was a grocery store-bought chicken. Pixmondo's visual effects supervisor Sven Martin told the Washington Post that he has his animating team inspect the chicken's muscles to understand how the dragons would function. "You could feel how the muscles underneath are moving and what are the restrictions, where the bone can't go," Martin said. "We built our dragon basically the same way."
Last month, the "Game of Thrones" on-set visual effects supervisor, Jabbar Raisani, spoke with HuffPost Entertainment about filming the dragon scenes. "Depending on what the dragon's action is, we'll have a long green pole with a green tennis ball on the end of it," Raisani said, "which you've probably seen being flown around the set, so everybody's looking at the same place."
While last year was the most dragon-packed season yet on "Game of Thrones," showrunners D.B. Weiss and David Benioff recently teased that Season 5 will have even more dragon action. Check out a video by Pixomondo below, which gives an inside look at the process behind crafting our favorite fire-breathers.
"Game of Thrones" returns on April 12 at 9:00 p.m. ET on HBO.
BEFORE YOU GO
PHOTO GALLERY
"Game Of Thrones"