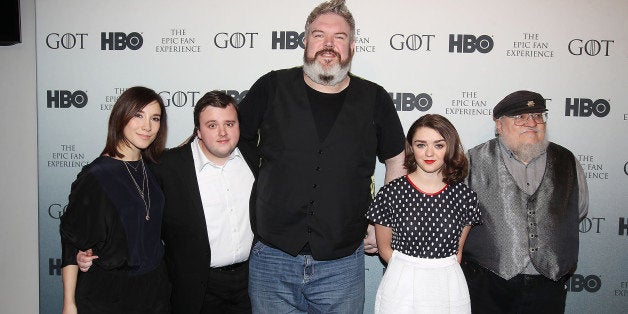 On Thursday night, March 20, thousands of "Game of Thrones" fans filled Barclays Center in Brooklyn for what was no doubt an "epic fan experience."
The Huffington Post attended the event along with nearly 7,000 fans who were eager to watch the premiere of the series' fourth season, two weeks before it airs on HBO.
The event gave diehard fans the opportunity to snap photographs while seated atop the Iron Throne, drink "Game of Thrones" beer and get close to the actual costumes worn by their favorite characters.
The real action, though, happened between when the lights dimmed and video began. Before the viewing of the episode, "Two Swords," Bergenfield High School marching band played the series' theme song, Common took the stage to perform his "Catch the Throne" mixtape beat "The Ladder" and one lucky fan won a life-sized Iron Throne replica.
The masses rose to their feet for a standing ovation when Masie Williams (Arya Stark), John Bradley (Samwell Tarly), Kristian Nairn (Hodor), Sibel Kekilli (Shae) and George R.R. Martin came onstage for a surprise Q&A session about the upcoming season.
Asked about Arya's kill list prayer, Maisie said her character would definitely take care of King Joffrey first. How would she do it? "Stick him with the pointy end!" she said, laughing. "I'm kidding. Arya would kill Joffrey in the most humiliating way possible and sticking him with the pointy end seems like the really easy way out. Something like, when people find him he's in a really embarrassing position, naked. That would be hilarious I think."
"It remains to be seen if anything can kill a dragon, except perhaps, another dragon," Martin said. "Dragons do have a pretty good record of killing each other, so, there is that." Are one of Dany's three going to turn on each other? Are other dragons lurking in the shadows of the Seven Kingdoms?
We'll have to wait and see what happens in Season 4, which the cast agreed is even darker than what we've already seen. Check out the photos below to hold you over until the battle resumes.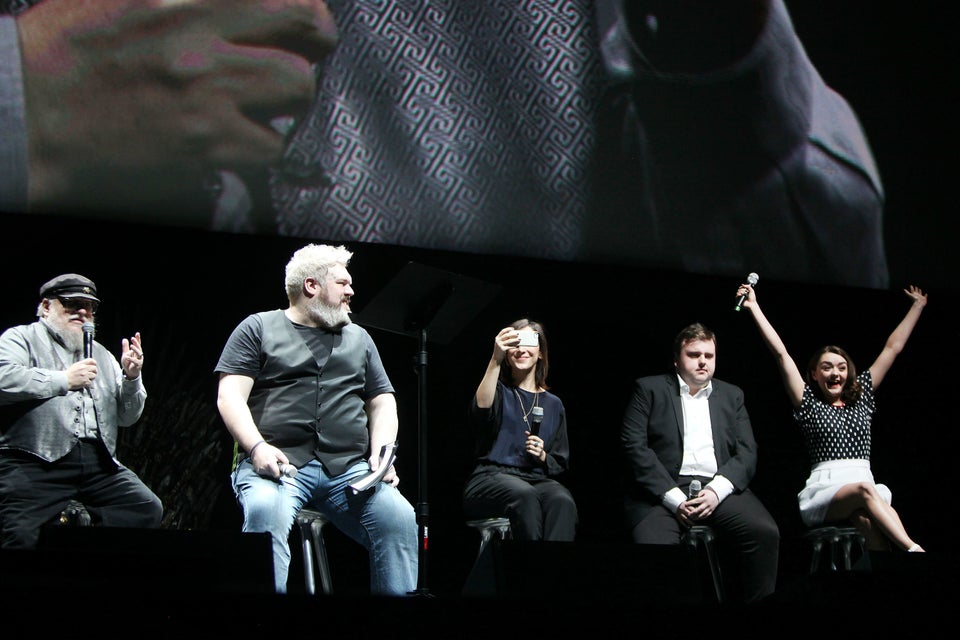 "Game of Thrones" Epic Fan Experience
Season 4 of "Game of Thrones" premieres Sunday, April 6, on HBO.
Popular in the Community