This post contains spoilers for those who are not caught up on Game of Thrones. Spoilers are kooming.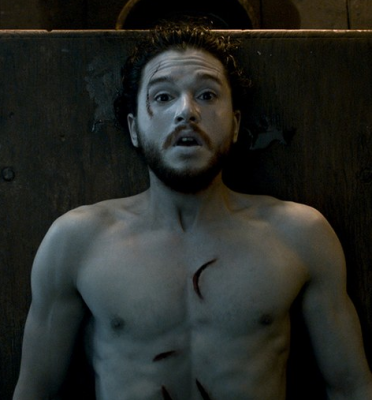 "I had, like, the worst dream ever."

Call me a blasphemer, but I could have waited another few years for the next installment of Game of Thrones if that's what it would have taken to realize George R. R. Martin's true vision. I know that he has lent his insights into the current season, but without a full-on novel as a reference, the showrunners seem unable to conjure the nuance of character that made the show so compelling to this viewer.
I really, really, really like Game of Thrones. I am not really a fantasy genre person (with the occasional exception of Neil Gaiman's work), and I dismissed the show when it premiered because of this prejudice. After all the hype, after I could no longer ignore the story's power following the collective trauma brought on by the Red Wedding massacre, I re-engaged and discovered that the show lives up to its hype. The genre is fantasy, but the story is more than that. Despite the dragons and ice zombies and tree people, the story always has boiled down to human potential and human failings. To the consequences that follow decisions that must be made, and whether those decisions are made from the heart or from the tactical intellect, happy outcomes are not guaranteed for anyone. A straightforward fantasy or sci-fi story ignores moral ambiguity and tells us who is good, who is bad, and we can always predict who will win in the end (barring a cliffhanger to keep us hanging on for the sequel).
Game of Thrones is Shakespearean in the sense that it blurs the edges that divide genres: it's a human drama with fantasy elements, mostly a tragedy with comic elements. It surprises us by overturning conventions. Or it has until recently.
Most fantasy stories, whether we are talking about Merlin and his dragons or Keanu Reeves and his Matrix, have at their heart "the Chosen One": a Christlike figure who we can be pretty confident from the outset is going to be our hero. Given Game of Thrones's surprises, it's far too early to predict that that will be the final outcome of the long game. Yet, it would also be ignorant of reality not to accept that from the very beginning Jon Snow has had all the trademark qualities of The Chosen One: we are made to love him because he is an outcast from those who seem most central to the story, yet as those characters succumb to their failings one by one, he persists, almost unchanged, and we know his heart is pure. He makes his mistakes, and we are sad to see him do it. In Game of Thrones style, our Chosen One was unceremoniously murdered. In fantasy genre trope style, he was ceremoniously brought back to life, given his inevitable Christlike redemption.
I can get with it. Despite misgivings.
When I was in grad school, I recall one shining moment in which something I said was not rejected by a professor who had made it pretty clear he wasn't crazy about me. Someone had gone on and on (and on and on) about a character's dream in a writing workshop. In this professor's typical style, his only response was to pose a question: "Why is it that nothing in this world is more boring than listening to someone prattle on about a dream they had?"
Up went my hand. "Because," I said, having had abundant personal experience prattling on about my boring dreams, "in a dream, anything can happen. There are no limitations, and no real cause and effect. Without consequences, there's no tension. So it may be fun to have the experience, but it doesn't make for a good story because there is no tension." I was thinking about storytelling as I said this; it's the only time I recall having gotten this response from this professor: "Yes," he said, and that was all.
I really liked the creativity of American Horror Story when it came out. The first season was unpredictable and stylish with strong acting. The second season raised the stakes and lowered the level of taste, and it continued to surprise, throwing everything and the kitchen sink into the story and somehow making it interesting. The third season--witches!!!--started off interestingly, but then a character died--and didn't die. There was she, alive as ever, after her death. And then another. And another. After Kathy Bates was a living, sassy severed head, I lost all interest. What's at stake when a character can't even die? Why am I worried that someone is going to be killed when death is just a minor inconvenience?
So we come to Jon Snow's surprising death. But the "Is he really dead?" campaign that followed made me certain--although I am usually wrong when it comes to Game of Thrones's story direction--that he would be alive again. Lingering on his dead body on a table confirmed to me that he was too valuable to lose. There was no tension despite the camera's and the soundtrack's mournful compositions. This guy ain't dead. Can we get to it and move on?
OK, we got to it. I can accept it: I get it, Jon is The Chosen One, and therefore he can't die. But from a strict storytelling point of view, some rules exist because they are inextricably linked with human psychology. One of those rules is that any significant event should have consequences. So far, the only consequences to Jon's character are that 1) he found a loophole to get out of his contract with the Night's Watch and 2) that's all. He's still mopey enough to warrant a Wellbutrin prescription. He doesn't seem to have gained or lost any motivation or new insights as a result of having been dead. He said that he did, but he isn't showing that he did.
This kind of irks me. The big reveal about Melisandre was connected to the big (expected) reveal about Jon Snow's chosenness, but since she proved she is a powerful magician and quite possibly correct in her belief system...well, she's been relegated to the background, having caught the winter blues from Jon Snow.
Another storytelling rule: Don't introduce a gun to a scene unless you're going to make the gun go off. The Melisandre reveal has gone nowhere. Likewise, I was so annoyed by the constant iteration of "winter is kooming! winter is kooming!" in the first few seasons of the show that I am certain I audible said "Ugh!" to my television. We are nearing the end of season six, and while we have seen a few flurries in the north, it still appeals pleasantly temperate in King's Landing and positively scorching in Meereen, Qarth, and Dorne. Is winter still kooming? Winter was so significant, both literally and as metaphor, as it was bringing ice and death to all of Westeros. It was credited/blamed for the advent of so many supernatural happenings. Now that we have impish tree people and giants, winter has arrived in that context, but this show's version of climate change would make a good case for deniers of global warming.
Last night, I'm afraid, was Game of Thrones's confirmed jumping-the-shark episode as far as I am concerned. Arya Stark, who has been looking for herself for seasons, has found herself--and we have found that she is, like her half-brother Jon, a superhero. She was stabbed several times in the belly, fell into filthy water that should have put her at some risk for infection, and after a good snooze (did any time pass?) she was able to run through the streets like a video game character, jumping and ducking and tumbling down an impressive number of stone steps, only to find she is pouring blood from her abdomen...and get up and continue running, and then cut the face off her mortal enemy and smuggle it into a high-security palace. Arya Stark at this point deserves a glamorous costume: Her powers land her somewhere between Wonder Woman and Supergirl. Either way, she is decidedly beyond human, beyond cause-and-effect consequence.
And that is what, from the beginning, made Game of Thrones so compelling. When Ned Stark's head was lopped off viewers were appalled, disturbed, upset and utterly riveted. People in this show suffer consequences--as Shakespeare's characters do. They were nuanced, as Shakespearean characters are. Yes, bad boy Joffrey got what he deserved, but countless characters (RIP Ros. RIP Shae. RIP direwolves.) who weren't that evil got what wasn't coming to them karmically. Just as in real life.
I am not saying I hate Game of Thrones by any means. It's a great, brilliant show, and at some point the dozens of narratives need to be consolidated and converge into something coherent. But I have a feeling that if the remaining episodes were based on expansive books written by George R. R. Martin rather than invented by the HBO team, we'd have a lot more nuance and a lot less superhero invulnerability. Vulnerability and consequences of difficult decisions are what made this show great, not invulnerable heroes with the power to cheat certain death and go on about their business as if nothing happened. As if it were all a bad dream. I don't want to see Arya die, but I don't really want to see Supergirl on a show about life-and-death consequences, either. In the end it doesn't matter what I want, of course; I can take the show or leave it, and I choose to take it. It's still exceptional. It's just a little less exceptional than it once was. I'll pray for resurrection of the epic storytelling that once drove the series.
Calling all HuffPost superfans!
Sign up for membership to become a founding member and help shape HuffPost's next chapter