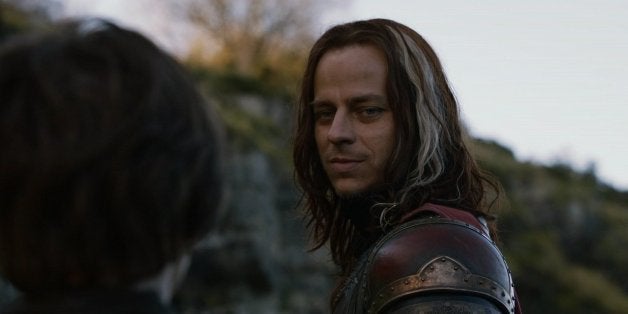 Some new faces (literally) appeared on "Game of Thrones" Sunday night, followed by a familiar one.
"GoT" finally caught us up with Arya as she arrived at the House of Black and White in Braavos. When she knocked on the doors of the house, an elderly black man appeared and turned her, and her Braavosi coin, down. After strolling the streets and slicing off a pigeon's head like a pro, the elderly man appeared again, but this time he removed his face to reveal his true identity: Jaqen H'ghar!
Remember Jaqen from Seasons 1 and 2? He was played by Tom Wlaschiha and was Arya's very first introduction to the Faceless Men. Wlaschiha returned again in Sunday night's episode as Jaqen, who, according to the actor, is really just "no one." In an interview with Vulture, Wlaschiha addressed a major fan theory about his character.
"I have no idea! I don't think so," Wlaschiha said, "But I couldn't give you any good reasons why not." So, maybe? Wlaschiha went on to say that while he thinks it would be too easy of a reveal, it could still be a possibility. "Syrio's face could be underneath Jaqen's face. We don't know. Jaqen is no one." Of course, playing "no one" is the easiest way to dodge answering such questions.
For the full interview, head to Vulture.
"Game of Thrones" airs on Sundays at 9:00 p.m. ET on HBO.