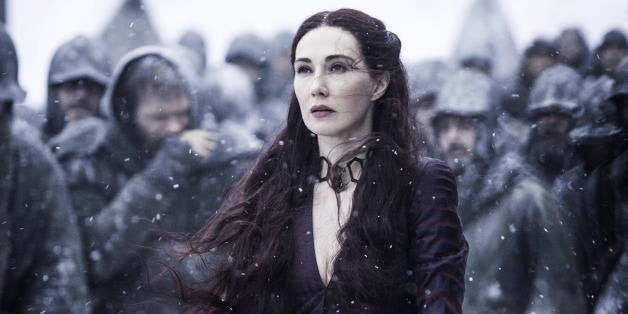 Sorry Melisandre, but there's a new red priestess in the Seven Kingdoms.
Over the weekend, Brazilian fan site "Game of Thrones" BR uncovered a leaked audition tape that reportedly featured a new character for Season 6. The video, which has since been removed from Vimeo, featured actress Tehmina Sunny reading what may or may not be a real "GoT" script in Portuguese for a character named Kinvara.
According to the translation, Sunny's Kinvara speaks with Tyrion and Varys in the scene. In it, it's revealed that Tyrion wants the woman to help convince the people of Meereen to obey the temporary rulers of the city until Daenerys returns. For one, this points out that Dany has still not returned to Meereen after being surrounded by a Dothraki khalasar in the Season 5 finale.
Kinvara also claims that the Khalessi is the savior of the Seven Kingdoms and not Stannis, as Melisandre had believed. Based on the English translation, Sunny says, "Daenerys Stormborn is the One Who Was Promised. From the fire, she was reborn … to remake the world." The scene also confirms that Stannis is indeed dead. Although director David Nutter pretty much confirmed this to Variety, it appears that word of Stannis' fall has already traveled to Meereen in this scene.
While the audition tape may not be authentic, there is a possibility it's real, since in the past a similar situation happened. Last year, an audition tape leaked of one of the Sand Snakes hinting at a fight scene, which eventually happened when Bronn and Jaime fought the three fighters in Season 5.
CORRECTION: A previous version of this article stated that "Game of Thrones" BR was a Portuguese website when it is actually a Brazilian website written in Portuguese.
REAL LIFE. REAL NEWS. REAL VOICES.
Help us tell more of the stories that matter from voices that too often remain unheard.
BEFORE YOU GO
PHOTO GALLERY
"Game Of Thrones"