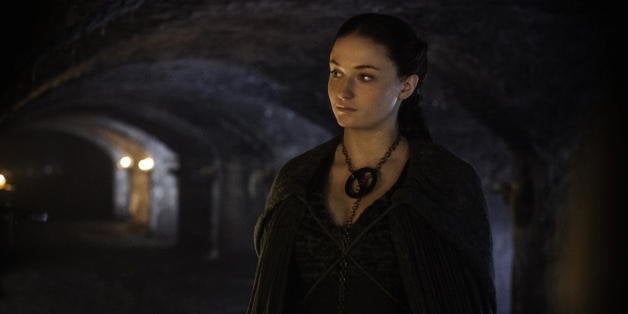 The first four episodes of "Game of Thrones" Season 5 might have leaked online early, but now that HBO isn't sending anymore early episodes to press outlets, it seemed like we were all in the dark until Sunday night. Yet someone apparently got blessed with greensight and has leaked two clips from this week's episode.
HBO's official description for "Kill the Boy," the fifth episode of this season, is rather vague: "Dany makes a difficult decision in Meereen. Jon recruits the help of an unexpected ally. Brienne searches for Sansa. Theon remains under Ramsay's control." But the two new clips from the episode give us a bit more context.
A "Game of Thrones"-fan Instagram account posted the clips, which were apparently taken from OSN.com, a TV network in the Middle East and North Africa. One shows Sansa, Ramsay, Roose and Walda Frey at the dinner table as Ramsay asks Reek to give away Sansa at their upcoming wedding.
So what does this tell us? For one, that dreadful wedding is coming very, very soon and Sansa is clearly realizing what has happened to Theon by this point. Another thing to note is that Walda is pregnant, but that baby won't likely live for too long, as Roose hints at in the books. Be very worried.
The second clip has since been removed from Instagram, but according to Winter Is Coming it was a Jon Snow-Night's Watch scene. This scene likely references the episode title, which is a quote from something Maester Aemon told Jon: "Kill the boy, Jon Snow. Winter is almost upon us. Kill the boy and let the man be born." There are some fan theories that believe this quote foreshadows Jon's fate, but we won't spoil that for non-book readers.
In other leaked "GoT" news, Watchers on the Wall uncovered a Redditor who used HBO.com's coding page for Episode 9 to reveal the title. "The Dance of Dragons" will reportedly be the name of the penultimate episode, and from what we told you last year about leaked footage, it's most likely the brutal appearance of Drogon at the Daznak fighting pits. Needless to say, things are only about to get crazier.
"Game of Thrones" airs on Sundays at 9:00 p.m. ET on HBO.
Calling all HuffPost superfans!
Sign up for membership to become a founding member and help shape HuffPost's next chapter
BEFORE YOU GO
PHOTO GALLERY
"Game Of Thrones"