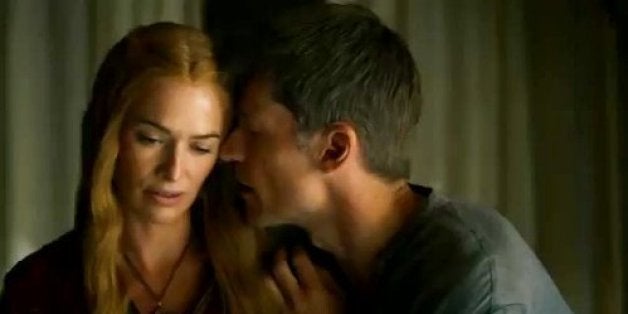 But as difficult as it was for us to watch the brother-sister duo have (nonconsensual) sex in front of their son's freshly murdered corpse, it was even more awkward for Lena Headey and Nikolaj Coster-Waldau, the actors stuck with the job of filming that now infamous scene. Natalie Dormer who plays Margery Tyrell, Joffrey's recent widow, revealed to E! News how her co-star really felt about that controversial rape scene.
"I remember talking to her in the makeup trailer the day before she had to shoot that, she had mixed feelings about it for obvious reasons," Dormer said. " "But as an actor, those scenes are the ones you really get to sink your teeth into, so there's sort of a perverse enjoyment in exploring those really dramatic moments as well."
Perverse is definitely the right word. After the episode aired, the Internet exploded with people who were outraged that the scene in the show differed from that on the page. Comments made by the episode's director, Alex Graves, made matters worse. The outcry was so loud that series' creator George R.R. Martin took to his blog, admitting he regrets that the scene may have "disturbed fans for the wrong reason."
For some reason, we have a feeling this won't be the only disturbing scene we see this season.
"Game of Thrones" airs Sundays at 9 p.m. EDT on HBO.

BEFORE YOU GO
PHOTO GALLERY
'Game Of Thrones' Season 4