California native Dario Sattui's passion for European architecture of the Middle Ages is only rivaled by his passion for fine wine. Perhaps the singular man in modern history to have built a full-scale medieval castle on U.S. soil, Sattui's brick by brick creation, Castello Di Amorosa (Castle of Love), looks plucked from an episode of Game Of Thrones or the pages of a Tolkein epic. This is a wine country wonder, and a magnificently delicious reason to visit California's Napa Valley.
Castello Di Amorosa, photo by Jim Sullivan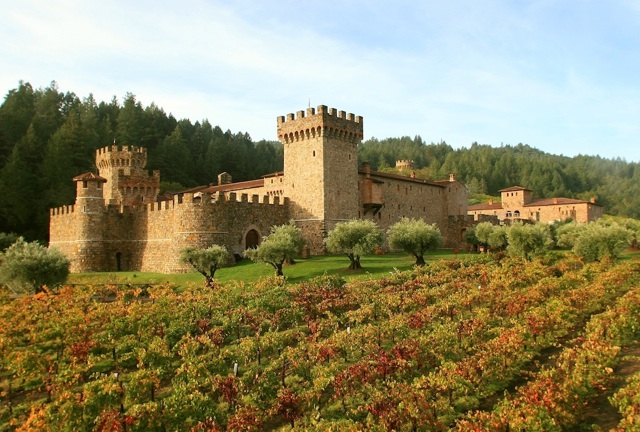 In a landscape rich with great vineyard destinations, Castello Di Amorosa is a most unique, cinematic treasure. The product of fifteen years of construction (by a team of about fifteen men), the Castello's three acres of rooms includes five defensive towers, drawbridge, moat, a labyrinth of tunnels, prison and torture chamber, galleries of chainmail armor, a great hall adorned with epic wall murals, a church, a myriad of archways, secret rooms, and corridors, beautiful brick vaulted ceilings, all designed around a grand courtyard where one could imagine King Arthur, and Queen Guinevere holding court with jesters.
And before you think this castle is a theme park-style gimmick, think again - Sattui, a fourth generation American winemaker, is all about the Italian-style wines, the quality and variety of which have won many awards, and garnered as much as 92 - 94 points by Wine Spectator Magazine and raves from international wine critics.
Great Hall, photo by Jim Sullivan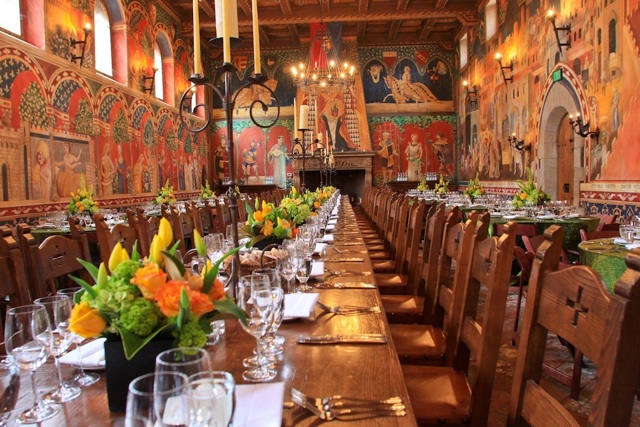 Xaque Gruber: Where did the journey of building a castle begin?
Dario Sattui: What really got me going was taking trips to Italy, which began in 1975. I'd explore these gorgeous abandoned castles and farmhouses with a sketchpad, camera and a tape measure. I did many hundreds of hours of research on the architecture of castles never knowing I was going to build this building - I just loved this architecture. When I bought the land where the Castello now stands, I was just going to replant Colonel William Nash's (founder of Nashville, TN) old vineyard. Then I started thinking "Well I always loved medieval architecture, and I wanted to develop Italian-style wines. Why don't I build a little building that resembles a monastery in Italy, and a Medici hunting lodge as well?" I'm crazy. (laughs) XG: And then your plans just grew larger and larger and larger.
DS: Yes, because I wanted the castle to be as authentic as possible. In the Middle Ages, the grout was made of lime, sand and water so that's what we used. We didn't use cement because they didn't have cement. We chipped all the stone and squared it by hand. We hand hewn all the timbers. By and large the entire construction was using old materials and old methods. You can't build an old castle using new materials and new methods - you either do it right or it will look obviously fake.
Castello courtyard, early morning, photo by Jim Sullivan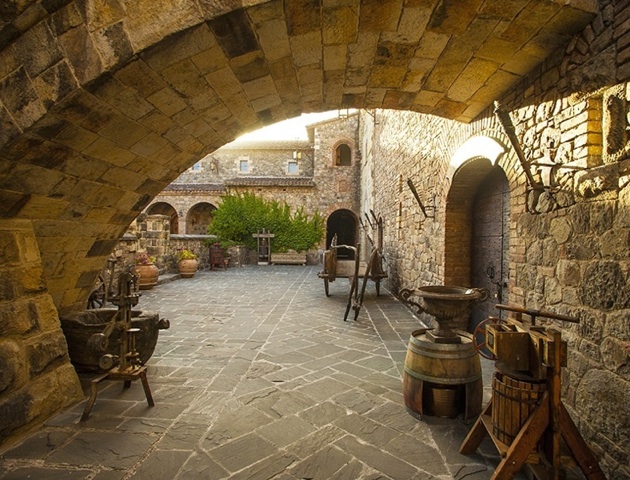 XG: The bricks were brought over from Europe.
DS: All the bricks came from Austria, Italy and some from Romania. The light fixtures, nails, gates, and anything iron were all made by hand by a blacksmith as they would have back in the Middle Ages. The doors and roof tiles came from Italy. Most of the basalt stone came from the quarries of Napa Valley. You try scoring one of those - it would take you a couple hours if you didn't break it. Then there was an old winery in East Napa Valley bought by Seventh Day Adventists who don't drink wine so they sold it, and I bought it. It had been built by the Chinese in the 1870s. We incorporated it into the castle. Some of the window, door surrounds were all from this 19th Century Chinese winery, and that's where we got the softer sandstone. XG: Did anyone think you were crazy building a giant medieval castle like this?
DS: I had nightmares over it, and thought maybe I'm making a total fool of myself, but that was also a great incentive to get it right because I didn't want it to be Disneyland of the North. The first day it opened I stood out by the drawbridge basically wondering would anybody come, and if they came once would they come a second time? But we'll have about 270K visitors this year. We're the second or third most visited winery in the U.S. A lot of the great wines of Europe are made in chateaus and castles, and it's been so since the Middle Ages so I thought this is a proper approach to making great wines and housing them in a great building.
XG: Wine has been your family's business for generations.
DS: My Great Grandfather came from Italy in 1882 and was one of California's first winemakers. All I did was try to revive my grandfather's winery that he brought over from Italy. Right now, I feel blessed to have Brooks Painter as the winemaker at Castello. He won Winemaker of the Year. You know, if you do something great, people respond to it. Too many people do something half assed and they say why didn't people respond - because you didn't give your heart and soul to it - that's why. I am still very hands on though I'm semi retired now. I'm 71 and a half, but I'm still working 30-35 hours a week. This giant castle is my little baby. It's my way of expressing myself.
For more info, check out: www.castellodiamorosa.com