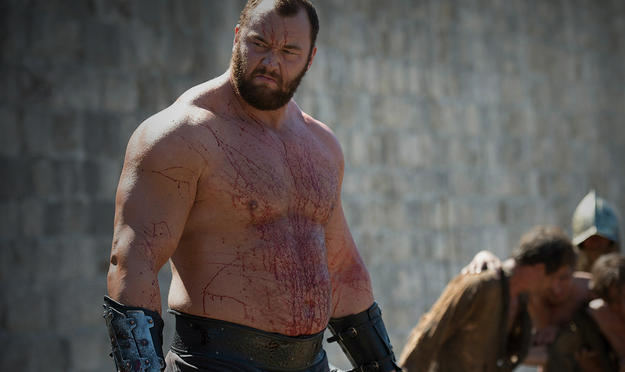 You want a "mountain" body? You better eat b**ch. 
At least that's what "Game of Thrones" actor Hafþór Júlíus Björnsson (he goes by Thor for short) does to achieve his massive frame. Björnsson, who is currently in competition to be the World's Strongest Man, plays Gregor "The Mountain" Clegane, a now Frankenstein-like monster with a penchant for violence and the ability to "take the head off a horse with a single swing of his sword."
Horse decapitations aren't for the weak-bodied apparently, because Björnsson has to consume an insane amount of food to keep himself in shape. The Icelandic strongman shared his daily diet on social media to satiate fans' curiosities about what it takes to be the "Mountain."
*Spoiler alert* he eats a s**t ton of eggs
Read his full post below. 
6:50 Morning workout! Cardio + CORE for 30min Bcca, Glutamine + handful of almonds
7:30 8 eggs + 200gr Oats + blueberries & strawberries + avocado
9:30 400gr beef, 400gr sweet potatoes, handful of spinach & greens
11:50 Bcca, glutamine,
12:00 400gr Chicken + 400gr potatoes, greens + some fruits
14:00 Blender = 150gr oats or sweet potatoes, 2 bananas 150gr Kelloggs Rice Krispies, frozen berries, handful almonds, peanut butter and glutamine
14:30 Training strongman, Bcca, glutamine, Vitargo
17:30 60gr protein + 2 banans
18:00 500gr beef + potatoes, greens
20:30 500gr salmon + 500gr sweet potatoes
22:30 50gr casein protein or 6 eggs + avacado + 30gr almonds + 50gr peanut butter

Drink a lot of water throughout the day + Juices to get more calories!!

middle of the night 50gr caseine protein or raw eggs
And you thought you ate a lot. 
We'd hate to see the guy that goes up against him in the World's Strongest Man competition. Just look what he did with these fridges:
Calling all HuffPost superfans!
Sign up for membership to become a founding member and help shape HuffPost's next chapter
BEFORE YOU GO
PHOTO GALLERY
'Game of Thrones' Season 6