For the longest time, the worst kept secret in "Game of Thrones" ― other than our boy Jon Snow coming back to life—seemed to be that the Wall was coming down. The show appeared to constantly give heavy hints.
In Season 6 when Snow (Kit Harington) left the Night's Watch, he told Dolorous Edd (Ben Crompton), "Don't knock it down while I'm gone." And in the Season 7 premiere, an archmaester (Jim Broadbent) lectured Samwell Tarly (John Bradley) on how, despite all kinds of horror, the Wall has stood through it all.
All of this seems to point to one thing: That Wall is gonna fall.
Redditor RohitMSasi recently noticed a detail in the "Game of Thrones" Season 7 premiere's opening credits that changes things. The sea appears to be frozen.
The moment doesn't appear in the opening for the Season 6 finale, just in the Season 7 premiere.
It may hint that the Wall isn't going to fall after all. The White Walkers are going to walk around it. That's what people are theorizing, anyway.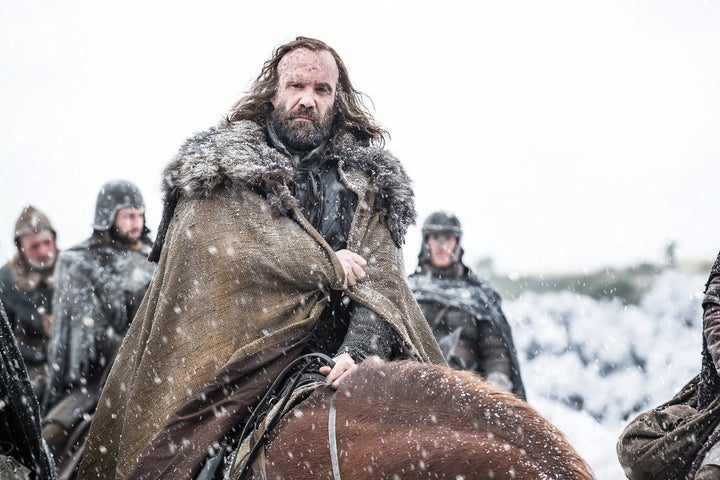 During the episode, there's a scene where The Hound (Rory McCann) looks in a fire and has a vision.
He says, "It's where the Wall meets the sea. There's a castle there. There's a mountain, looks like an arrowhead. The dead are marching past. Thousands of them."
Who needs to knock down a Wall when you can just walk around it? The plan seems much more convenient, overall. Nice going, Night's King. 
There's just one problem: The Wall is definitely gonna fall. There's been too much foreshadowing. 
In an interview with HuffPost, Samwell himself (Bradley), told us there's "no wasted line on 'Game of Thrones.'" 
When asked about the possible foreshadowing in Episode 1, when the archmaester talks about the Wall never falling, Bradley said, "Maybe that will come into play, nobody knows, but if the Wall comes down, that's the last thing keeping [what's] beyond the wall at bay, so if the Wall was to come down, that would kind of be the end game for everybody and dire circumstances. I hope that people are worried about that."
In the same interview, Bradley told us, "If you think you saw something, you probably did see something." But he added, "It may not be what you thought you saw."
So you do have to consider that the sea isn't actually frozen in the opening credits.
Redditor RohitMSasi, who noticed the detail, told HuffPost, "In the end, it just might be snow and clouds because you know, 'winter is here!'"
We'll see what happens. Signs do point to the Wall still coming down, but they don't call them White "Walkers" for nothing.
And if you're going all the way around the Wall, you better like walking.
Calling all HuffPost superfans!
Sign up for membership to become a founding member and help shape HuffPost's next chapter
BEFORE YOU GO
PHOTO GALLERY
"Game Of Thrones"