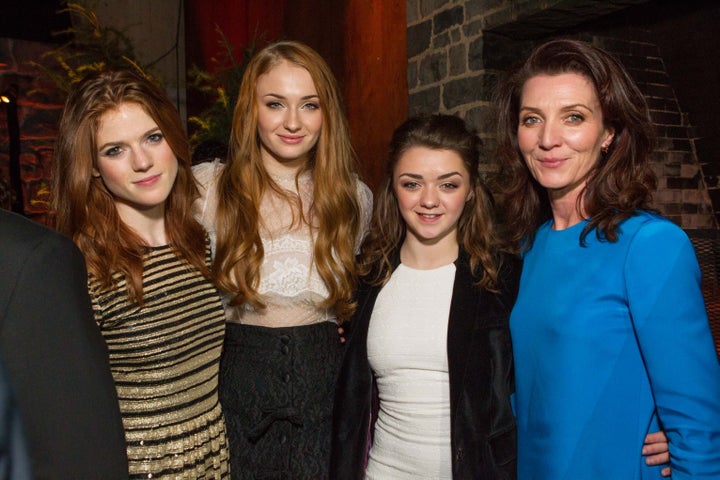 By Eliot Bacon for Drew Altizer
The lucky courtiers with the press passes and Google Glasses got the chance to peer ahead into Season Three of HBO's hit show "Game of Thrones" at the Palace of Fine Arts Wednesday evening. Their loyalty to the combative heirs presumptive of the fantasy kingdom was rewarded with a glimpse of the stars and creators of the show and the foreknowledge of the first episode weeks ahead of its nationwide premiere.
PHOTO GALLERY
'Game Of Thrones' SF Premiere
The warring Houses of Lannister and Stark were not the only ones in attendance. Throughout the night, people proudly displayed the sigils of Houses Pinterest, LinkedIn, Instagram, and many other of the tech giants that engage in their own power plays around the Bay Area. Actors and producers from the show were joined by Craig Newmark of Craigslist and Mike Krieger of Instagram as royalty on the red carpet. When asked how he felt about the significant tech presence at the event, George R. R. Martin, author of the books upon which the series is based quipped, "I would still prefer to tie parchments to the legs of ravens."
For a night, that mind and medieval method seemed to capture the hearts of the modern crowd. The show, renowned for its epic scope and scale in its first two seasons, delivered handsomely in the first episode of Season 3. Excitement filled the Palace of Fine Arts Theatre as the familiar strains of the show's theme echoed through the hall. After a long winter's time, Game of Thrones had finally returne in all its gory glory. HBO CEO Richard Plepler introduced the episode with his assertion that the passion for the show among its viewers is simply "extraordinary," and the assemble horde was quick to agree.
That passion continued to surge even after the episode's screening. At the grand party, decked out with a replica Iron Throne for delirious fans to pose in and themed food like "Sansa's Lemon Cakes," enthusiasts of the show crowded around the actors, hoping for favor to be momentarily bestowed. Mr. Martin remarked that he was glad to see the actors receive such acclaim for their characters. "Characters are what it's all about for me," he said. If the reception to Season Three is any indication, the Game is going to continue to be played for a long, long winter.
Calling all HuffPost superfans!
Sign up for membership to become a founding member and help shape HuffPost's next chapter
BEFORE YOU GO