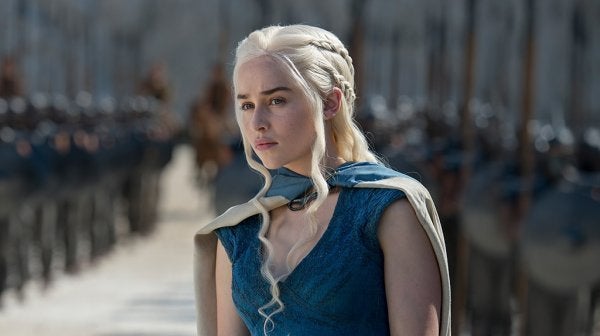 They started as rumors, but now it is known.
HBO rolled out some new "Game of Thrones" promos for Season 6 on Friday, and the new videos appear to confirm some major spoilers.
1. Dany is taken prisoner by the Dothraki.
A leaked script already appeared to reveal that the Mother of Dragons was taken captive by the Dothraki, and this new promo basically confirms that. 
In a video featuring a Targaryen sigil, someone appears to be speaking to Dany in Dothraki, and they don't sound very nice.
"You are nobody. The millionth of your name. Queen of nothing," says the voice. 
2. Ramsay may have a confrontation with the resurrected Jon Snow.
Watchers on the Wall previously reported a major scene is going down in the Winterfell courtyard in Season 6. And it involves Jon Snow, Ramsay Bolton, Sansa and Littlefinger. 
A new promo featuring Ramsay saying "Winterfell is mine!" would actually fit perfectly into that scene. Some fans speculate that this may be Ramsay talking to Roose Bolton, since many think that he'll kill his father eventually. However, the fact that this video shows the Stark banner makes it seem like he's threatening the Starks.
 3. The Sparrows become an even bigger threat.
Jonathan Pryce, aka the High Sparrow, said his "GoT" character is a game-changer, and it looks like that's continuing in Season 6. In a video featuring the Lannister banner and some "shame-nun" in the background, the High Sparrow talks about overthrowing an empire.
It's menacing. It's intense. And, as Reddit says, it just needs more shame bell.
"Game of Thrones" Season 6 premieres Sunday, April 24, on HBO.
PHOTO GALLERY
"Game Of Thrones"
Calling all HuffPost superfans!
Sign up for membership to become a founding member and help shape HuffPost's next chapter