 In celebration of "Game of Thrones" Season 3, the Academy of Television Arts and Sciences hosted "An Evening with 'Game of Thrones'" on March 19, with everyone from creator George R. R. Martin to stars like Peter Dinklage (Tyrion Lannister), Kit Harington (Jon Snow) and Maisie Williams (Arya Stark) in attendance. (You can watch the full panel, courtesy of Emmys.com, below.)
HuffPost TV will have full interviews with the cast ahead of the Season 3 premiere on Sunday, March 31 (9 p.m. ET on HBO), but to whet your appetite, here's what we learned from Martin on the red carpet ...
On Season 3:
"I've actually only seen the episode that we premiered last night, because I've been very busy this past year. I wanted to make it over to the shoot to see some of it being shot as I've done in previous years, but I wasn't able to do it this year. I had too many other commitments and too many other deadlines. So I wrote my own script, which is Episode 7, 'The Bear and the Maiden Fair,' but even there I haven't seen any footage. I just know what's in the script. Last night was the first time I'd seen any actual footage, which was very exciting. I loved it."
On his episode this season:
"There's a bear and a maiden fair, and a song. That scene, if you know how television production works on a series like this, you're shooting the scenes and they don't always go into the episode they're originally scripted for; some episodes are running long, others are short, sometimes scenes get moved around. So the irony is, the scene with the bear was not written by me -- even though it's in my script -- it was written by David [Benioff] and Dan [Weiss] and was moved into my episode when they reshuffled a few scenes around, which then became the logical title for that. It's a great scene and it's a great bear. Bart the Bear, you can see his audition on YouTube. He's so cute. I wanted to take him home and have a bear myself -- a 1,200 pound bear in the backyard."
On the next book in the "A Song of Ice and Fire" series, titled "The Winds of Winter":
"I am working on it. It will be a long time coming. I have many many more pages to do, but I have some great stuff planned for it: a lot of blood and fire and death and devastation and ravens coming home to roost."
While the panel discussion steered clear of spoiler territory for the most part, executive producers Benioff and Weiss did admit that Martin has already told them who ultimately ends up on the Iron Throne, much to the surprise of the cast. ""There'll be a few people sitting on it before the end," Martin teased cryptically.
Much was made of Martin's penchant for killing off beloved characters, but the author pointed out, "as bloodthirsty as I am in killing characters, David and Dan are killing some characters who are still alive in the books! Their body count is higher than mine. When they say no one is safe in the series, that's literally true. There are characters in book five and who are gonna be in book six who are dead on the TV show."
Weiss was unapologetic for the "culling," as he called it. "We need to make room. It's a huge cast and sometimes you need to clear some people out of the way," he said with a laugh. "When you have a world like the world George has built, you start to realize how quickly that story real estate gets taken up. There have been places where we did just have to clear out space to make room for all these guys that we love so much and are so invested in, to do them justice."
Still, Martin isn't too precious about the adaptation adhering to his source material verbatim. "I trust them, I do," he insisted. "I know it's a useful tool to keep the actors from asking for raises. I've been on the other side of it. In a perfect world, I would like more hours each year; I would like more money so that each episode had the budget of a Peter Jackson film, but I don't think this is very likely and given the realities of production, it's incredible, what they do."

Benioff and Weiss have previously mentioned that Season 3 was the year they were most excited to reach, and they explained why on the panel.
"There are so many devastatingly great set pieces and scenes in George's books, across the series, of course," Weiss said. "But I would say that the predominance of scenes that really just made us say 'holy shit' -- and we knew would make other people say 'holy shit' if they saw them properly done on television -- more came from the third book, which will span over the third and fourth seasons, as it turns out. But Season 3 was the one we focused on as 'this is the place we need to get to.'"
Benioff agreed, saying: "The longer you work in this business, you start to be able to more see the carpentry. You can see the seams, you can see where things are going -- it's harder to surprise you as a reader. There are a few scenes in 'A Storm of Swords' that are so devastating that I didn't see them coming. And when I went back and reread them, the clues are there ... they're beautifully set up, but somehow, George hid them from you and that's what we're trying to emulate with Season 3. God knows if we've succeeded, but that was the book we always prayed we'd get to."
Watch the TV Academy panel for "Game of Thrones" below (Q&A begins at the 9:48 mark):
"Game of Thrones" Season 3 premieres Sunday, March 31 at 9 p.m. ET on HBO.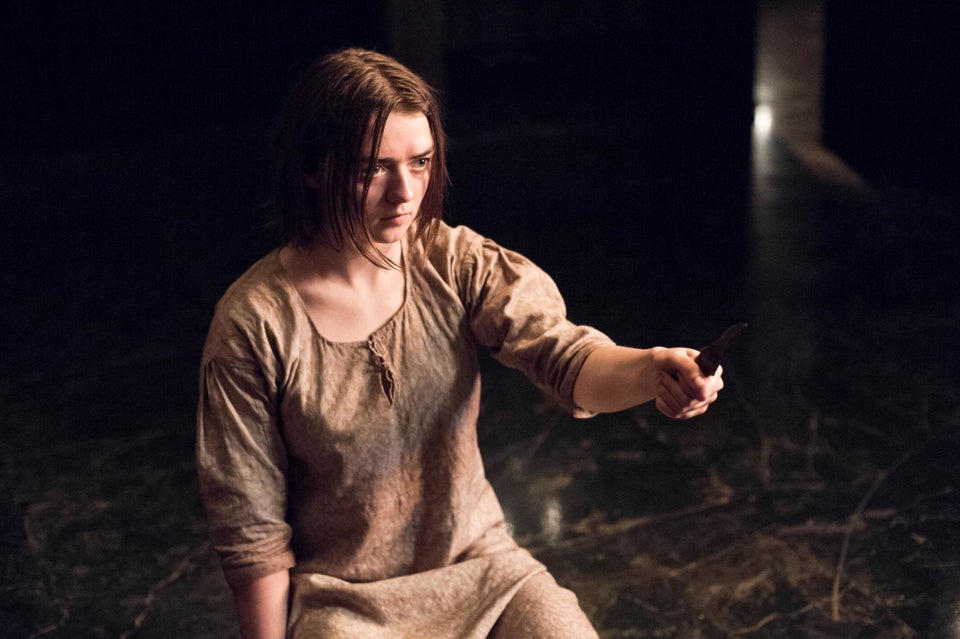 "Game Of Thrones"