A lot of people were killed off in the "Game of Thrones" Season 5 finale, but fans were still left speculating whether or not all of those deaths were set in stone.
Now the official word is in: yes, Stannis Baratheon is, in fact, dead. He's not sorta dead or maybe dead -- he's flat out gone. "Mother's Mercy" director David Nutter confirmed the death to Entertainment Weekly at San Diego Comic-Con on Friday. "From the very beginning, and [through] the script process, that was the intent -- he's dead," Nutter said.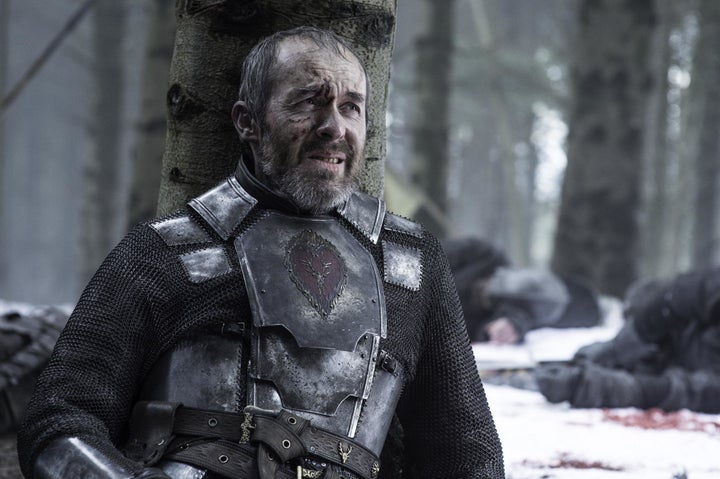 In the Season 5 finale of the HBO series, Stannis (Stephen Dillane) was seen wounded and defeated after his battle against Ramsay Bolton. Brienne approached the Lord of Dragonstone to fulfill her vow to end his life after he caused Renly's death. But before "Thrones" actually showed Brienne's Oathkeeper fall on Stannis, the episode cut away to a scene with Ramsay. This led many fans to speculate whether or not Stannis was actually dead, and if so, why didn't the series show his actual murder?
Sorry, Nutter, but if every other violent or grotesque scene ever displayed on "Thrones" is acceptable -- and there are a lot -- then showing one more male character murdered by the blade of a woman's sword is certainly not anything close to what one would consider "gratuitous." Let's also not forget that this same man who was killed off also had just recently allowed his young daughter to be burned alive. If HBO could include Shireen's screams and cries as she burned offscreen, they could've at least given fans the satisfaction of watching Stannis be defeated. We have one word for you, Nutter:
PHOTO GALLERY
"Game Of Thrones"
To subscribe to our HuffPost Entertainment WhatsApp account:
1. Download WhatsApp on your phone.
2. Save this number, 347-334-1794, in your phone's contacts.
3. Text "POP" to that number via your WhatsApp account.
You can unsubscribe at any time by texting "STOP" to the same number.
Calling all HuffPost superfans!
Sign up for membership to become a founding member and help shape HuffPost's next chapter