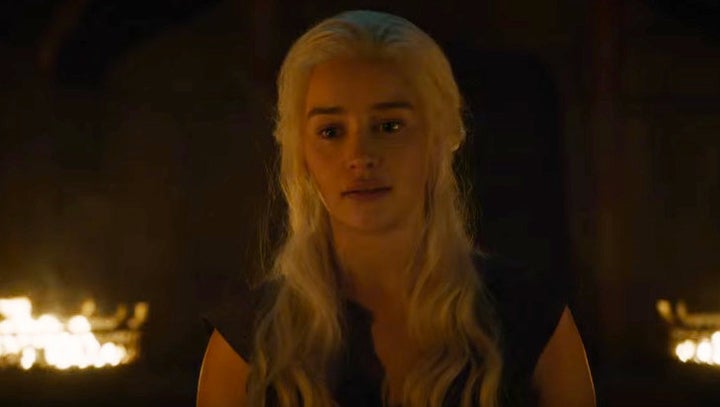 "Game of Thrones" was boring as heck going into the final moments of Episode 4 on Sunday. Yeah, it started off amazing with Sansa and Jon reuniting, but then it focused on a lot of politics and a lot of High Sparrow, becoming a total snooze-fest.
After Daario and Jorah finally caught up with Khaleesi, Dany devised a plan to escape the clutches of the Khals. As the Khals debated Dany's fate, she knocked over what appeared to be tall fire pits, causing their hut to go up in flames. All the Khals presumably died while Dany walked out unharmed, similar to the scene in Season 1 when she emerges unscathed from Khal Drogo's funeral pyre with newly hatched dragons. The Dothraki bowed to her. What else are you going to do?
It can't be stressed enough how big this moment is. Theorists online have been speculating that Dany only survived the fire in Season 1 because of blood magic. (Remember: The priestess Mirri Maz Duur burned along with Khaleesi.) Well, that's apparently out. 
Does this mean all Targaryens are fireproof? It's believed that many Targaryens have died in fire before, such as during the Tragedy at Summerhall. (That incident happened before the events of "Game of Thrones.") If all Targaryens are indeed fireproof on the show, it might be a huge departure from the books. But who really cares?
Mhysa want more Khaleesi!
"Game of Thrones" airs Sunday at 9 p.m. ET on HBO.
Calling all HuffPost superfans!
Sign up for membership to become a founding member and help shape HuffPost's next chapter
BEFORE YOU GO
PHOTO GALLERY
'Game of Thrones' Season 6