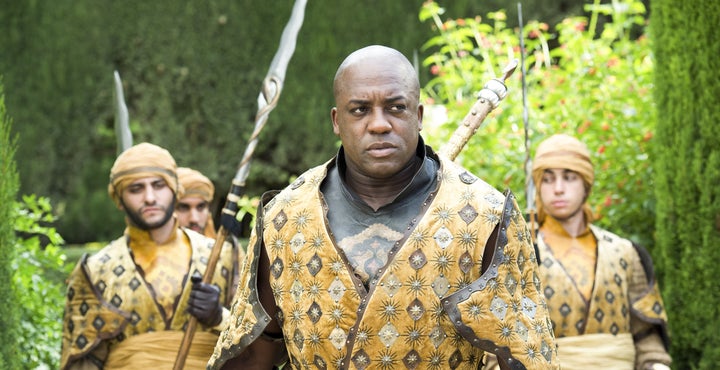 Helping with that, HBO has now made "Game of Thrones" Season 5 available on digital release, months before it comes out on Blu-ray and DVD in March. As an added bonus for fans, the special features reveal some behind-the-scenes secrets from the set.
And because no one knows "Game of Thrones" secrets as well as the people who actually work on it, here are 12 more things you might've missed, according to the cast:


1. Sean Bean played soccer with his prosthetic head after dying.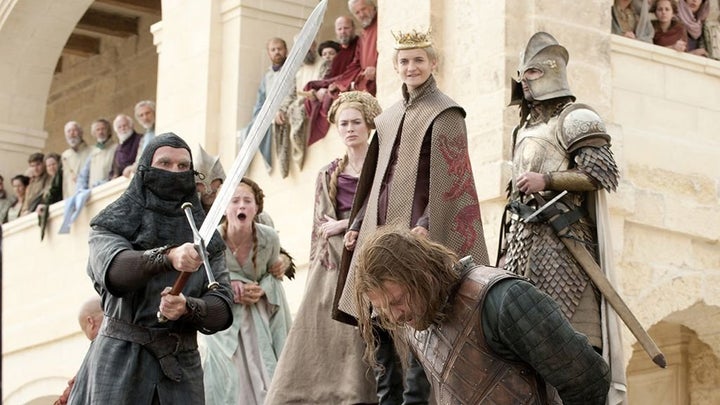 If anyone should be unfazed by dying on screen, it should be Sean Bean. The dude just doesn't have a great life expectancy. But after getting beheaded on "Game of Thrones," the actor admitted during a Reddit AMA that he was a bit creeped out by his prosthetic head. He got over it, though. "We just kicked it around like a football," Bean said.
2. Jaime Lannister absolutely despises wearing his armor.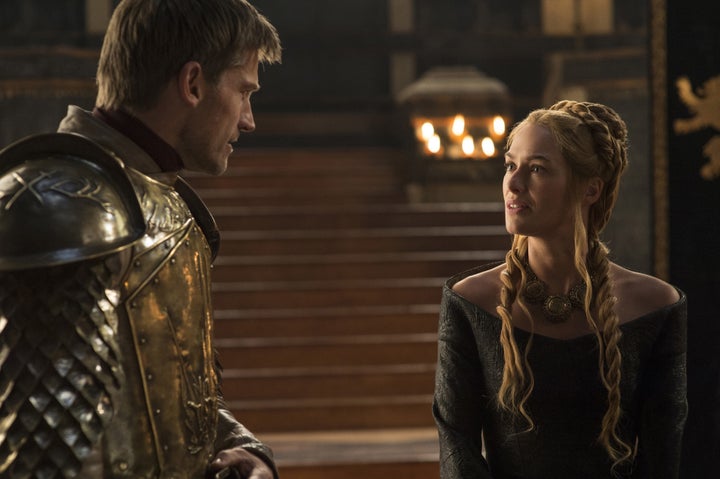 While talking with The Huffington Post, actor Ian Beattie, who plays Meryn Trant on the show, revealed Nikolaj Coster-Waldau "uses every possible chance he gets to get out of the armor," saying it's too heavy. "Between you and me, Nikolaj is a bit of a wuss," Beattie joked.
3. Actors were shocked the Jon Snow scene wasn't removed from their scripts.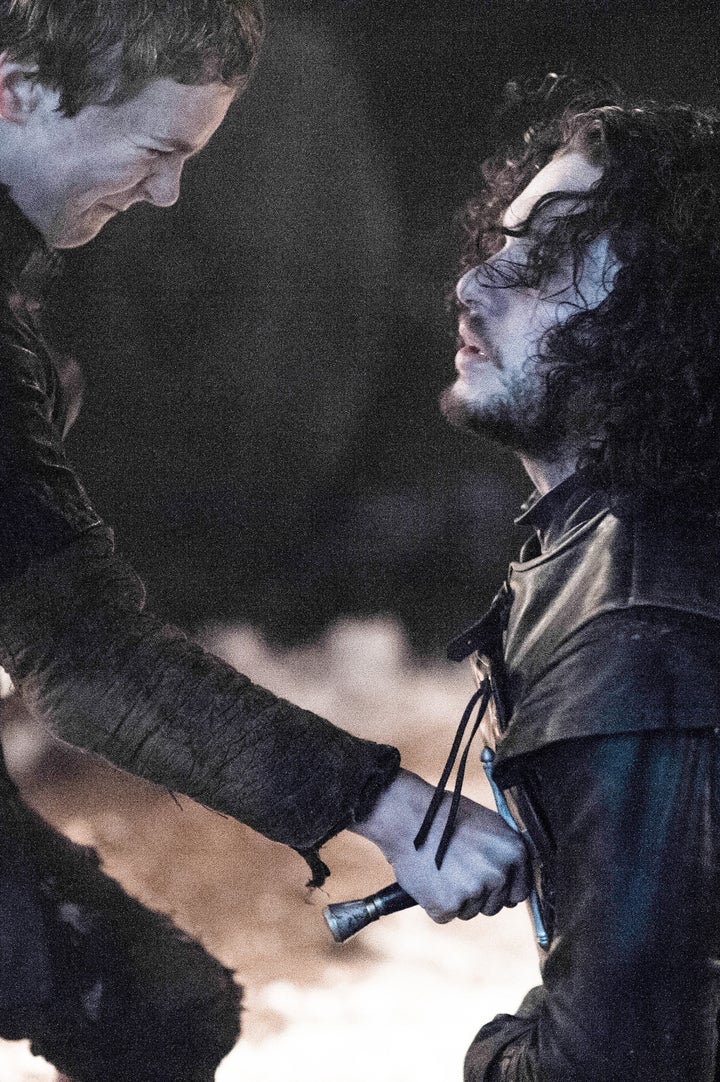 Deobia Oparei, who plays Areo Hotah on the show, told HuffPost actors received the whole script for the Season 5 finale and he was shocked that the Jon Snow death scene hadn't been redacted. "I was surprised that we all got it," he said. "I thought they would've omitted those pages so it was really kept close to the chest. I read it, and I was shocked."
4. The writers put in fake death scenes to trick the actors.
While speaking with BBC Radio, Sophie Turner said the writers make fake scripts to trick the actors into thinking they're going to be killed off. "Then about three weeks later they'll end up telling you that it was a joke," the actress said.
5. Ian Beattie had nightmares after learning Meryn Trant was a pedophile.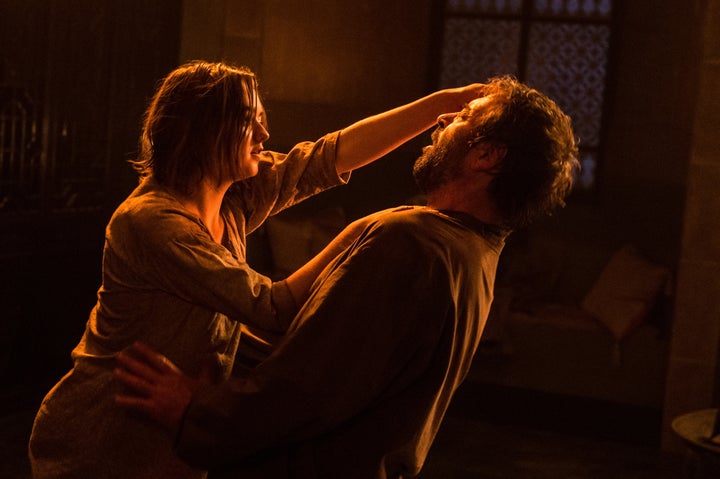 Beattie told HuffPost he learned about his character's death before Season 5 began filming but was vague on what was actually going to happen. For him, the worst thing was learning the details of Trant's personal life and his attraction to young girls. "When I read it, I'll be perfectly honest, I was completely horrified," he said. "I, myself, am a father, so it really presented difficulties. I had nightmares over it."
Though it was a difficult shoot for him, Beattie told us the kids involved actually had a great time filming.
6. Oberyn Martell sounds like Pedro Pascal's dad.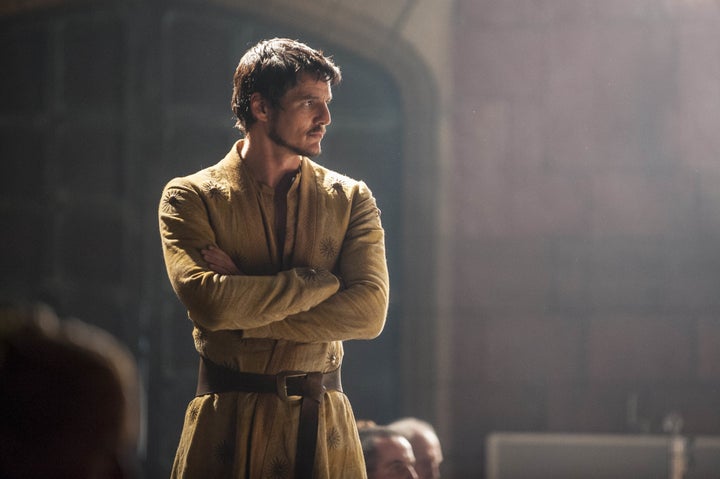 During a Reddit AMA, Pedro Pascal, who played Oberyn Martell on the show, explained his hedonistic character's accent by saying, "I remember I had this strange instinct that Oberyn Martell sounded like my Dad," adding, "I don't know what that says about my Dad."
7. Producers have debunked that one huge theory about Syrio.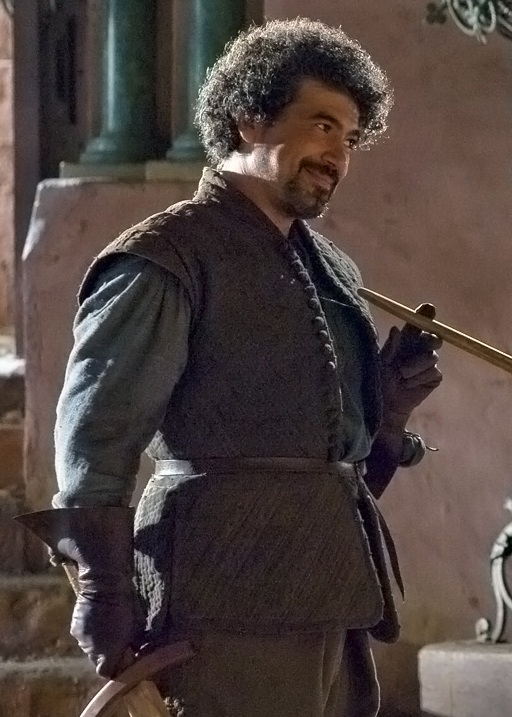 There's a big theory among "Game of Thrones" fans that says Arya's sword trainer Syrio actually survived an encounter with Kingsguard Meryn Trant. Beattie told HuffPost he actually met George R.R. Martin, but forgot to ask about it; however, he did talk to producers, and they agreed Syrio is actually dead.
"He was pretty much defenseless. I was well armored, I had a big effing sword and I think Syrio would've bought Arya as much time as possible. I don't believe Meryn would've let him live. I would be surprised if Syrio made an appearance in the future," Beattie said.
8. "Game of Thrones" is more like a theater company than a TV show.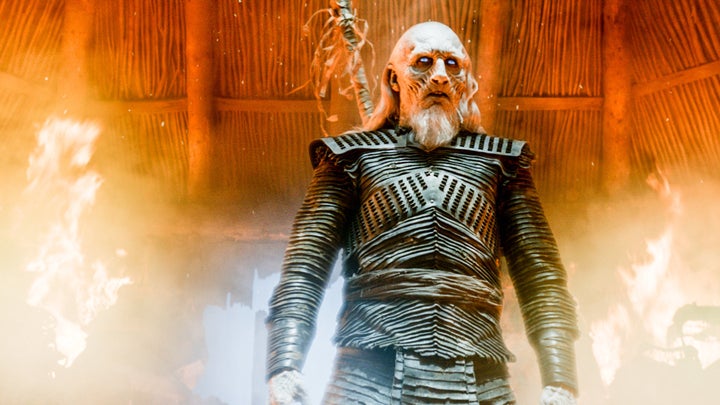 Even with how intense the show comes across on screen, Oparei told HuffPost it's a little deceptive because it's surprisingly chill on set. "It reminds me of a theater company more than a film company just in terms of how easy and relaxed it is," the actor said. "It's fun. Everyone's having fun, and that's what makes it really special."
9. Oberyn fell asleep during his death scene.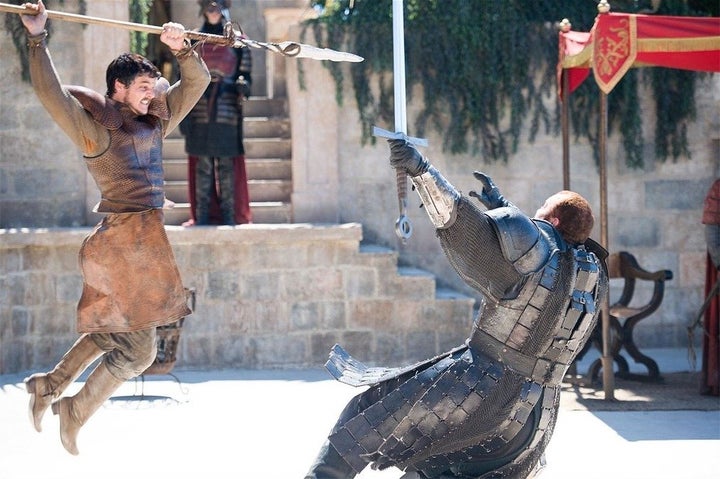 Pascal, whose character got his head smashed in on the show, once described his big death scene in a "Game of Thrones" roundtable of dead characters for HBO. The actor said he was told he'd be very uncomfortable, but actually he "just passed out."
10. Tyrion and Varys are the on-set comedians.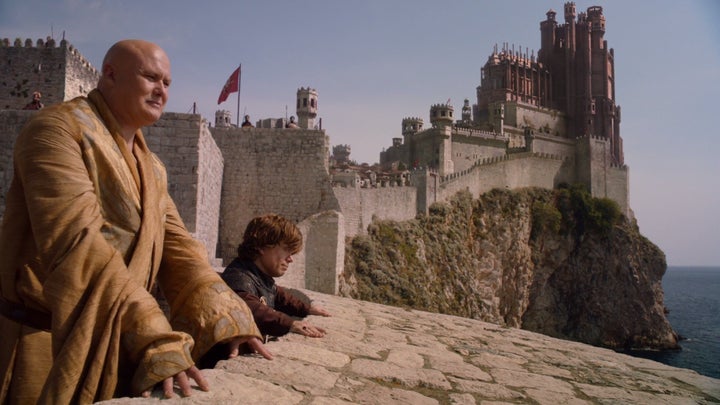 When asked about something people might not know about working on the show, Beattie said it's like there are two comedians working on set all the time. "Peter Dinklage and Conleth Hill -- Tyrion and Varys -- they are the funniest act that you will ever hear. They're funnier than most professional comedians, and they constantly have the cast in stitches," he told HuffPost.
11. Joffrey died in a parking lot in California.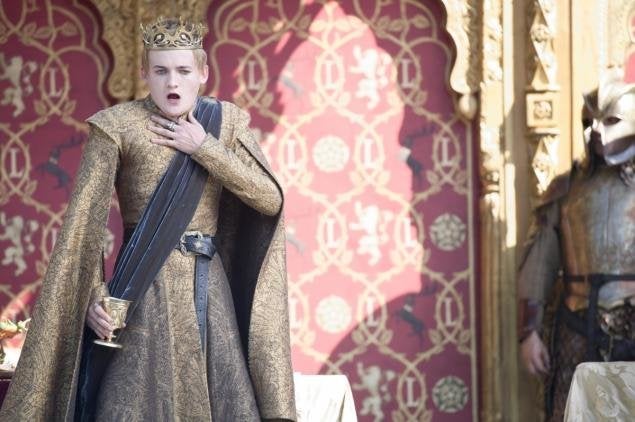 Because they just weren't positive it was gruesome enough, HBO flew Jack Gleeson out to a parking lot in Valencia, California, to reshoot his death. Gleeson discusses the reshoot in the Season 4 commentary, saying he still thought he ruined the shot because the "bloody Californian sun" was streaming into his eyes. Director Alex Graves disagrees, however.
12. Michelle Fairley cried the first time she saw the Red Wedding.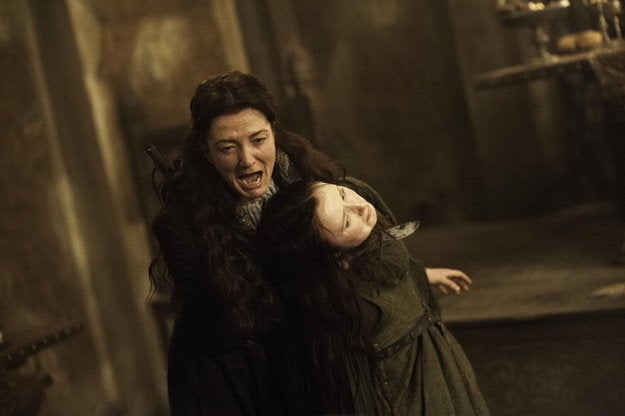 Who doesn't cry over weddings, right? The Red Wedding was especially emotional for actress Michelle Fairley, though, since, you know, she gets killed and all. The actress still had tears flowing the first time she saw the scene outside of her Catelyn Stark gear, which just so happened to be while doing the commentary for Season 3. "It's incredible. It just brings back so many memories," said Fairley. "It's so difficult to watch," added Richard Madden, who played Robb Stark.
Don't worry, Michelle. The North remembers ...
Game of Thrones: The Complete Fifth Season is available now on digital release and for Blu-ray/DVD on March 15, 2016.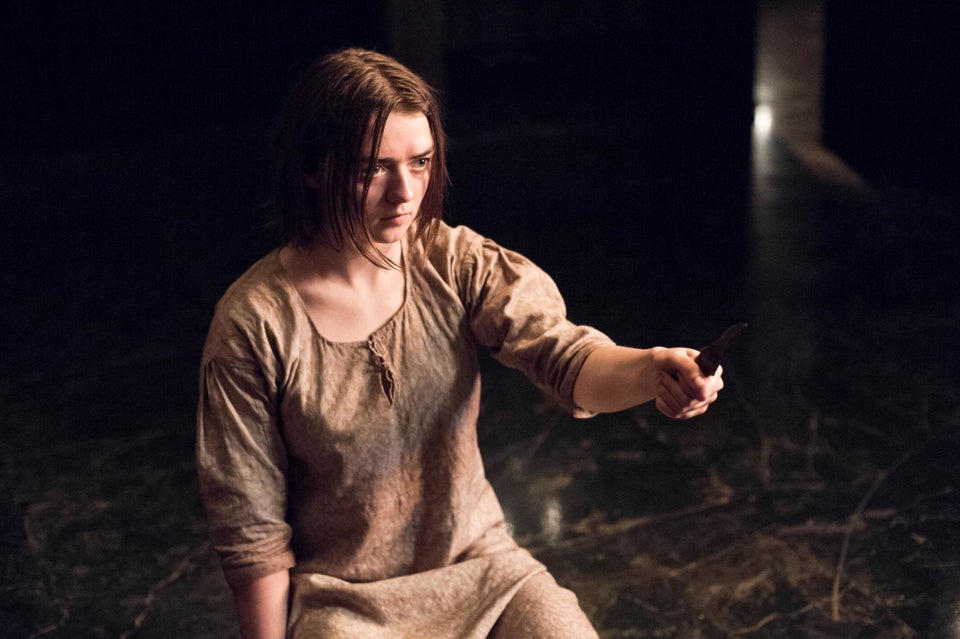 "Game Of Thrones"
Popular in the Community