With Iowa Sen. Charles Grassley's approval ratings faltering in a new poll on his role in obstructing the Supreme Court nomination process as chairman of the Senate Judiciary Committee, Democratic challengers like state Sen. Rob Hogg are inspiring a groundswell of new support for a suddenly competitive election battle.
With more than 60 endorsements from state office holders, Hogg's long-time leadership for clean energy jobs in a state that leads the nation in wind energy production has the potential to bridge the rural-urban divide and bring together a new coalition of voters in Iowa.
In effect: The winds are blowing in a new direction in Iowa today.
"My candidate is Rob Hogg," Iowa Senate Majority Leader Michael Gronstal, D-Council Bluffs told the Des Moines Register, even as other candidates, including former state agricultural secretary Patty Judge, file to run. "Sen. Hogg is my candidate and I am rock solid," added Senate President Pam Jochum, D-Dubuque.
A fourth-generation Iowan, Hogg has served 14 years in the statehouse as a representative and senator from Cedar Rapids, including the former chairmanship of the state Senate Judiciary Committee, and drawn national attention for his ability to work with both parties, farmers and urban planners on clean water solutions, and clean energy and climate change policies.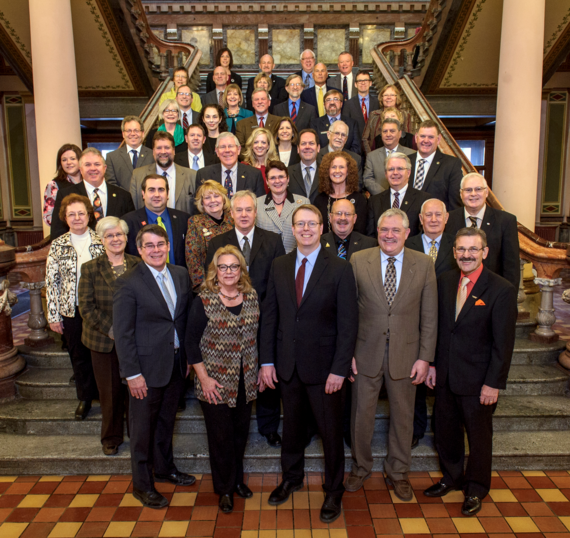 In a searing editorial last week, the Des Moines Register chastised Grassley for playing politics and disregarding "his constitutional duty" on the Senate Judiciary Committee.
With Grassley's approval rate falling to 47% versus a 44% disapproval rate, the poll by the Public Policy Polling found that 54% would "blame Mitch McConnell, Chuck Grassley, and the other Republicans in the Senate more for this gridlock on key issues at the Supreme Court."
"The Senate's refusal to even consider the President's upcoming nominee to fill the vacancy on the Supreme Court is just the latest -- and perhaps most important -- example of how dysfunctional Congress has become," Hogg said in filing his petitions as a candidate . "The good news is we can get Congress to work again by electing people who want to make Congress work, and when we do that, we can build a better future for all Americans."
Calling all HuffPost superfans!
Sign up for membership to become a founding member and help shape HuffPost's next chapter