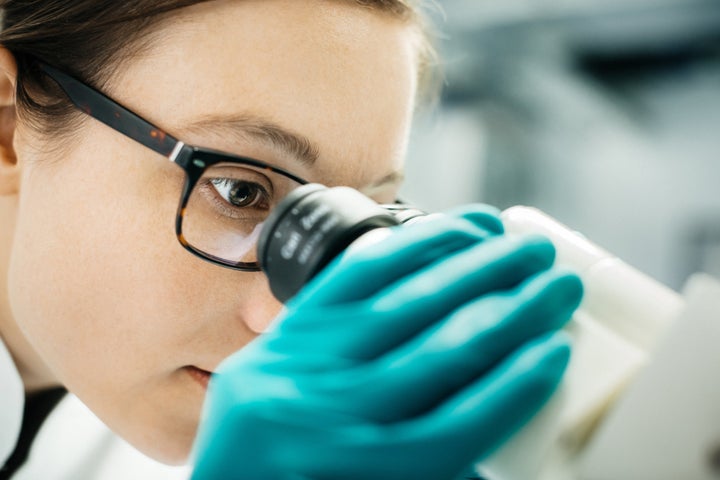 Can you name a female physicist?
It turns out just trying to do so may make you less likely to believe women aren't good at science or math.
OK, it's a little more complicated than that. But new research this week suggests that a game that prompts players to name real or fictional characters who fit certain combinations of attributes can actually reduce prejudice in those who play it. For years, researchers have explored the question of whether video games make people more violent, aggressive and prejudiced. But this new study, published in Cyberpsychology: Journal of Psychosocial Research on Cyberspace, adds to a growing body of work that shows that some games can actually change views and behaviors of players for the better.
For the study, researchers from Dartmouth University asked hundreds of middle school and high school students to play two games. One is Buffalo: The Name-Dropping Game, in which players are prompted to name female physicists (along with English wizards, "mischievous professors" and hundreds of other random combinations). The other is Awkward Moment, in which players contemplate what to do when, say, they spot a store in the mall selling T-shirts for girls that say "Math is hard!" (Options include sending out "a distress signal," saying "P.U. That stinks!" and "Be like Marie Curie and win Nobel Prizes.")
After the kids played Awkward Moment, researchers presented players with a set of photographs of men and women and told them they needed help trying to decide what role each character should play in a new, unreleased game. Those who played Awkward Moment were a third more likely to suggest that female characters should be scientists than those who played a version of the game without any "awkward moments" related to gender bias. Those who played Buffalo, meanwhile, were more concerned about their own potential biases and showed less prejudice toward others than did the control group that didn't play the game but answered the follow-up questionnaires.
The trick to all of this is both simple and revealing of human nature. In order for people to change their prejudices after playing a game, they have to remain in the dark about the fact that the game is intended to change them. Both Buffalo and Awkward Moment are designed with this in mind.
"There has to at least be the illusion of agency or the sense that your shift in mindset or perspective is at least partly volitional," Geoff Kaufman, now an assistant professor at the Human-Computer Interaction Institute at Carnegie Mellon University and a co-author of the paper, explained to The Huffington Post. "That builds on decades of research in psychology, how any time you feel like there is an agent that is trying to persuade you, the more you resist it and the less effective it tends to be."
So could a quick game of Awkward Moment change the attitudes of someone like William Bader, the imperial wizard of the Trinity White Knights of the Ku Klux Klan, who told a reporter at a rally this summer that "White revolution is the only solution"?
Kaufman and his co-author, Mary Flanagan, didn't examine how participants' pre-existing levels of prejudice might have influenced their reactions to the games. But Kaufman was intrigued by the possibilities.
Flanagan designed the games for the study. She's a professor in digital humanities at Dartmouth and the founder of Tiltfactor, a company that designs games for "social change."
She and Kaufman are considering a digital version of the game that could assess baseline attitudes and then adapt, depending on how players respond.
"I'd be interested in the relationship between pre-existing levels of bias and how subtle the persuasive content needs to be," he said. "Maybe you'd need to be even more extreme, using tactics of either concealing or hiding the persuasive content in the game."
Lila Shapiro covers the science fiction of science, the imaginative ways scientists are trying to solve the world's hardest problems. Tips? Lila@huffingtonpost.com
Related
Popular in the Community