"Even the smallest act of caring for another person is like a drop of water -it will make ripples throughout the entire pond." -- Bryan Matteo
The beauty of combining gaming with social good is that it's easy to engage people without requiring any change in behavior or large time or money commitment. Since it flows in the course of a fun game someone is already playing, it's quick, simple, and sharable.
The games are relatable and fun, and cover a wide range of important societal issues like education, the environment, natural disasters, health, clean water, housing, hunger, elderly care, children's issues, veterans, animals, and more.
"People can make a difference in just a few seconds for a small amount, then instantly share the positive feeling they get with their friends and social network, which can generate a larger response," says Ken Weber, Executive Director of Zynga.org at Zynga.
Players played for good through 46 Zynga.org campaigns benefitting 25 nonprofits in 2012. As a result of those 46 campaigns, $4.2 million was raised in 2012. Since 2009, more than a million Zynga players have made charitable contributions through Zynga games to nonprofit organizations delivering measureable results for those in need around the world, to the tune of $15 million-plus in donations to causes. These in-game campaigns have also driven increased awareness and education around specific causes like hunger and clean water, and millions of social shares to bring more of the players' friends into the mix. This expanding circle of good is one of the key elements that makes in-game social impact unique and gives it such massive reach.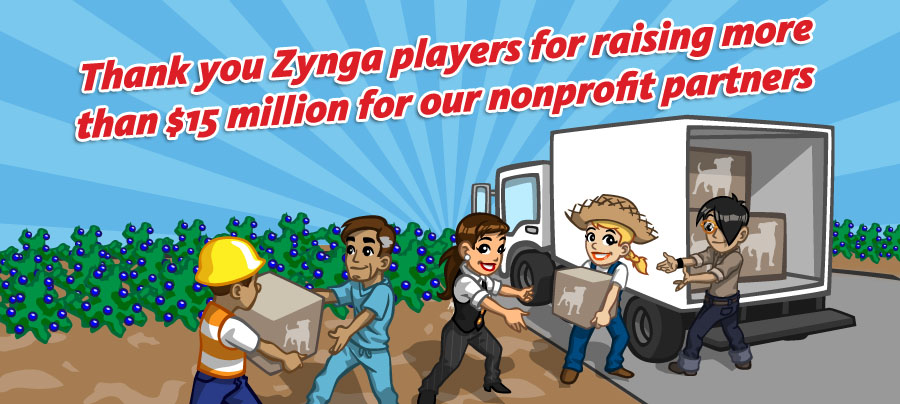 Because social good causes are woven right into games, since 2009, more than a million Zynga players have donated more than $15 million to causes, often being introduced to nonprofit organizations for the first time, learning about their causes, and easily sharing their positive experiences with friends. Photo courtesy of Zynga.org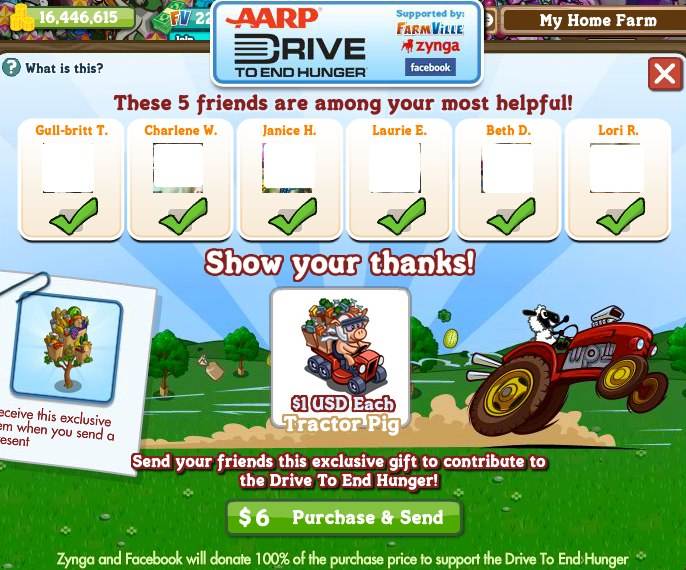 Many of Zynga's popular Facebook games like FarmVille and ChefVille have creatively incorporated virtual goods that players can purchase within the games, 100% of the purchase price of which has gone to benefit nonprofits. Photo courtesy of Zynga.org
Some interesting statistics on social good within games:
Zynga Player Stats
o London is the top international city by transactions
o Los Angeles is the top U.S. city by transactions, followed by Houston, Phoenix, Denver and Las Vegas
o Women are six times more likely to participate in Zynga.org vs. men (this is on par with traditional charitable donation trends)
o One out of every two Zynga players has made a charitable contribution, either online, offline or both
o Of those players who give, 47 percent give a few times a year and 36 percent of them give on a weekly basis
o The most popular types of charities are: Children & Youth (16%), Animals (15%), Health & Disease (12%), Hunger & Poverty (9%)
Zynga.org has also been teaming up with Games for Change on the development of a Facebook social game based on Half the Sky, the No. 1 New York Times best-selling 2009 book by Nicholas Kristof and Sheryl WuDunn. The game will raise both awareness and donations to help fight oppression of women and girls around the world. You can check out a trailer for the game here: http://bit.ly/halftrailer
REAL LIFE. REAL NEWS. REAL VOICES.
Help us tell more of the stories that matter from voices that too often remain unheard.