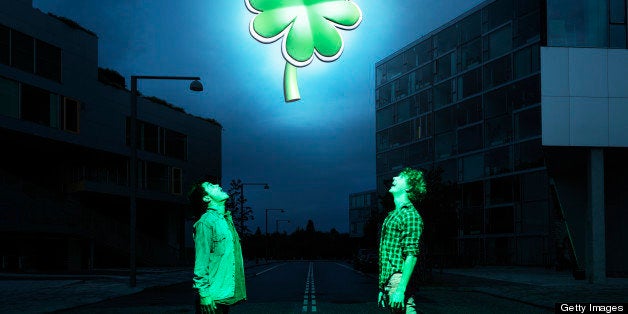 Today, plenty of employers need tech-savvy employees with the social know-how to navigate and solve complex, real-world workplace issues.
The best way to recruit these top candidates? Gamification.
Gamification means applying game-like mechanics -- think reward, recognition, and participation -- to non-game contexts like recruitment and workplace training. Gamifying the recruitment process makes hiring more interactive for referred candidates and current employees, who are rewarded for their participation and progress. Current employees can be certain the candidate screening process is interactive and rewarding for those they refer, incentivizing them to continue to make quality referrals.
If your company is looking to ramp up employee referrals and improve the recruitment process overall, it can help to take a look at some existing games to glean insight on what will work best for your business's hiring and employee referrals. Here are three recruitment games your business needs to know about:
Plague. Over at Risk Management Solutions (RMS), vice president of talent acquisition Amelia Merrill employed game mechanics to help her company compete with the likes of Google, Facebook, and other hot Silicon Valley start-ups. RMS is in the business of risk modelling for man-made disasters, so the company partnered with Plague Inc., one of the most popular games for iPhone and iPad.
Plague simulates pandemic situations much like the ones RMS tackles, so the company integrated their brand as an expert character, offering a scientific authority within the game to guide players. Merrill predicted 700 million brand impressions in 12 months -- a huge boost for employee branding and recruitment efforts. The game is a great tool for current employees to act as brand ambassadors and promote the company on a wider scale, boosting employee referrals overall.
My Marriott Hotel. Marriott International Inc. was one of the first to adopt game mechanics for the referral and recruitment process. As the company spread into international markets, it needed a way to attract tech-savvy Millennials and interest them in the hospitality industry.
The company created a hotel-themed Facebook app, My Marriott Hotel. The game required users to navigate the complex daily tasks of running a hotel kitchen. Available in English, Spanish, French, Arabic, and Mandarin, the game has been successful in attracting a wide range of job candidates while giving them an opportunity to solve real-world problems.
Cityville. Cityville allows players to build virtual cities, similar to the way Farmville allows users to build farms. With Cityville, users can try their hand developing business management skills. Players oversee virtual development by adding businesses, producing their own goods, performing jobs in neighboring cities to earn reputation points, and more.
Cityville has already partnered with major franchises like Best Buy, Coca-Cola, and McDonald's, much like RMS's relationship with Plague. The companies have used the game to strategically improve brand recognition and engagement of potential job candidates. With Cityville, passive job candidates get a chance to build their skills and be rewarded for it -- and companies get key recognition to improve their hiring process.
Any business looking to boost employee referrals and improve recruitment efforts can turn to gamification as a key strategy. Simply ensure you're offering rewards, recognition, and participation. Your workers will be more likely to engage in referring candidates, and passive job seekers will be drawn to your business.
Popular in the Community