Today marks the 145th birth anniversary of Mahatma Gandhi and his message of non-violence still reverberates across the globe as does the legacy shared with Dr. Martin Luther King, Nelson Mandela and Henry David Thoreau.
And, for the first time, we honor Mahatma Gandhi's legacy of Seva and Social Justice at the White House. A historic moment, not only for the Indian American community but for America itself!
Mahatma Gandhi has inspired world leaders including President Obama who would have liked to have dinner with him. And, last year when asked about his heroes - "Internationally, Nelson Mandela, Mahatma Gandhi," Mr. Obama said. "I always am interested in leaders who are able to bring about transformative change without resort to violence, but rather changing people's minds and people's hearts."
The underlying Vedic philosophy, often quoted by Mahatma Gandhi is Service to Man is Service to God. (Nar Seva, Narayan Seva). It is an inside out approach to living. The Hindu and Dharmic (eastern) traditions, on the surface appear to be primarily on inner self realization. Community service is seen as a transformation practice, sadhana, without personal recognition or publicity.
Gandhi lived the Dharmic teaching of seva: "Service which is given without consideration of anything in return, at the right place and time to one that is qualified, with the feeling that it is one's duty, is regarded as the nature of goodness." -- Bhagavad Gita 17.20.
Today we honor the person who embodies these Dharmic values.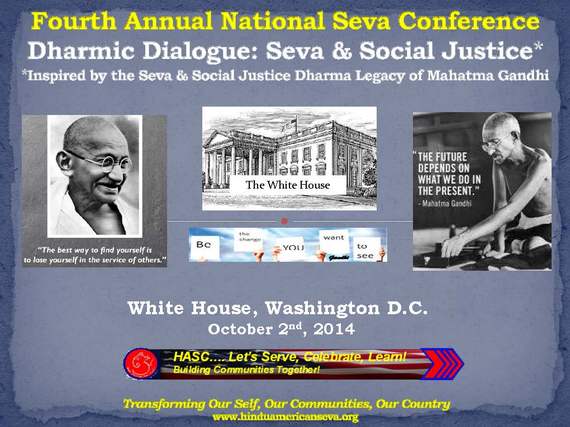 As we prepare to celebrate Mahatma Gandhi's 145 birthday, Sai Santosh Kolluru, a young Dharmic leader, an aspiring attorney, a seva and social justice activist and a former White House intern in in the Office of Public Engagement has penned a few thoughts...
Quote " As the leader of the largest democracy in the world, Narendra Modi, meets with the leader of the most powerful democracy in the world, Barack Obama, the positive energy, optimism and bright future of these two nations inspires me to not only rethink my purpose as an Indian-American but more importantly, my role as a Hindu-American.
Having been born in India, I have always looked at India as the Mother that gave me birth, infusing me with her ancient Vedic culture, traditions and samskaras, and America as the Mother that adopted me, embraced me in her arms and molded me with her freedom of expression and provided me with the opportunity to strive to the fullest of my potential.
According to the Washington D.C. -based Pew Research Center, Indian-Americans are among the best-paid and educated migrant groups in the United States. On average they earn close to $90,000 a year each--far above the U.S. average income of around $50,000. While the success of the Indian and Hindu-American community is known in various fields, we have more work to do in the field of social justice and Seva, selfless service.
The Hindu American Seva Communities (HASC) has worked extensively in the past five years to increase the voice of Hindu and Dharmic-Americans at the highest levels of the U.S. Government. Since the summer of 2011, HASC has had multiple White House conferences where it focused on honoring great champions of social change like Martin Luther King Jr., Swami Vivekananda and today, Mahatma Gandhi. HASC has worked tirelessly to bring issues focused on women empowerment, bullying, climate change, healthy living through yoga and nutrition, security concerns for Dharmic places of worship and etc.
As we mark Mahatma Gandhi's 145th Birth Anniversary at the Hindu American Seva Communities fourth annual conference at the White House on October 2nd 2014, it is more important than ever to not only acknowledge the proud achievements of our community but also realize the moral responsibility we hold to address social issues, we all face, as a fabric of this nation.
As we become leaders in many professions, the sacred responsibility of also becoming active community and selfless Seva leaders must be a priority for our community. According to Feeding America, more than 49 million Americans live in food insecure households. By invoking the concept of 'Anna Dāna' - the Hindu principle of food donation, we can feed America and work towards eliminating hunger and poverty. The Dharmic Feeding Coalition, an initiative under HASC, does this in Harlem and across New York City by distributing hundreds of healthy, vegetarian -meals that heal- every week. Furthermore, the concept of 'Ahimsa Paramoh Dharmah' can be found at Lakshmi Cow and Animal Sanctuary, an Eco-Dharmic Seva partner HASC, where rescues animals from slaughterhouses roam free. Such places can allow us to invoke and work towards the concept of 'Vasudaiva Kutumbukam' - we are all one family.
While these are just two examples, as a community we need reach into our roots our tradition with introspection and identify what Dharma teaches us. By strengthening our identity, we must apply these Dharmic principles to solve everyday issues of homelessness, hunger and poverty, environmental sustainability, gender equality and others to help the progress of the Hindu and American way of life. We need to expand our community support through 'centers of action' called Seva centers where we can address the immediate needs of any community. Through the festivals of service called Utsav Seva, which includes ShaktiSeva, ShantiSeva, YogaSeva, etc., we need to integrate spiritual values with community service to address pressing social justice needs. The time is now.
Gandhiji always spoke about being complete in the unity and integrity of the body, mind and soul. He was convinced that thoughts must be married with moral purposes to bring righteous action that benefits society as a whole. He further stated, "All social action should be governed by the same simple set of moral values, of which the main elements are selflessness, non-attachment, nonviolence and active service." So let's look at our community and unite. We are not just Telugu-Americans, Gujarati-Americans, Punjabi-Americans, Tamilian-Americans etc., we are Indian and Dharmic-Americans. So Let's look at our community and the role we play as part of the larger American fabric and find ways to tackle issues that are plaguing all of us. Let's unite and lift each other up. Let's strive for a society where success is not defined by material wealth but by the peace of mind we create for society and ultimately,
for each other.
Let's seize this moment of optimism. End quote
So, now is also the time to for the New Americans and people of Dharmic (eastern tradition) to be more fully engaged to serve by developing institutional capacity. Established programs such as AmeriCorps Vista of Corporation of National and Community Service, can augment building of sustainable infrastructures.
Please join us in the Seva Movement and experientially realize it is a journey of transformation through Self-inspired Service ...with sustainable infrastructures....
Like Mahatma Gandhi, let us also aspire to leave a legacy which embodies "My life is my message."
Calling all HuffPost superfans!
Sign up for membership to become a founding member and help shape HuffPost's next chapter