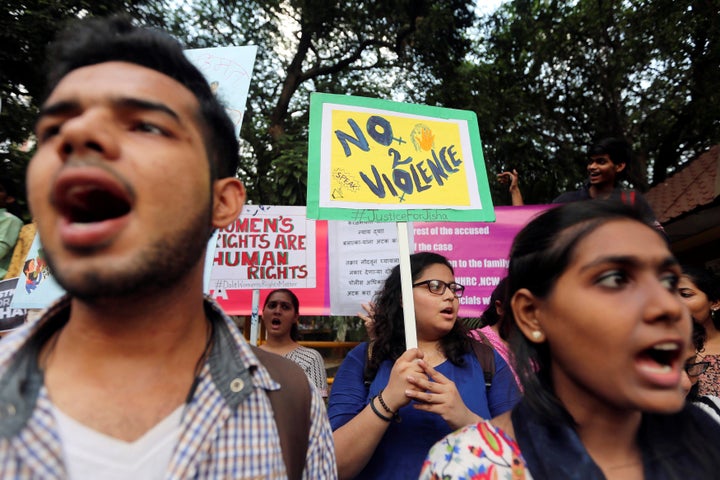 It was late 2012 as the days dwindled, preparing for the birth of a new year. But in Munirka, Delhi, it would be a new year that 23-year-old Jyoti Singh would never see. She was beaten, brutally tortured and gang-raped on a bus, and died days later as a result of horrific injuries. As details emerged of the shocking violence of the crime, the entire world cried with India for one of her daughters. In response to an outpouring of rage and protests, the Indian government made new and harsher amendments to the law in regards to sexual assault.
Despite this, crimes of sexual violence continue to plague many of India's innocent. Just days ago, The Times of India reported that in Aman Vihar, New Delhi, a 17-year-old and 18-year-old girl were gang-raped. Their boyfriends were forced to witness the heinous crime unfolding after being beaten and tied up.
Four suspects, who are reportedly minors, have since been arrested. A manhunt is currently on for the fifth suspect, rumoured to be the leader. It is believed the youths have previously attacked other women who failed to report the assaults, out of the fear and shame of the social stigma.
A few weeks earlier, in Mewat, Harayana, a rural area steeped in ancient history, a 20-year-old woman and her 14-year-old cousin were gang-raped, while their uncle and aunt were tied up and beaten to death. Local police arrested four men, charging them with rape and trespass until locals protested for murder charges to be included.
"They asked if we eat beef. We said we don't, but they insisted we did. Then they said we're hurting you before, so you don't and that if you tell anyone, we'll be insulted," the woman told NDTV.
Cows are regarded as sacred animals by Hindus and killing or eating them is illegal in many areas. The police, however, have denied the involvement of any cow protection groups.
At an event celebrating 50 years of Haryana, Manohar Lal Khattar, chief minister of Haryana, labelled the incident as "trivial" to reporters. "These are trivial issues and I don't pay much attention to these small issues. Today we should be talking about Swarna Jayanti celebrations and achievements of Haryana government."
BSP president Mayawati criticised his comments in a statement saying, "Prime Minister Narendra Modi needs to take notice of Khattar's statement as he had started 'beti-bachao-beti padhao' campaign (a scheme to create better welfare for women which means, "save girl child, educate girl child") from Haryana, but the Chief Minister of the state is not showing any respect towards women." She urged people to stand up against rape mentality.
As India's laws do not permit for the release of a rape victim's name, Jyoti Singh was nicknamed Nirbhaya, which means "fearless". Yet, how long will it take for us to ensure that all of India's daughters can go by this name–Nirbhaya, to live and walk, free of fear from these atrocities?
Please share this article in the campaign to spread awareness.
Popular in the Community