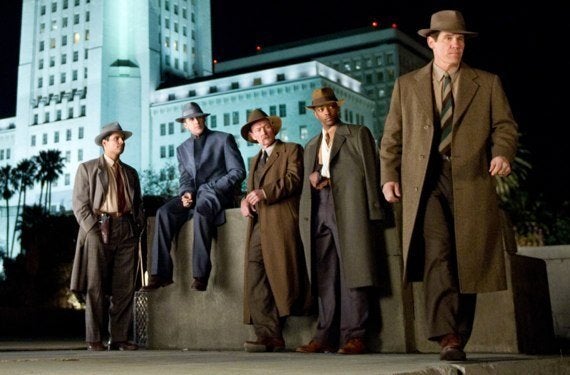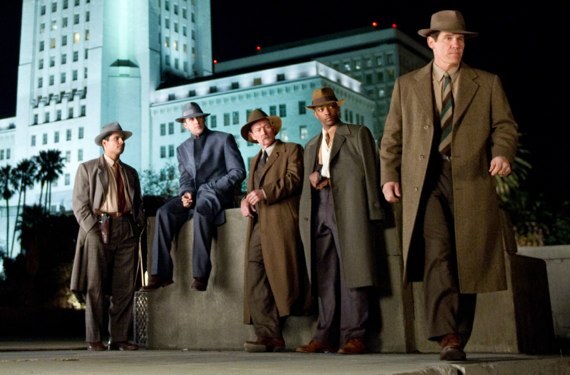 Gangster Squad, a movie that is not about a squad of gangsters, opens -- finally -- this Friday. Gangster Squad stars Josh Brolin (Milk) as a Los Angeles cop placed in charge of taking down the operations of very animated gangster played by Sean Penn (Milk). Gangster Squad also stars Ryan Gosling (Crazy, Stupid, Love) and Emma Stone (Crazy, Stupid, Love). As a service, we answer every question that you could have about Gangster Squad.
Q: How many gangsters are in the Gangster Squad?
Q: What is the Gangster Squad?
A: The Gangster Squad is a team put together by Sgt. John O'Mara (Brolin) to fight organized crime. The team consists of Sgt. Jerry Wooters (Ryan Gosling), Det. Rocky Washington (Anthony Mackie), Det. Conway Keeler (Giovanni Ribisi), Det. Navidad Ramirez (Michael Pena) and Det. Max Kennard (Robert Patrick).
Q: Going forward, how many movies should Anthony Mackie be in?
A: Going forward, Anthony Mackie should be in all of the movies.
Q: What does the Gangster Squad do?
A: A headstrong new police chief (Nick Nolte) taps Det. O'Mara to form the Gangster Squad -- in an effort to disrupt the actions of a Los Angeles mob boss named Mickey Cohen (Sean Penn).
Q: So it's a task force assigned to arrest Cohen and his gang?
A: No. Cohen pretty much owns the city, so arrests will do no good. This task force is put in place to operate above the law and kill the members of Cohen's gang.
Q: Is the goal to kill Cohen?
A: It's explained that if Cohen is killed, there will just be someone there to take his place. The goal of the Gangster Squad is to disrupt Cohen's operations.
Q: Is the term "Gangster Squad" used at any point during Gangster Squad?
A: Yes. At first as an almost sarcastic aside.
Q: At any point during Gangster Squad do we see a man chained to two cars then ripped apart?
Q: From one to 10 on the "overacting scale," where would Sean Penn rank with his performance of Mickey Cohen?
A: Unfortunately, the "overacting scale" has been broken since it saw Sean Penn's performance in Gangster Squad.
Q: What is Ryan Gosling's character's role in Gangster Squad?
A: Gosling's Jerry Wooters is basically the ladies' man, Templeton "Face" Peck of the Gangster Squad -- which means that he eventually starts sleeping with a woman named Grace Faraday (Emma Stone) who also happens to be Mickey Cohen's girlfriend. Because, of course.
Q: Oh, are these the same characters that Gosling and Stone play in Crazy, Stupid, Love?
A: The events of Gangster Squad take place over 60 years before the events of Crazy, Stupid, Love, so that seems unlikely. Also, their characters have different names. Though, it's not specifically explained one war or another if the events of Gangster Squad take place in the same universe as Crazy, Stupid, Love.
Q: Do all of the members of the Gangster Squad have a special talent?
A: Yes. Gosling, as we know, has luck with the ladies; Anthony Mackie throws knives; Giovanni Ribisi's character is a tech wizard; and Robert Patrick has the ability to turn himself into liquid metal, assuming the shape of any item that he touches.
Q: Are you confusing the events of Gangster Squad with those of Terminator 2: Judgment Day?
Q: Gangster Squad was originally supposed to come out in September, why was it delayed?
A: Unfortunately, a climatic scene in Gangster Squad depicted a shooting inside a movie theater -- which, considering the events of the Aurora, Colo. shootings, meant a scene had to be reshot.
Q: When watching Gangster Squad, are there any remnants of the movie theater scene that remain?
Q: Is Gangster Squad entertaining?
A: "Entertaining" certainly isn't on the list of things that Gangster Squad isn't.
Q: In honor of your last sentence, in your next sentence will you try to go for a triple negative?
A: I don't not think that I can't do that.
Q: So, then, will I like Gangster Squad?
A: Well, that depends entirely on your subjective taste in movies. But it's almost as if director Ruben Fleischer -- who directed the wonderful Zombieland -- is going for a L.A. Confidential meets Oceans 11 vibe here. Unfortunately, if you go into this movie expecting the quality of either one of those movies, you will leave disappointed.
Q: If I must combine two movie that I've seen before I'll see a new movie, what two titles am I better off combining instead of L.A. Confidential and Oceans 11?
A: Maybe Escape From L.A. and Oceans 12?
Q: So should I expect something like Zombieland?
A: Gangster Squad certainly has the stylized visuals of Zombieland -- at least in comparison to Fleischer's sophomore effort, 30 Minutes or Less -- which take a little time to get used to this go around as compared to Zombieland.
A: The first 20 minutes of Gangster Squad are pretty bad. The visuals and the quick edits tend to present the film in something that feels more like parody -- which really isn't what's being attempted here. But, once Brolin starts putting his team together, things, mercifully, settle down into something that is at least interesting.
Q: During a fistfight between Josh Brolin and Sean Penn's characters, will I find myself rooting for Sean Penn for what Brolin did to him in Milk?
Q: How many times did you accidentally type Gangster "Squid" while writing this fake Q&A?
Q: So far, is Gangster Squad the best wide release movie of 2013?
A: Of the grand total of three wide release movies so far this year, yes, so far, Gangster Squad is the best movie of 2013 that I have seen.
Q: If you're going to be blurbed in this weekend's commercials for Gangster Squad, what quote do you assume will be used?
A: "The best movie!" Mike Ryan, The Huffington Post
Mike Ryan is senior writer for Huffington Post Entertainment. You can contact him directly on Twitter.