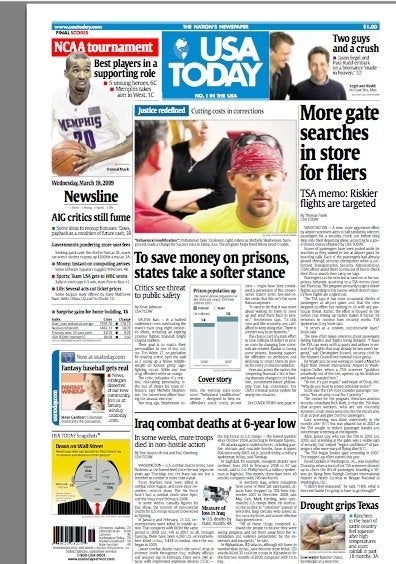 The Tucson Citizen may print its last edition soon, and all Gannett employees are being forced to take a one-week unpaid furlough sometime during this quarter, but that is not preventing the company from awarding its five top executives, including CEO Craig Dubow, nearly $2 million in bonuses.
The company spent several paragraphs in a proxy statement filed Tuesday with the Securities and Exchange Commission explaining why the officials should receive the bonuses, and why Dubow should receive a $1 million annual salary.
Some of the excuses offered included:
Mr. Dubow's minimum annual base salary under his employment contract is $1.2 million. The Committee honored Mr. Dubow's request to voluntarily reduce his annual base salary to $1 million beginning November 1, 2008 and continuing through 2009. Mr. Dubow has not received a salary increase since January 2006. Ms. Martore's salary is the minimum amount payable under her employment contract and she has not received a salary increase since April 2006. The Committee also accepted Mr. Dubow's proposal that Company and divisional officers, including all NEOs*, would not receive base salary increases in 2009. The Committee agreed with management that these salary actions were appropriate in light of the challenges facing the Company's businesses, including recessions in the U.S. and the U.K. and their impact on advertising demand, the decline generally in equity values and specifically the Company's stock price.
And this one, which blames the economy and not the executives for the company's financial problems:
All NEOs participate in our annual Executive Incentive Compensation Program (EICP), which offers incentive opportunity linked to attainment of the Company's annual financial and qualitative performance goals and each executive's individual performance goals set at the beginning of the year. The Committee does not rely on any one particular objective, formula or financial metric in determining appropriate short-term incentives, but rather on what we consider to be value-added quantitative and qualitative goals in furtherance of our compensation principles. No NEO is guaranteed an award and, if performance is unsatisfactory, no bonus is paid under the EICP.

The financial performance measures considered by the Committee include total revenues, operating income, net income, net income from continuing operations, earnings per share, return on equity, operating cash flow, net income as a percent of sales, dividends per share, dividend payout ratio, weighted average cost of capital, debt to earnings before interest, taxes, depreciation and amortization, stock price and market value, although no one measure is given greater weight than the others. The Committee selected these financial measures because it considers them to be broad enough to capture the most significant financial aspects of an organization as large as ours yet also focused enough to represent the financial measures that we believe drive our financial success. The Committee also evaluated the Company's progress toward the goals of its strategic plan, as well as the achievement of qualitative goals including leadership in defending the First Amendment, promoting an ethical Company work environment and diverse workforce, and maintaining its reputation as a good corporate citizen of the local, national and international communities in which it does business. Individual performance goals include, where appropriate, revenue and operating income goals for the respective divisions and functions over which each NEO has operational or overall responsibility, new products and programs in support of the Company's strategic plan, leadership and diversity initiatives, First Amendment activities, and other significant qualitative objectives. The Committee also considered bonus guidelines for our NEOs developed by senior management. These guideline amounts are generally divided by salary grade level and take into account, for each salary grade, the nature and responsibility of the positions at that grade, internal equity between salary grades, the guideline amounts for the preceding year, and the funds available for bonuses.

Our Company's stock price performance in 2008 deeply disappointed all of our shareholders, the Board and management included. Each Company director saw his or her investment in Company stock fall dramatically in 2008. Each member of Company management, including each NEO, was personally and significantly impacted by the decline in our stock price. As a result of a combination of the Committee's executive compensation policies--paying a substantial portion of NEO compensation in the form of Company stock, paying 25% of NEO bonuses in past years in the form of Company stock, and through stock ownership guidelines requiring each NEO to retain Company stock notwithstanding the decline in stock price--each NEO has a large percentage of his or her personal net worth tied to our Company's stock price. None of the stock options our NEOs received during the last eight years currently have any value. The RSUs our NEOs received since 2005 have experienced a decline in value the Committee did not and could not anticipate when those awards were made. Each of us on the Board and in management understands, profoundly, the disappointment in our stock price performance experienced by our shareholders.

The Board recognizes, however, that much of the downward pressure on the Company's stock price reflected the recessionary conditions in 2008 across the U.S., in the U.K., and around the globe as well as secular forces affecting our industry. President Obama and others have described current economic conditions as the worst since the Great Depression. The Dow Jones Industrial stock index declined 33.8% in 2008; the S&P 500 stock index declined 38.5%. Moreover, these recessionary pressures disproportionately impacted our Company in 2008. Our key advertising categories--automotive, employment and real estate--from which the Company derives much of its revenue and profit, declined earlier, faster and deeper than other sectors of the economy. Notwithstanding the geographical diversity of our operations, the Company's footprint, particularly in Arizona, California, Florida and Nevada and in specific markets such as Ft. Myers, Brevard, Phoenix, Detroit and Honolulu, overlaps to a great extent with the areas of our country most impacted by the recession. The U.K. economy fell precipitously in the second half of 2008, while the value of the British Pound declined in terms of U.S. dollars. At the same time, the competition of alternative advertising outlets, particularly the continuing migration of traditional advertising dollars from print and broadcast media to the Internet, combined with the recessionary economy to put unprecedented pressure on the Company's businesses in 2008. Based on current forecasts, 2009 is shaping up to be as difficult, if not more so, than 2008.
After all of that buildup, accomplishments were listed to justify the bonuses:
The Committee considered the following accomplishments by the Company and its management team in 2008 in reaching its NEO bonus decisions:

Financial performance:

Earnings per share (diluted): $3.61 (excluding restructuring costs of $.34 per share and asset impairment and other charges of $32.38 per share)

Operating cash flow: $1.6 billion (representing operating loss reduced by restructuring costs of $119 million and depreciation, intangible asset amortization, asset impairment and other charges included in operations)

Operating margin: 19.7% (determined by dividing operating loss reduced by restructuring costs of $119 million and asset impairment and other charges included in operations, by total revenues)

These financial results were among the best in our industry despite a very difficult economy.

The impairment charges taken in 2008 did not affect the Company's cash position or its ability to conduct its business.

The Company successfully weathered our country's credit crisis--we successfully funded $1.9 billion from our revolving credit facilities to pay off our outstanding commercial paper after liquidity in the commercial paper market ceased to exist; renegotiated our revolving credit facilities to provide additional financial flexibility going forward; and reduced debt to $3.8 billion while making key acquisitions and investments.

The Company achieved substantial expense reductions, including significant headcount reductions, the pension freeze, centralization and consolidation efforts.

The Company balanced its cost structure while re-positioning for growth once the economy turns around.

Transformation:

The Company experienced many successes on the digital front:

We hired Chris Saridakis as our Chief Digital Officer;

Through our Digital Ventures group, led by Jack Williams, we increased our ownership and assumed control of CareerBuilder and ShopLocal, allowing us to fully consolidate their results into the Company's financial statements;

ShopLocal is now profitable after pairing it with PointRoll;

We acquired, invested and/or expanded our digital businesses including Moms Like Me; Mogulus; Metromix; Ripple6; and quadrantOne.

In our new Digital segment, pro forma revenues were $689 million in 2008. When added with revenues from Web sites associated with our Publishing and Broadcast operations, our pro forma online revenues surpassed $1 billion.

Retention:

Employee performance throughout the Company generally has been excellent, notwithstanding the tremendous pressure exerted by the recessionary economy.

The bonus pool reduction is tiered to minimize impact on lower paid management employees.

The Committee wants to reward and send a positive message to key employees who are driving our transformation.

Mr. Dubow voluntarily reduced his annual base salary by 17% beginning November 1, 2008 and continuing through 2009. Mr. Dubow and Ms. Martore have not accepted salary increases since 2006. Our other NEOs have voluntarily frozen their salaries in 2009. The Committee carefully considered whether it also would be appropriate not to grant any NEO bonuses for 2008. The Committee determined, however, in light of the factors described above, that granting no bonuses for 2008 would not be appropriate given all our NEOs and other management accomplished in 2008. Instead, the Committee granted NEO bonuses for 2008 approximately 50% lower than those it approved for 2007, with actual awards varying from that guideline percentage based on its assessment of individual performance (and adjusted for a promotion in the case of Mr. Dickey and as new hires in the case of Mr. Lougee and Mr. Saridakis). The Committee also approved a 2008 bonus pool approximately 10-20% lower than the 2007 bonus pool for other management at the Company's corporate headquarters and its operating units, with actual bonuses again varying by individual performance.
The top bonus goes to Dubow, who will receive $875,000. The other four officials will receive $300,000, $270,000, $245,000, and $260,000, respectively.
During the past few years, Gannett has not only considered shutting down the Tucson Citizen, but it has also gutted its other newspapers. That, of course, calls for $2 million in bonuses. Is it any wonder our economy is in bad shape when it is these kind of people that companies consider indispensable?
Gannett's Golden Parachute
While Citizen employees are wondering where their next paychecks will come from — and while other Gannett employees who have been cut loose during the past several months find themselves thrust into a work world that no longer seems to value their services — Dubow and other top company executives could lose their jobs tomorrow and they would be set for life.
A proxy statement filed Tuesday with the Securities and Exchange Commission indicates Dubow would receive a severance package worth nearly $30 million if he is fired following a change of control in the company and more than $6 million if he leaves on his own.
The proxy statement shows that Dubow and his four top lieutenants would receive a combined total of nearly $60 million if ownership changed and the new owners decided to clean house, with $29,943,423 of that amount going to Dubow.
The Gannett CEO is also sitting pretty if he decides to leave the company on his own. The proxy statement says he would receive a total of $7,538,624 in benefits, including $6,439,524 for his pension and $1,099,100 in restricted stock units.
And even though that kind of money would leave him able to buy nearly anything his heart might desire, Gannett has sweetened the deal even more. In addition to the $7 million plus, in the event of his voluntary departure, Dubow would receive the following:
-$25,000 to $50,000 per year of life insurance coverage
-Reimbursement of full cost of Medicare supplement for Plan B to the rest of his life
-legal and financial counseling
-use of company aircraft for three years (but only when it is available and does have to reimburse Gannett for the cost)
-ownership of existing home office equipment
-computer assistants for three years
-use of an office, secretarial assistants, and access to company facilities at no charge for three years
-membership to a country club
But give Gannett credit; the company knows where to draw the line. All of these fringe benefits will be canceled immediately if Dubow helps one of the company's competitors.
So please, let us not hear any more self-serving nonsense about how much Dubow is sacrificing when he willingly goes along with his furlough plan and gives up a week's worth of his annual $1 million salary. The man is set for life, something he apparently does not take into consideration when he cuts jobs right and left and tries to convince the remaining employees they should be grateful that all he and his fellow top executives are allowing to keep their jobs if they give up a week's salary.
Related
Popular in the Community