 * Q2 adj EPS 56 cents vs Street view 52 cents
* Revenue down 2.1 pct, in line with analysts' forecasts
July 16 (Reuters) - Gannett Co, publisher of USA today, reported better-than-expected quarterly earnings on Monday, sending its shares up 3 percent in morning trade.
The largest newspaper chain in the United States and an industry bellwether, said excluding special items, it earned 56 cents per share, beating analysts' average forecast of 52 cents, according to Thomson Reuters I/B/E/S.
Second-quarter revenue dropped 2.1 percent, in line with analysts' estimates.
Investors pushed Gannett shares up 44 cents to $14.75 as the company is making progress shifting to a digital strategy and is reaping the benefits of political and Olympic related advertising at its broadcast stations.
"The big drivers are the broadcasting and digital side of the business," said Michael Kupinski, an analyst with Noble Financial Capital markets.
Gannett is one of the latest newspaper companies to turn to subscribers for more revenue as advertisers have pulled back on spending.
In just five years, the newspaper industry lost more than $20 billion in advertising revenue, suggesting retailers and other traditional advertising mainstays are taking their dollars elsewhere.
To offset those losses, Gannett is in the process of rolling out a digital pay strategy; it has launched already at half of its U.S. publishing properties.
Digital revenue was up about 33 percent in the quarter and circulation revenue was up for the first time in years, said Gannett chief executive Gracia Martore.
Digital revenue now represents a quarter of total revenue, she said during a call with analysts.
Gannett publishes 82 newspapers in the United States and operates broadcast TV stations and the elevator display product Captivate. It also owns newspapers in Great Britain.
Still there were troubling signs at Gannett's newspapers, which represent a majority of the company's revenue. Total publishing revenue fell almost 6 percent dragged down by a slump in advertising sales.
Advertising revenue at Gannett's publishing division took a roller-coaster ride during the quarter and dropped 8 percent. Compared with a year earlier, advertising sales were down 11.6 percent in April, 1.2 percent in May, and 8.8 percent in June.
Martore declined to give an outlook for this quarter, citing the volatility and last-minute advertising buys.
Broadcasting revenue increased 11.4 percent to $205.4 million.
Second-quarter net income was $119.9 million, or 51 cents per share, compared with $151.5 million, or 62 cents per share, in the same quarter last year.
Overall revenue was $1.31 billion. Analysts on average were expecting $1.32 billion.

Related
Before You Go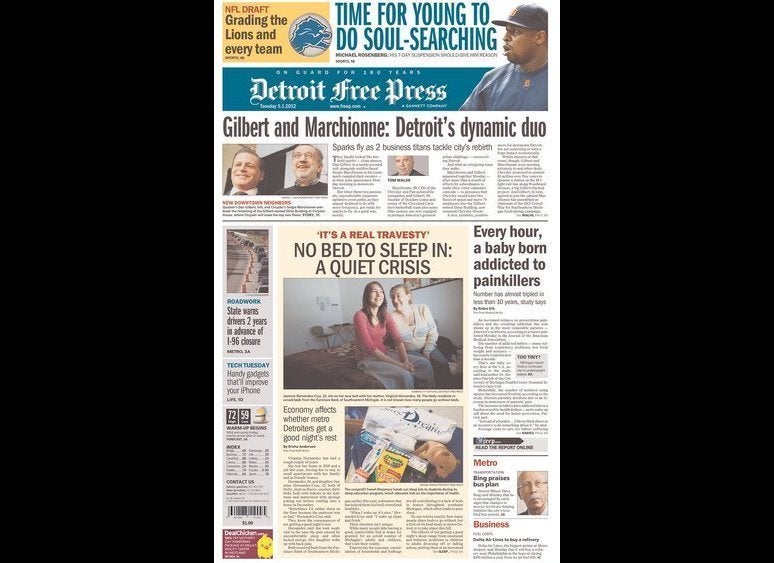 2012 Newspaper Circulation Numbers
Popular in the Community